Things to Do on Monday and Tuesday in Tucson
Monday, Dec. 2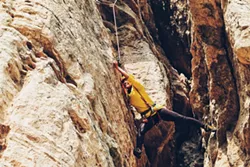 Reel Rock 14. The Reel Rock Film Tour, heralded as "one of climbing's greatest celebrations" is coming to the Loft Cinema! This series showcases multiple new films all focusing on the world of rock climbing. Films include The High Road, about some of the most difficult bouldering courses; United States of Joe's, wherein climbers run into a coal mining community in rural Utah; and The Nose Speed Record, about a race where climbers battle for greatness. Total runtime is roughly two hours. 7:30 p.m. Monday, Dec. 2. 3233 E. Speedway Blvd. $15. Co-presented by Rocks & Ropes and The Loft Cinema. Information.

Tuesday, Dec. 3
Tucson Roadrunners vs. Colorado Eagles. Another week, another chance to cheer on our hometown hockey team! While eagles might be known for being more majestic in the air, roadrunners are speedy on the ground, and that's exactly where this game will be played. Get tickets for just $12 with the promo code "Tuesday" for the Tuesday night game. And Wednesday, enjoy the $2 hot dog special. If you caught the game on Wednesday, Nov. 23, redeem your tickets at the box office and get buy-one, get-one free tickets. Go Roadrunners! 7 p.m. Tuesday, Dec. 3, and Wednesday, Dec. 4. Tucson Arena, 260 S. Church Ave. $12 to $61+. Information.

Type in Tuesday! Type in Tuesdays are truly, totally Tucsontastic. If you have friends coming to town and you're not sure how to describe the Old Pueblo's artsy, old-school, charmingly Western vibe, just tell them that on the first Tuesday of every month, there's a local brewhouse you can go to where you can type on an old-fashioned typewriter. Friends of the brewhouse bring 'em in by the dozen, so you can write a poem, or a love letter, or make a poster for your band's next gig. Type your heart out (and take a nice break from the internet) with a beer in hand. If you've got a story in your heart, get a beer in your hand and come on out. 6:30 p.m. Tuesday, Dec. 3. Public Brewhouse, 209 N. Hoff Ave. Free. Information.


Jesus Christ Superstar. So, you know the story of Jesus Christ. But if you don't know this show, then you probably don't know the story of Jesus Christ through Judas Iscariot's eyes, who I think we can all agree does not have a great reputation as far as that whole story goes. This cult classic, with a worldwide fanbase and a number of absolute bangers (Gethsemane, anyone?), is coming to town through Broadway in Tucson, so you know they're going to put on a good show. Lyrics by Tim Rice and music by Andrew Lloyd Webber. Tuesday, Dec. 3 through Sunday, Dec. 8 with shows at various times. Centennial Hall, 1020 E. University Blvd. $25 to $125+, with discounts for seniors, military and students. Information.

Cesari Wine Dinner at Tavolino. Tavolino Italian restaurant is pairing with Cesari Winery for a specialty five-course dinner, prepared by chef Massimo Tenino and chef Eduardo Garcia. The menu includes buckwheat polenta filled with taleggio cheese, paired with a Corvina "Jema" 2013; an arborio risotto with radicchio, paired with a Ripasso wine; braised beef cheeks in Amarone wine served with balsamic cipollini, paired with Cesari Amarone 2014. And for dessert, warm Venetian-style fritters! 6 to 9 p.m. Tuesday, Dec. 3. 2890 E. Skyline Drive. $125. Information.


Raising Cane's Opening in Tucson. We're getting a new chicken spot! And that means Raising Cane's is giving away a bunch of freebies to commemorate the occasion. At this grand opening, 20 customers will receive free Cane's for a year. (Entry period from 7 to 8 a.m. on Tuesday, Dec. 3, and winners will be drawn between 8 and 9 a.m.) In addition, the first 100 dine-in customers ages 13 and older to purchase a Combo meal will receive a Raising Cane's T-shirt and a free Box Combo for their next visit. For entry rules, visit raisingcanes.com/lucky20rules. Doors open at 9 a.m. Tuesday, Dec. 3. 4219 N. Oracle Road. Information.
Tags: Fun , events , openings , movies , food , things to do , hockey , musicians , chicken , Image