Things to Do, Tuesday, Nov. 26
Catharsis: Rachel Ivanyi & Joanna Taylor. Joanna Taylor is an award-winning folk artist known for her textiles and paintings. Her daughter, Rachel Ivanyi, is an award-winning illustrator and educator. They teamed up for this exhibit at the Tucson Botanical Gardens about the healing powers of the natural world. Working together on this project, and drawing on shared personal experiences, allowed the two women to develop new styles in an effort to help viewers enhance their awareness of the interconnectivity of nature. Come spend some time enjoying this art among some of the natural wonders that inspired it. On display through Jan. 5, 2020. Tucson Botanical Gardens, 2150 N. Alvernon Way. $15 adults, $13 students/seniors/military, $8 kids 4 to 17 and free for members and kids under 4. Information.


Wee Winter Wonderland. Don't ask us why, but there's something especially charming about holiday scenes—a little girl scooting across the living room on a new scooter Christmas morning, a Georgian dining room decorated for Hannukah, a father and daughter celebrating Kwanzaa—when they're recreated in miniature. And where better to go for such a fix than the Mini Time Machine Museum of Miniatures, which is decorated for the holiday season and features more than a dozen holiday-themed displays? Enjoy this exhibit from Tuesday, Nov. 26, to Monday, Jan. 5. Museum hours are 9 a.m. to 4 p.m. Tuesday through Sunday. Mini Time Machine Museum of Miniatures, 4455 E. Camp Lowell Drive. Included with museum admission—or free for members! Museum admission is $10.50 adults, $8.50 military/senior, $7 students and youth ages 4 to 17. Purchase tickets in advance by Nov. 25 and save $2 per ticket. Information.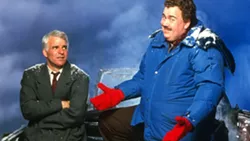 Planes, Trains and Automobiles. While there are more Christmas movies than you can shake a candy cane at, Thanksgiving movies are a bit more scarce. Luckily for you, Harkins Theatres is screening one of the most beloved Thanksgiving movies as part of their Tuesday Night Classics series. Directed by National Lampoon-famous John Hughes, Planes, Trains and Automobiles features John Candy and Steve Martin on a quest to get home for Thanksgiving before the confines of public transportation make them lose their marbles. 7 p.m. Tuesday, Nov. 26. 5755 W. Arizona Pavilions Drive & 5455 S. Calle Santa Cruz. $5. Information.

Breathe. In 1958, Robin Cavendish fell ill with polio, and eventually became paralyzed from the neck down. Despite only being given three months to live, Cavendish went on to be an advocate for the disabled for more than three decades. This special showing is to benefit Rotary International's End Polio Now campaign. This is a rental of The Loft Cinema presented by Rotary District 5500. An optional reception featuring a cash bar and hors d'oeuvres by Feast will precede the film. Reception at 4:30, movie at 5:30 p.m. Tuesday, Nov. 26. 3233 E. Speedway Blvd. $30 for reception and movie, $15 for movie only. Information.
Tags: fun , movies , things to do , Planes Trains and Automobiles , Breathe , Image