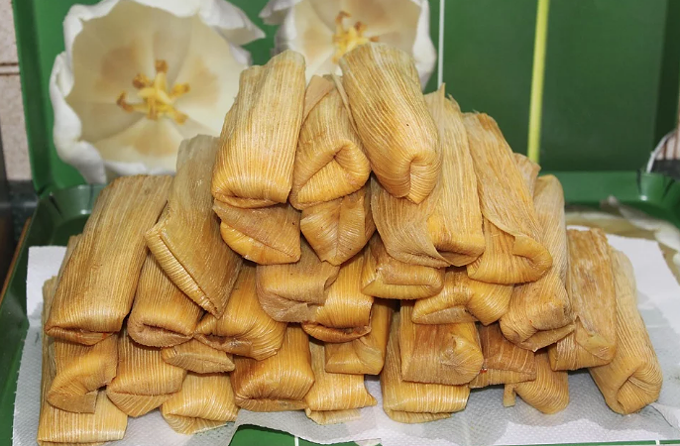 Thanksgiving Tamales.
To embrace the Thanksgiving season, Tucson Tamale Company is putting turkey and cranberries in the tamales! While their legendary "Thanksgiving Tamales" don't have every holiday staple in them, the turkey and cranberry sauce fuse together, and the masa tastes like cornbread. They're perfect pockets to wow the family. The tamales are available at both of their restaurants, and you can also order them online. Order tamales by 11/24 to have them in time for Thanksgiving. Available at 7159 E. Tanque Verde Road, 7286 N. Oracle Road.
Information.
Beaujolais Nouveau Day at REVEL. REVEL wine bar is celebrating everyone's favorite French holiday that doesn't involve toppling hierarchies. Beaujolais Nouveau Day is marked in France on the third Thursday in November and includes fireworks and plenty of wine. The holiday celebrates Beaujolais nouveau, a red wine made in the Beaujolais region of France. As such, REVEL will be pouring three special wines: the Domaine Ruet "Sans Soufre" Nouveau Rouge 2019, the Domaine Ruet Nouveau Rosé 2019, and the Jean Baronnat Nouveau Rouge 2019. 5 to 7 p.m. Thursday, Nov. 21. 416 E. Ninth Street. Information.

Female Storytellers Presents: True Colors at Club Congress. Who doesn't love a league of strong women+ who are excellent at storytelling coming together on a local stage to showcase their talent? This hilarious group is taking the stage this week to tell stories around the theme "true colors." There could be stories about learning that it's possible to be loved as you are, about the search for the perfect foundation, or about when your ex-BFF from high school showed who she truly was. The cover charge will benefit a local nonprofit, there are ASL interpreters provided, and you'll laugh your butt off. What's not to love? 8 to 10 p.m. Thursday, Nov. 21. Club Congress, 311 E. Congress St. $8. Information.

Catharsis: Rachel Ivanyi & Joanna Taylor. Joanna Taylor is an award-winning folk artist known for her textiles and paintings. Her daughter, Rachel Ivanyi, is an award-winning illustrator and educator. They teamed up for this exhibit at the Tucson Botanical Gardens about the healing powers of the natural world. Working together on this project, and drawing on shared personal experiences, allowed the two women to develop new styles in an effort to help viewers enhance their awareness of the interconnectivity of nature. Come spend some time enjoying this art among some of the natural wonders that inspired it. On display through Jan. 5, 2020. Tucson Botanical Gardens, 2150 N. Alvernon Way. $15 adults, $13 students/seniors/military, $8 kids 4 to 17 and free for members and kids under 4. Information.

Expecting to Fly: Kate Breakey, Susan Burnstine, Keith Carter and Pentti Sammallahti. This exhibit at the Etherton Gallery is designed to both ground us, by reminding us about our connection to the Earth, and lift us up, by unlocking our imaginations and potential. A photo of a tiny quail egg by Kate Breakey, a white deer in a Keith Carter forest or a bridge standing clear in the midst of a smeary cityscape by Susan Burnstine all evoke both memories and stories yet to be told. In the Gallery Pop-Up, Finnish photographer Pentti Sammallahti captures conversations between animals and their environments. His new book, Des oiseaux (Birds) will also be available. Exhibit is open through Jan. 11, 2020. Reception and book signing are 7 to 10 p.m. Saturday, Nov. 23. Etherton Gallery, 135 S. Sixth Ave. Free. Information.