Yeti Awareness Night at Tucson Hop Shop. A mysterious creature is making its way into Tucson Hop Shop; Great Divide Brewing Co. is bringing along five of their "Yeti" beer variants, and you get to try all the flavors yourself. With options like the Vanilla Oak Aged Yeti, Mexican Hot Chocolate Yeti, Barrel Aged Yeti, S'mores Yeti and 25th Anniversary Yeti, you're sure to become a true believer. These variants come from the far reaches of humanity's imagination, dare you investigate? 6 to 8 p.m. Thursday, Nov. 14. 3230 N. Dodge Blvd. Information.


AC Hotel Announces Fall Cocktails. AC Hotel is embracing the 5 Cs of Arizona on their new fall cocktail menu. Their new drinks are the "Copper" with Tennessee whiskey and apple brandy; the "Citrus" with vodka, amaretto and lemon; the "Cattle" with black tea, red wine and cognac; the "Cotton" with white rum, clove liqueur and cola syrup; and the "Climate" with Reposado tequila, orange liqueur and mesquite bean. They even have two bonus cocktails, the "Culture" with Del Bac and Copper City Bourbon; and the "College" with Bud Light and a shot of tequila. The fall cocktail menu will last until the holiday season. All cocktails $12, except the $7 "College." 151 E. Broadway Blvd. Information.

Baskerville: A Sherlock Holmes Mystery. You already know and love Sherlock Holmes. In this fast-paced comedic play by Ken Ludwig, five actors portray dozens of different characters as the famous detective tackles his most notorious case yet. Can he crack the case before a family curse dooms its newest heir? And for that matter, can you? This plot is designed to keep you guessing just as much as it keeps you laughing. 7:30 p.m. Thursday, Nov. 14, through Saturday, Nov. 16, and 2 p.m. Sunday, Nov. 17. Black Box Theatre at PCC West Campus, 2202 W. Anklam Rd.. $17. (ASL interpreters are available at the Nov. 14 performance). Information.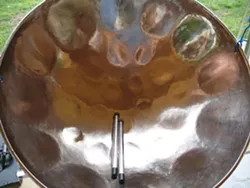 Oro Valley Concert Series. Did you know that the Tucson High Magnet School Steel Band program is recognized as one of the best in the nation? Even for someone who isn't a steel drum program connoisseur, that's at least worth checking out, right? The band is called Jovert, and it's full of young people who are so full of talent, energy and eagerness that, if you listen hard enough, some of it might just rub off on you. Then, head home glowing, and tell all of your friends that you can't believe they (unlike you, a cultured, newly revitalized, fervent supporter of local arts) haven't seen—or perhaps didn't even know about—this talented young group. 6 to 7:30 p.m. Thursday, Nov. 14. Oro Valley Marketplace, 12155 N. Oracle Road. Free. Information.

An Evening with Paul Amiel: Japanese Poetry and Shakuhachi Performance. First things first: a shakuhachi is a Japanese bamboo flute. Also: Paul Amiel collects musical instruments, including the shakuhachi, and while he lived in Japan for a couple of years, he studied how to play the flute under Iida Katsutoshi in Nagoya. In true Zen fashion, this is one of those instruments in which the sound is shaped as much by silence as it is by breath. Come watch Amiel perform on this instrument and share poetry under the light of the moon next to the koi pond in Yume Japanese Gardens. If you ever wanted to achieve enlightenment, it seems like you'll have a good shot at it at this event. 6:30 p.m. Thursday, Nov. 14. Yume Japanese Gardens, 2130 N. Alvernon Way. $18. Information.

Premium Blend. Put on your dancin' shoes! Well, more specifically, put on the shoes you wear when you go to a show to watch amazing dancers perform. UADance is presenting several beautiful pieces in this show. George Blanchine's masterpiece The Four Temperaments features four movements based on the medieval belief that humans are made up of four "humors": melancholic, sanguine, phlegmatic and choleric. In Escaping the Weight of Darkness, Alvin Ailey principal dancer Kanji Segawa performs a danced interpretation of the journey between isolation and hope. There will also be two pieces choreographed by UA faculty members Autumn Eckman and Elizabeth George-Fesch. Thursday, Nov. 14 through Sunday, Nov. 17, with varying showtimes. Stevie Eller Dance Theatre, 1737 E. University Blvd. $25 GA, $30 senior/military/UA employees, $15 students. Information.

Color My World. Who doesn't love a good watercolor painting? Lucky for us, we live in a place where there's an organization called the Southern Arizona Watercolor Guild. Even luckier for us, they're having a show this month at their gallery. Come see some of the lovely, colorful work of this guild which started with about 80 artists back in the '60s, and has now grown to more than 400 members! Get a little color into your life. Reception is 5 to 7 p.m. Thursday, Nov. 14. Show is Tuesday, Nov. 5, through Sunday, Dec. 1. Hours are 11 a.m. to 4 p.m. Tuesday through Sunday. SAWG Gallery, 5420 E. Broadway, #240. Free. Information.


Parasite. The newest film by South Korean director Bong Joon-Ho (Snowpiercer, The Host) follows the complex, darkly humorous story of two modern families. The Park family and Kim family are brought together by chance, and will never be the same afterward. This drama about class recently won the Palme d'Or at the Cannes Film Festival, and the Loft Cinema is screening it to celebrate closing night of the Loft Film Festival. After this special Tucson premiere screening, Parasite will open up to recurring screenings throughout the coming weeks. Showing in Korean with English subtitles. First screening is at 7:30 p.m. Thursday, Nov. 14. $12. 3233 E. Speedway Blvd. Information.
Tags: Weekly list , things to do , fun , movies , food , drinks , movies , concerts , Image