Things to Do, Wednesday, Nov. 6
A Night With Janis Joplin: The Broadway Musical. It ain't easy capturing the sound and spirit of
the quee
n of rock 'n' roll. It takes another queen in her own right. Luckily for you, Mary Bridget Davies is up to the challenge. This screening of a Tony-nominated Broadway musical follows the music and story of Janis Joplin, backed by a band of hippies, as she performs in 1970. This special screening at the Loft Cinema even includes a post-film Q&A with Janis Joplin's brother, Michael Joplin. 7:30 to 10 p.m. Wednesday, Nov. 6. 3233 E. Speedway Blvd. $15. Information.

European Guitar Quartet. Zoran Dukic, Reentko Dirks, Pavel Steidl and Thomas Fellow are all renowned performers in their own right, but they got together to form this quartet blending the concert tradition of classical guitar with the expressive nature of modern music. They put together unique interpretations of pieces by the likes of Astor Piazzolla and Nicolo Paganini, as well as pieces members of the group have composed. Whether you're a guitar aficionado or you just like pretty sounding music, this event, presented by UA Presents, the Tucson Guitar Society and Lead Guitar, will be a joy. 7:30 p.m. Wednesday, Nov. 6. Centennial Hall, 1020 E. University Blvd. $29+. Information.

Tucson Comedy Arts Festival 5. Happy fifth anniversary to the Tucson Comedy Arts Festival! This year's event features 13 improv, standup and sketch comedy shows over four days, with guests both from Tucson and from all over the country. Check out 808: Hip Hop Improv, Carcajadas: Una Noche De Comedia, the Beginners and Veterans Stand Up Comedy Showcase at Tucson Improv Movement and the return of Set Unlisted. There are also workshops on topics such as coaching, hosting and boosting your longform chops. There are loads of shows at various times, from Wednesday, Nov. 6 to Saturday, Nov. 9. but the fun all starts At 7:30 p.m. on Wednesday, Nov. 6 with Pilot Season, Leaky Faucets and Big Daddy. Tucson Improv Movement, 414 E. Ninth St. Ticket prices vary. Information.


LightArt. Flowers make the world a brighter place, but this series of botanical lighting fixtures literally make the space around them brighter. For the next few months, that space is at the Tucson Botanical Gardens. Ryan Smith, the Seattle architect and designer behind LightArt, found his inspiration for this project in the flowers from the landscape of the Pacific Northwest. Rhododendron and cherry blossoms, foxglove and columbine, snowdrops and chartreuse blossoms abound. And all of them provide a warm glow that will make you feel both in awe of how lovely art can be and like you seriously need to step up the lighting game in your own home. On display through Jan. 5 at the Tucson Botanical Gardens, 2150 N. Alvernon Way. Hours are 8:30 a.m. to 4:30 p.m. daily, and 8:30 a.m. to 8 p.m. Thursday and Friday. $15 adults, $13 seniors/students/military, $8 kids 4 to 17, free for members and kids under 4. Information.
Tucson Landmarks Month at the Madaras Gallery.
The Madaras Gallery is celebrating 20 years of bringing art to Tucson by having a special themed exhibit each month. It's only fitting that a gallery that's so quintessentially Tucson would have a month dedicated to showcasing art of Tucson landmarks. From Mission San Xavier del Bac to the Barrio neighborhood to the University of Arizona, it's a showcase that will remind you just how beautiful our Old Pueblo is. Nov. 1-30. Hours are 9 a.m. to 5 p.m. Monday through Saturday and 11 a.m. to 5 p.m. on Sundays. Madaras Gallery, 2025 N. Swan Rd. Free. Information.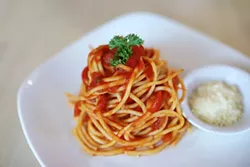 Tastes of the Fall Harvest Pairing Dinner. Romano's Macaroni Grill is embracing the chilly November evenings with their monthly pairing dinner. This four-course dinner is made of harvest-inspired dishes, perfectly paired with wines and cocktails. The dishes include Spaghetti Carbonara or San Marino Grilled Chicken paired with 14 Hands Merlot; and Rosa's Signature Caesar Salad paired with Chateau Ste. Michelle Riesling. And for dessert, a choice of Cheesecake Creme Anglaise or Pumpkin Spice Cannoli paired with an "Espresso Martini." Strap in! 7 to 9 p.m. Wednesday, Nov. 6. 5100 E. Broadway Blvd. $45. RSVP. Information.
Tags: things to do , weekly list , fun , entertainment , food , community , music , shows , theater , classes , art , Image