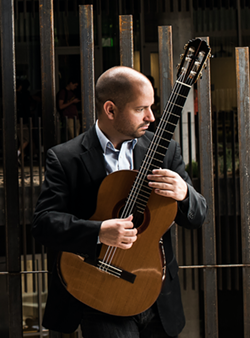 This Richmond, Virginia metalcore outfit's lyrical content revolves around despair, struggles with mental health and addiction. "The Worst in Me" is about an unhealthy relationship. Frontman
Noah Sebastian
expands, "More specifically, it's something you can't let go of even though it's not good for you—whether it's a relationship, a drug problem or terrible situation. You're addicted." Trying to find God before God finds them,
Bad Omens
are at 191 Toole. Flanked by
Gila Byte
and
Echoes
...
Featuring
Mexico Beyond Mariachi
and a company of dancers,
Sugar Skull: A Dia de los Muertos Musical Adventure
delves into rich cultural traditions. At the Fox Theatre...
With lyrics inspired by personal struggles and social inequality,
Grün Wasser
have risen from Chicago's underground to land at the forefront of the minimal electronic music scene. Along with Portland rock 'n' rollers
The Shivas
, they are sure to "Start A Fire." At Club Congress. With local support from
Moontrax and Jrown
...
She has been a staple in the Southern Arizona music scene for over 25 years. Performing as part of Plaza Live! Tuesday Night Concert Series, vocalist/multi-instrumentalist
Sabra Faulk
sings folk rock and Americana. At St. Philip's Plaza...
Day of the Dead Tertulia
is an evening of music, conversation and poetry. Cultural historian
Luis Coronado Guel
will lead a presentation sharing the history and rituals of El Día de los Muertos. Guitarist/assistant professor of Latin American Music
José Luis Puerta
will perform with Borderlands Ensemble. At Exo Roast Co...