Things to Do, Tuesday, Oct. 22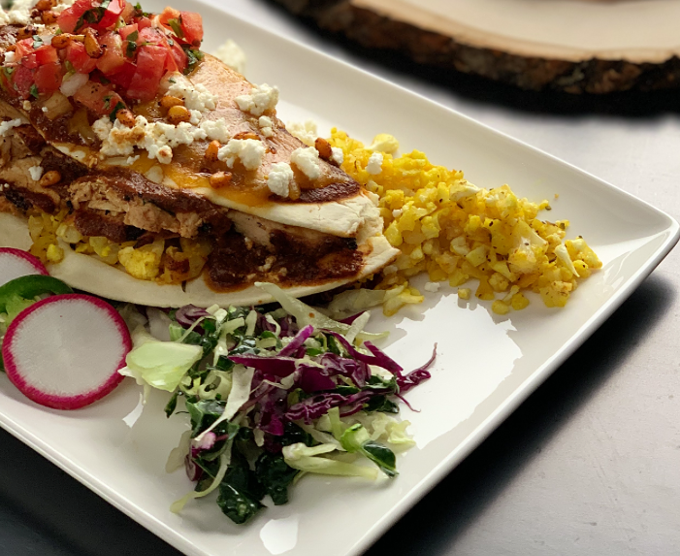 Pita Jungle releases Seasonal Specials. Pita Jungle, with two locations in Tucson, is releasing
their new "Seasonal Kitchen Crafts Menu" this week. The menu is reinventing several of their classic dishes, including the "All Veggie Pita Pocket" with avocado, baby greens, bell peppers, red onion, taboule and lemon vinaigrette; their "Bone Broth Ramen with Shirataki Noodles," which includes beef bone broth, miso, kimchi and red onion; and the "Wood-Fired Medchilada," which includes garlic-cilantro chicken in a beef bone broth enchilada sauce, cheddar and feta. The menu is available Tuesday, Oct. 22, and runs through the end of the year. 5340 E. Broadway Blvd. and 7090 N. Oracle Road. Information.


Kingfisher releases Fall Menu. Kingfisher's chef Jeff Azsersky has updated the lunch and dinner menus for the fall and holiday season, with some returning favorites like warm cabbage salad, bouillabaisse and braised lamb shank. The specialty Bluefin Heath Bar Cheesecake with toffee sauce, from Bluefin (the sister restaurant to Kingfisher closed in 2015), will also make a return. Kingfisher's ceviche, house-smoked ruby trout, and pan-roasted chicken with shiitake mushrooms and horseradish mashed potatoes have been updated as well. Available now. 2564 E. Grant Road. Information.

Shop Talk: The Work of Sandra Cisneros. Mari Herreras, fifth-generation Tucsonan, poet and former editor of the Tucson Weekly you're holding in your hands right now, is leading this free, informal discussion about the work of poet Sandra Cisneros. She'll start with a mini-lecture, then lead a conversation about Cisneros and her work. And you can pick up an informational packet with info on Cisneros' life, excerpts of her work and with clips of what critics have to say. Don't miss Cisneros doing a reading at the Poetry Center on Oct. 24! This event is 6 to 7 p.m. Tuesday, Oct. 22. University of Arizona Poetry Center, 1508 E. Helen St. Free. Information.

Silent Sky. If you loved the big middle finger that the strong, intelligent women in Hidden Figures gave to the patriarchy, then you'll probably also love this play based on the life of 19th-century astronomer Henrietta Leavitt, who made discoveries about the brightness of stars that provided astronomers with a way to measure the distance to faraway galaxies. The play is written by Lauren Gunderson, whose works have been among the most produced in the country for three years running, and combines science history, family ties, fragile love and a passionate main character. Shows at either 7:30 p.m. or 2 p.m. Wednesday, Oct. 22, through Saturday, Nov. 9. Temple of Music and Art, 330 S. Scott Ave. $40 to $70, or $25 to $55 for preview performances Tuesday through Thursday, Oct. 22 through Oct. 24, or Saturday, Oct. 26. Information.

Last Train to Nibroc. The year is 1940. May, a small-town girl from Kentucky, and Raleigh, an aspiring writer and recently discharged young serviceman, are sitting next to each other on an eastbound cross country train trip. Also on the train: the bodies of great American writers Nathanael West and F. Scott Fitzgerald. Of course, there's a change of plans somewhere along the way, and two characters realizing they aren't so different after all. Come watch this lovely love story unfold (recommended for mature ages 13 and up). 7:30 p.m. Tuesday, Oct. 22 to Sunday, Nov. 3. Invisible Theatre, 1400 N. First Ave. $35 or $20 for the preview show Tuesday, Oct. 22. Information.


Suicide: The Ripple Effect. This documentary explores the lasting effects of suicide focusing on "breaking stigma, advocacy, and mental wellness." Directed by Kevin Hines, who himself is a suicide attempt survivor, this movie not only looks at the epidemic of suicide, but shares stories of strength and survival. A Q&A discussion will follow the screening. 7 to 9 p.m. Tuesday, Oct. 22. At Tucson Village Farm, 4210 N. Campbell Ave. Tickets available at the door for a suggested donation of $10 per person. The proceeds from this event will be used to support the Tucson Village Farm camp scholarship fund. Information.


Tags: Movies , things to do , food , drinks , documentaries , Pita Jungle , Image