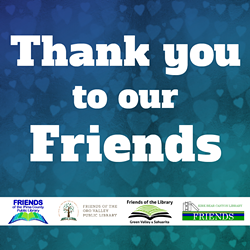 Thank you for being our friend... travel down the road to buy some books. Your heart is true, you're a pal to the libraries...

It's National Friends of Libraries Week!
Pima County Public Library is lucky to have not one, not two, but FIVE Friends groups who help make possible so many things that your local library offers.
Friends of the Pima County Public Library
Friends of the Arivaca Library
Friends of the Kirk-Bear Canyon Library
Friends of the Green Valley and Sahuarita Libraries
Friends of the Oro Valley Public Library
Storytimes, gardening workshops, author talks, Homework and Job Help, Summer Reading programs, language learning... these are just a handful of the classes and events we bring to you, but it wouldn't be possible without our Friends!
Fun fact! Last year alone,
our Friends groups gave the Library $340,199.61!
Help us celebrate National Friends of Libraries Week! How, you ask? It's easy...
1) Become a member
2) Make a donation
3) Shop book sales
4) All of the above!
Learn more today!