Things to Do, Tuesday, Oct. 1
The Addams Family. How fitting: The first day of October also happens to be a Tuesday. That means Harkins Theatres is screening something extra spooky for their Tuesday Night Classics series. The 1991 Addams Family movie is an interesting specimen: It went $5 million over-budget, featured a song by MC Hammer, spawned dedicated pinball and video games, and was an unexpected hit overseas. While these might not all have something in common, it certainly shows The Addams Family is a noteworthy movie. Get in the spirit on the very first day of October! 7 p.m. Tuesday, Oct. 1. 5755 W. Arizona Pavilions Drive & 5455 S. Calle Santa Cruz. $5. Details.


David Rosenfelt Book Signing. David Rosenfelt has received lots of acclaim for his books, including his 20 Andy Carpenter Novels, and a nonfiction bestseller called Dogtripping. That one is about a move from Southern California to Maine with 26 (26!!) dogs and a group of volunteers. He and his wife have rescued more than 4,000 dogs, and they always have at least 20 living in their home. So, if you don't have a million questions for this guy, I don't even know what to say to you. Anyway, this event with Arizona wine or beer and hors d'oeuvres will feature the release of Rosenfelt's newest book, Dachshunds Through the Snow, a book signing and several other treats. And it's a good chance for you to rescue some animals too—proceeds benefit the Southern Arizona Golden Retriever Rescue. 5 to 7 p.m. Tuesday, Oct. 1. Arizona Wine Collective in St. Philip's Plaza, 4280 N. Campbell Ave. $75. Details.

Tuesday Teen Time. It's a Tuesday afternoon… do you know where your teenagers are? Well, if they're cool teenagers, they'll probably be at the Eckstrom-Columbus Library for this cool class about how to twist balloons into funny animal shapes. Seriously, what better party trick than to be able to whip out a bright purple latex giraffe at a moment's notice? Or how much cuter and more unique is it to give someone a balloon flower you made yourself than a bouquet from the grocery store? For those who especially enjoy it, balloon twisting could even become a lucrative side hustle! Send your teens to learn about entrepreneurship and the art of balloon twisting. 4 to 5 p.m. Tuesday, Oct. 1. Eckstrom-Columbus Library, 4350 E. 22nd St. Free. Details.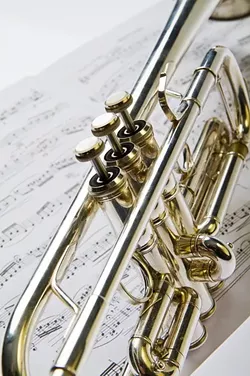 Jazz in AZ. One act, one hour, and one helluva lot of impressive dancing. Jazz, tap and contemporary come together in this show by the UA School of Dance. First, seven dancers take the stage to tell a story about a young man's dream of playing the saxophone in Michael Williams' tap piece, AlittleSAXophoneSTORY. Then, Sam Watson presents an excerpt from his piece Something Blues, a duet set to music by Canadian DJ Kid Koala and featuring old blues and hip hop recordings. Last is Larry Keigwin's Megalopolis, which the New York Times described as "a divinely will structured encounter between formalism and club culture." Don't miss your dance chance to see this show! 7:30 p.m. Tuesday, Oct. 1 through Thursday, Oct. 3. Stevie Eller Dance Theatre, 1737 E. University Blvd. $16 adults, $14 senior/military/UA employees, $12 student. Details.

Spirit Animal Month. The Madaras Gallery is celebrating 20 years this year, and, in honor of the last two decades of art, they're highlighting a different subset of Diana Madaras' work each month. For the spookiest month of the year, they're featuring her spirit animal paintings, which tell the story of her deep, lifelong connection to animals. By the end of the year, she'll have 20 of these babies—colorful, geometric portraits of birds, fish, tigers, bears, horses and more—completed. Come see them on special display throughout the month. Hours are 9 a.m. to 5 p.m. Monday through Saturday and 11 a.m. to 5 p.m. Sundays. Madaras Gallery, 3035 N. Swan Road. Free. Details.

Mindfulness Meditation. Sometimes the library really does seem too good to be true. Not only can you check out all sorts of books for free, but they're constantly offering events where you can learn more about everything from computers to languages to how to be a better gardener. This Monday, learn a little bit about mindfulness, or the art of paying purposeful attention to the present—something that's a lot easier said than done, but is a learnable skill. Find out how it can benefit your physical health, your mental health, your relationships and other aspects of your life. And all you have to do is go to the library and listen. 4 to 5 p.m. Tuesday, Oct. 1. Joyner-Green Valley Library. 601 N. La Cañada Drive. Free. Details.


Tags: fun , things to do , music , movies , meditation , galleries , Image