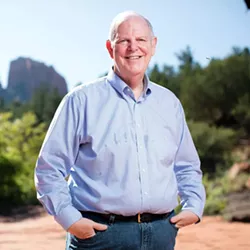 Rep. Tom O'Halleran, who represents Congressional District 1, is the
only Democrat in the Arizona House delegation who hasn't yet called for an impeachment inquiry
into President Donald Trump's administration.
But O'Halleran might be moving in that direction, although he didn't use the "I" word. In a statement today, he called for an investigation into the allegations that Trump withheld aid to Ukraine while he was pressuring them into investigating political rival Joe Biden and added that if the administration continued to stonewall, then "further action is warranted."
O'Halleran's statement:
The serious allegation that the Administration withheld foreign aid from Ukraine in order to pressure their government into digging up dirt on a political opponent requires a prompt and thorough investigation. We must act now to get the facts. As a former criminal investigator, I am focused on getting the evidence necessary for Congress to complete our investigations into corruption, foreign influence in our elections, and these new allegations. If the Administration does not cooperate with Congress on the investigation of a shocking abuse of power, then further action is warranted.