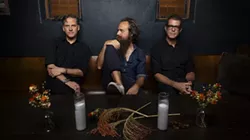 Calexico's Joey Burns and John Convertino (along with trumpet player Jacob Valenzuela) made a trek to Nashville just before Christmas last year to spend a few days in the studio with Sam Beam of Iron & Wine.
The result is
Years to Burn
, which will drop next Friday, June 14. But if you want an advance listen,
NPR is streaming it
right now.
NPR correspondent Stephen Thompson's take
:
The new set finds Sam Beam, John Convertino, Joey Burns and members of the extended Calexico and Iron & Wine casts at their loose-limbed best. Beam, now an old hand at lavish and soulful arrangements, performs here with maximum smoothness, while Burns and Convertino lean hard into Beam's mix of warmth and melancholy. They all sound comfortable, collaborating deep in the pocket, but they're still exploring.