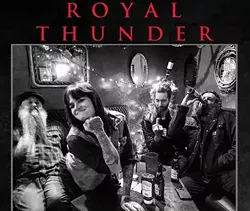 Luring listeners in with dark, hard-hitting rhythms and belting vocals, on "Forgive Me, Karma," these Atlanta hard rockers "walk with fire."
Royal Thunder
are at Club Congress. With fellow Atlanteans, hard rock/metalists.
Details here.
Brash and hard hitting, on Annihilator (Evacuate Records, 2018) these Austin punks crank it out bullet fast.
Sniper 66
utterly obliterate at Ward6. Flanked by
THUGxRIOT and Mad World
.
Details here.
The
Joe Peña Trio
shed magical droplets of sorrow. At Agustin Kitchen.
Details here.

Deeper: DJs Atom Energy and Lunarfox
spin house at Passé.
Details here.

El Paso indie rockers
If We Were Turtles
ponder reptilian thoughts and other things at Sky Bar.
In Lessons
and
Noise Field
provide needed support.
Details here.

On "Because I Can" this folksy crooner issues a caveat. "And you can take any part of me/Just know you are also leaving with this heart of mine."
Leila Lopez
stirs the senses at Tap + Bottle-Downtown.
Details here.