Friday, May 17


Often twinning, Jess Wolfe and Holly Laessig present themselves aesthetically as mirror images but it is the uncanny pairing of their dazzling voices where the true symbiosis refracts. Their latest, Nudes (Mom + Pop Records), an acoustic compilation, presents reworked songs from their back catalog and new material
along with folk standard "Goodnight, Irene" featuring Roger Waters. A song recorded in a 1947 Voice-O-Graph. "Which is basically a telephone-booth recording studio, direct to vinyl. It's a crackling, sizzling, warm, beautiful sound. It was really fun," says Wolfe.
Lucius
defrock the Live Nudes Tour at the Rialto Theatre. With
Pure Bathing Culture.


"We guarantee we'll make you sweat, but we promise you'll love it." These are the luring words of Lola Torch, producer and featured burlesque performer. Conjuring up images of twirling ribbons and the promise of summery days ahead Tucson Libertine League presents
May Day
. At 191 Toole.

Want to "Meet Your Maker?" "Cosmic Queens" Pearl Earl—an all-female, psych/pop/prog/garage rock outfit from Denton, Texas—will lead the way. At Club Congress. The Rifle add their own unique color to the paisley palette.

Out on the plaza at Hotel Congress, Blues Friday continues with The Atmosphere.



Learn to increase sight from the third eye:

Still Life Telescope and Peppermint Hippo expand consciousness at Saint Charles Tavern.

Tracing back the roots of country music, from the Appalachian Mountains to the flats of Bakersfield, Freddy Parish's monthly residency continues. Dry 'n' Dusty at Exo Roast Co.

Alt '90s Dance Party finds DJs Plastic Disease, Black Flagg and KNILLZ spinning round, round. At the Surly Wench Pub.

Easy Money, Beg For Life, No Right, Victim to None and Hellhook rage. At WARD6 - AZ.

Blues vocalist/violinist Heather Hardy performs at Monterey Court.

The sweet folk of Natalie Pohanic is what you'll uncover in the fine powder at The Dusty Monk Pub.

Their music was played on the Space Shuttle Discovery. Not many can make that claim. Guitar duo Reno del Mar

featuring violinist

Beth Daunis are in the tasting room at Sand-Reckoner.



Saturday, May 18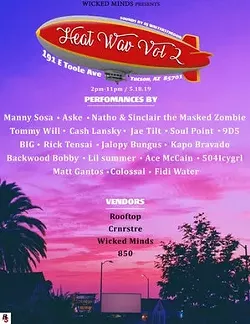 This extreme weather condition occurs when a system of high atmospheric pressure moves in and air is pulled toward the ground rapidly increasing in temperature.

Heat Wave Vol. 2

features

Manny Sosa, Aske, Natho & Sinclair the Masked Zombie, Tommy Will, Cash Lansky, Jae Tilt and more. At 191 Toole.

Singer Emelie Marchand leads her red hot musical flames—Thøger Lund, Ben Nisbet and Dimitri Manos—through a repertoire that spans from "The Devil's Music" of 1920s to the wicked soul jams of the 1960s. Lola & The Torchbearers cast sparks at Exo Roast Co.

FebboFuentes entertain at Sand-Reckoner.

Traditional bluegrass will waft through the balmy night air. Cadillac Mountain perform as part of the Spring Concert Series. On the plaza at Hotel Congress.

The soulful wail of Miss Olivia and the Interlopers can be heard at Crooked Tooth Brewing.

Once tagged a "cowpunk goddess," a nod of acknowledgement is in order. Musician/actor Jean Caffeine

jolts through town. Perhaps best known for her film work in Art Linklater's Slacker (1991) and Waking Life (2001), Caffeine is on the road—one woman, one guitar—in support of Sadie Saturday Nite (Joe Records).

Part spoken word, part garage country concept album, she candidly recalls her adventures coming of age during the first wave of punk in San Francisco. At Saint Charles Tavern. With

BreakingGlass and J. Matzek.



Two stages. 18 bands. What could possibly happen next?

Summer of Man, Calling Upon a Theory, Better on The Inside, Liquid Space Atmosphere, Desert Kings, The Doubted, Interfate, Fatal Malady, While She Waits, Mission G, Ciphered Existence, Pyrotechnica, A Liar Like You, Bury Me Alive, Dedwin, Fire Glass, Fire By Rank and Minutes To Midnight. Yes, it's Metal In May Fest at House of Bards.



Sunday, May 19




One of this classically trained pianist's early gigs was tickling ivories at the Beverly Wilshire Hotel. Although it has seemingly taken eons, on 15,000 Days this musician/actress finds her true voice.

Alicia Witt turns a new page at 191 Toole.

Rhythm & Roots

presents the "bare-knuckle lowdown blues" of Roy Book Binder. Acoustic fingerstyle blues wunderkind

Roman Barten-Sherman invigorates the lineup.

Music Under The Stars features music by the Tucson Pops Orchestra.

Al fresco, at DeMeester Outdoor Performance Center.