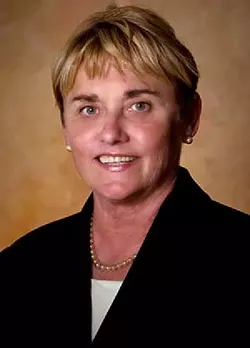 After a contentious meeting, the Pima County Board of Supervisors voted 3-2 to accept Operation Stonegarden grant funding on Tuesday.
Democrat Sharon Bronson joined Republicans Steve Christy and Ally Miller in voting to accept the controversial federal grant, which provides federal dollars to the Sheriff's Department to reimburse the county for expenses related to border crime.
Two grants were on the table. One in the amount of about $1.2 million for overtime ($1.5 million), mileage ($50,000) and travel ($13,120) reimbursement. The other was $595,600 for two license plate readers ($33,600), an aircraft FLIR camera ($502,000) and aviation fuel ($60,000). The money is provided by the Department of Homeland Security.
Bronson made the motion to accept the grant with the exception of the license plate readers.
Until last September, Operation Stonegarden had been accepted by the Pima County Board of Supervisors for 12 consecutive years. In response to mounting opposition from community members, the supervisors reversed their decision and rejected it in a 3-1 vote.
The supervisors accepted the grant this year along with new conditions. The county expects to receive the maximum amount of indirect cost reimbursement from the program, which is approximately $256,919. That money will be repurposed for humanitarian aid cost reimbursement provided to local faith-based nonprofits.
The board also requires the Pima County Sheriff's Department to provide them and the Community Law Enforcement Partnership Commission with data regarding all Sheriff's Department activities in the Stonegarden program.
The new conditions call for an investigation of vandalization of the water stations left for migrants in Pima County by the nonprofit Humane Borders, and that Sheriff Mark Napier reaffirms in writing his previous commitments for no ICE agency presence in the county jail and no sheriff personnel to perform pretextual stops at Border Patrol checkpoints.
Critics of Stonegarden say the program promotes collaboration between local law enforcement and federal immigration agents, which targets immigrant communities within Southern Arizona.
Concerns about the federal family separation policy have drawn scrutiny to the previously noncontroversial grant, with activists arguing that Pima County should not partner with DHS because they carry out the Trump administration's immigration policies.
At the meeting, Chairman Richard Elías, who voted against accepting Stonegarden funds, said racial profiling is an issue that affects everyone in the community, and the county has no control over what happens to people after they're in Border Patrol custody.
Christy countered that Pima County Sheriff Mark Napier is the law enforcement expert, and if he approves of the grant, then that is what the supervisors should support.
Miller said based her experience on the border, she agrees with those who say there is drug trafficking and other criminal activity that negatively affect residents in Arivaca, Amado and other border towns.
"Do a walk along, see what's happening on the border, because until you experience it, you have no idea," she said at the meeting.
Supervisor Ramón Valadez said he opposed accepting the Stonegarden grant dollars but it was a difficult decision because there are bad consequences either way. But ultimately, he believes that the same conditions and concerns he had last September still exist today.
Supervisor Sharon Bronson, the swing vote in today's meeting, has a different opinion about the current state of Stonegarden.
Bronson told Tucson Weekly that previous concerns raised by the Department of Homeland Security's Office of the Inspector General have been resolved, and there is a public safety issue at the border that opponents of Stonegarden "seem to be denying."
"This money is coming to this community regardless of whether or not we are accepting the grant," Bronson said after the meeting. "If we do not accept it, then it will go to the other agencies that are accepting it and the Arizona Department of Homeland Security affirmed that at an Arizona Border County Coalition meeting."
Pima County residents who spoke at the meeting were split on whether deputies use the extra funding to keep people safe, or whether they put people in danger through support for DHS policies.
Just last week Thomas Torres
-Maytorena, a senior from Desert View High School, was detained by Border Patrol after a sheriff's deputy ran his plates and pulled him over. The vehicle's registration was expired and had a mandatory insurance suspension.
Torres-Maytorena's arrest, which happened just two weeks before he is set to graduate, has heightened the issue of Stonegarden in Pima County. Community members say it is an example of how Border Patrol collaborates with local sheriff's deputies to detain people.
According to the police report, during the traffic stop Torres-Maytorena admitted to the deputies that he is an undocumented immigrant.
Pima County Sheriff Mark Napier, who wanted to see the grant accepted, says the sheriff's department will be more transparent now that they know which details of the grant the community cares about. He said it used to be accepted quietly year after year with not much discussion.
Pima County Administrator Chuck Huckelberry had recommended approval of the grant. He claims the sheriff's department has been the most forthcoming agency with details about the program, and has implemented policies to increase trust with Pima County residents.
"If there is any hope in reforming the system, it is only through cooperation with the police agencies receiving funding," Huckelberry wrote in a memo.
On April 23, Huckelberry announced that the county plans to apply for another Stonegarden grant that would specifically address humanitarian aid cost reimbursement.
DHS and FEMA issued an Operation Stonegarden Grant for Unaccompanied Children and Families on the Southwest Border last November. This allows for grant funding related to reimbursement of costs related to food, water, hygiene products, medicine, medical supplies, temporary housing and limited transportation.
Eligible states include Arizona, California, Texas and New Mexico.
Just this year, Tucson has seen more than 7,000 asylum seekers and migrants come after being detained at or near the U.S.-México border. Border Patrol often releases more than 200 people at a time, with no plans for where they will find food, shelter or transportation to their final destination. Asylum seekers and migrants usually spend about three days in Tucson.
Several faith-based community organizations have worked with Border Patrol to coordinate the releases and get them into permanent or temporary shelters, and city and county resources have been allocated to address the growing needs. According to Huckelberry, Pima County has provided more than 1,000 doses of vaccines at a cost of at least $15,850 since January 2019.
In one of his memos, Huckelberry explained that these shelters have reached capacity in the last few weeks. The Benedictine Monastery and the El Pueblo Center are completely full, which caused the county to open up a "pop-up shelter" at the Kino Event Center.
Huckelberry penned a letter to Senator Kyrsten Sinema, asking for her assistance in applying for a grant like this and also requesting more information about whether other border counties have applied for this grant or have been awarded grants for humanitarian aid purposes.
In addition, the Arizona Border Counties Coalition asked the Arizona Department of Homeland Security for indirect cost reimbursements, which would be applied to personnel costs totaling about $330,000. Director Gilbert Orrantia of AZDHS responded that if Operation Stonegarden were to offer indirect cost reimbursement, it would lower the amount of the overall awarded grant.
Operation Stonegarden also awards grant funding to municipal police departments. Tucson was awarded $604,676, Sahuarita was awarded $226,800, Oro Valley was awarded $132,600 and Marana was awarded $308,800.
CLEPC
The Community Law Enforcement Partnership Commission was created last year as a condition for accepting the Stonegarden grant, which awarded $1.4 million to the sheriff's department.
After the supervisors rejected Stonegarden last year, the commission was retained. Supervisor Ramón Valadez of District 2 gave it a new mission to review every intergovernmental grant that comes to the board for use by the PCSD. None of the CLEPC recommendations are binding; the board still has final decision in all budgetary matters.
Kristen Randall, co-chair of the CLEPC, said this Stonegarden grant, which requires missions be completed through overtime, is problematic given that the sheriff's department is "grossly understaffed," with deputies performing compulsory overtime to cover regular and jail shifts.
At the meeting, Napier said staffing levels are at 92 percent. PCSD Captain Russell Ponzio said the majority of deputies engaged in Stonegarden operations come from patrol and investigation divisions, which have a staffing rate of 86 and 77 percent, respectively.
Napier requested the commission have a forward-looking attitude when considering the Stonegarden grant, and not focus on the past.
"It's very easy to look backward and say we coulda, shoulda, woulda, but let's look forward," he said.
Napier says his department has a much better grasp on transparency issues now than in the past. He claimed there was no previous interest in the details of Operation Stonegarden.
He told the commission they didn't track things like how many times the sheriff's department requests Border Patrol's assistance, how many traffic stops do not result in a citation, and how many times deputies proactively detained migrants compared to how many times migrants surrendered themselves to deputies.
Randall said FEMA and DHS require the sheriff's department to adhere to a "stringent recording process" as a condition of the grant, which would contain the relevant information in Daily Activity Reports.
At the meeting, Ponzio said they track the number of vehicles stopped, citations issued, people turned over to Border Patrol and total arrests, which are factors that CLEPC uses to decide whether to recommend approval of the grant.
Napier says the DARs were "driven by another body" with data that only captures what DHS considers to be quantifiable. He said going forward the sheriff's department will keep their own local records, that will reflect what information Pima County values.
The sheriff's department obtained $6 million of equipment in the 12 years the county accepted the Stonegarden grant. Napier says that the federal government might take back all the equipment if Pima County is no longer participating in Stonegarden.
When asked by commissioners if the sheriff's department will still interdict drugs and crimes at the border without Stonegarden funds, Napier said yes. The sheriff's department had a $165 million budget last year. Through cost saving measures, they didn't use almost $5 million. The Operation Stonegarden grant is only $1.5 million.
"I think it's very possible with good planning that [Napier] can instead of not using some of his budget, use it, and then those hours are tailored to the needs of Pima County residents instead of to Border Patrol," Randall said.
Napier said he wants the CLEPC to approve the grant, and then hold him accountable to it.
"We will not gain transparency by walking away, we'll simply abdicate that money to others, and we will have no sense of transparency," he said.
He and Huckelberry argue that if the county rejects the grants again, it will not keep Operation Stonegarden out of Pima County. This was seen recently when deputies from Pinal County were deployed on Operation Stonegarden missions within Pima County boundaries near the border.
Napier told the commission the sheriff's department will always have to collaborate with Border Patrol in some capacity because of Pima County's proximity to the border, and rejecting Stonegarden wouldn't prevent CBP and PCSD from interacting with each other.