Spanish poet Federico Garcia Lorca once said, "Besides black art, there is only automation and mechanization."
Black Renaissance is an event taking place throughout May, celebrating black artists from the Tucson community. The ongoing event is designed to educate and enlighten attendees on black culture and its vast impact.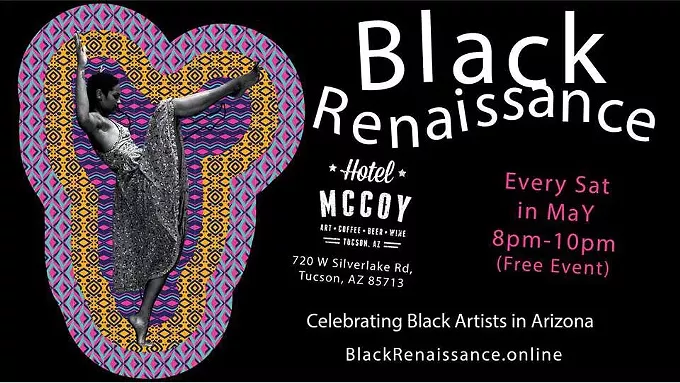 Founder of Black Renaissance, seanloui has lived in Tucson for years and noticed a lack of black artists represented in the city. So he felt the need to create a project to illuminate their work.
"But because of us being a minority inside Arizona and Tucson particularly, we weren't given those chances in order to present their art so it is another opportunity for them to do so," seanloui said.
He created Black Renaissance to bring together African-American artists from Tucson and to showcase their art, whether that be spoken word, music or visual art. He particularly emphasized bringing together artists of all backgrounds and platforms.
"I think it's going to spotlight the amazing artists from the black community that are doing some really cool stuff and as well I think it will bring the black community closer together," seanloui said.
Black Renaissance takes place every Saturday throughout May at Tucson's new "art hotel," Hotel McCoy. Each weekend will host a different art theme.
"Each night is power-packed, because it's different and because of amazing high-level artists," seanloui said.
May 4
is hip-hop night, featuring performances by local musicians Chakara Blu, Cash Lansky, Jaca Zulu and Kaizer.
"It's really cool to have an event that shines light on us, like we are here, and a lot of us are artists and we do exist," Blu said. "For me, it feels powerful."
For
May 11
, the theme is spoken word. On this night, poets and comedians will take the stage and show off their talents. Featured artists are Stephanie Lyonga, Stevie Rose and many more. Lyonga is a comedian by night. She was tagged in a post on Facebook by a friend calling all black comedians or poets in Tucson to be a part of Black Renaissance.
"I don't tell jokes, I just go out there and pretty much tell my life story somehow it comes out funny and people laugh," Lyonga said.
Lyonga feels she has always been partial to comedy because she loves the nature of laughter. Being ex-military, she described her life then as very strict when she was younger. Comedy was something that made her life more upbeat.
"As a black comedian myself, I've been in Tucson six years and there's a handful of black comedians let alone black people period," Lyonga said. "I haven't really seen much of them."
The third Saturday,
May 18
, Black Renaissance gives the stage to visual arts with the Black Museum. Painters, photographers and sculptors will all showcase their work. Featured artists include Allison Miller, Elizabeth Denneau, Troy Miller-Perry, FlawlessViktory, Sandra Taylor and many more.
The last night,
May 25
, is the final concert of Black Renaissance. Street Blues Family band and Black Caesar will close out the event. A musician himself, seanloui will also be performing his own beats and original sounds.
Next year, seanloui has plans for Black Renaissance to return to Tucson again with bigger and more exciting things to come.
"[Black Renaissance] is an appreciation for new artists, black artists, entrepreneurs, people who are starting out and doing something on their own," Lyonga said. "People who need to be recognized, and Black Renaissance recognizes that."

Black Renaissance takes place each Saturday in May, May 4, 11, 18 and 25 from 8 to 10 p.m. At Hotel McCoy, 720 W. Silverlake Rd. Free.

For more information, visit blackrenaissance.online