National Bubble Tea Day at Enchanted Cafe.
Boba, you know, those gooey orbs of mystery and magic floating around in fruity drinks. If you've never had boba, now's your chance. Enchanted Cafe is offering 15 percent off all 20 types of their boba drinks. And if you're feeling extra adventurous, you can make up some of your own flavor combinations as you go. 7 a.m. to 7 p.m. Tuesday, April 30. 1525 N. Wilmot Road.
Details here.

Agave: Spirit Of A Nation
Part of the Agave Heritage Festival, this is a free screening of a documentary showing how one plant can affect the culture, art, cuisine and even worldview of nations. Yes, the agave plant is powerful, and that's why many people are also trying to protect it. 7 to 9 p.m. Tuesday, April 30. Loft Cinema, 3233 East Speedway Blvd. Free.
Details here.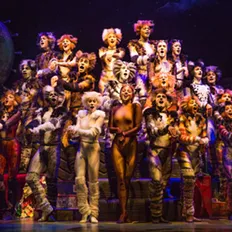 Broadway in Tucson: CATS.
Ah, Cats. One of the most divisive musicals out there: You either love it or you hate it. You might not expect a musical about the internet's favorite animal to garner anything other than praise, but some people just aren't into it. But considering it's won seven Tonys, has been translated into 15 languages and has set longevity records on both sides of the Atlantic (it ran for 21 years in London!), it's the sort of thing that you really shouldn't judge until you've seen it. Plus, most of the songs are straight up just T.S. Eliot poems. Worth checking out, no? Tuesday, April 30, through Sunday, May 5., with evening shows at either 6:30, 7:30 or 8 p.m., a Saturday 2 p.m. matinee, and a Sunday 1 p.m. matinee. Centennial Hall, 1020 E. University Blvd. $19 to $120+.
Details here.


Events compiled by Briannon Wilfong, Emily Dieckman, B.S. Eliot and Jeff Gardner.