On their latest Cheers—an album that winks at mid-century folk and '70s glam with tinges of R&B and hip-hop—the three frontwomen of the band leaned into their differences and gave each other unprecedented freedom in the studio. "It was a scary thing for us," said Mackenzie Howe, "because when you have three writers, you often have to tame your differences and come to some sort of agreement. It was the first time we said, 'Screw that, why don't we just record the songs the way they should be done?'" With harmonies that feel like bright light suffusing a dim room,
The Wild Reeds
perform at 191 Toole. With support from
Valley Queen
.
Details here.

In the mood for a three-way? Gotcha. Rock 102.1 KFMA presents
P.O.D., Buckcherry
and
Adelitas Way
. "It's heaven and hell" at the Pima County Fair.
Details here.

Indie/alt rockers
Demonyms
are at Tap + Bottle Downtown.
Details here.

Saxophonist
Neamen Lyles
fills the evening air with jazz as part of the Friday Night Live Free Concert Series. At Main Gate Square.
Details here.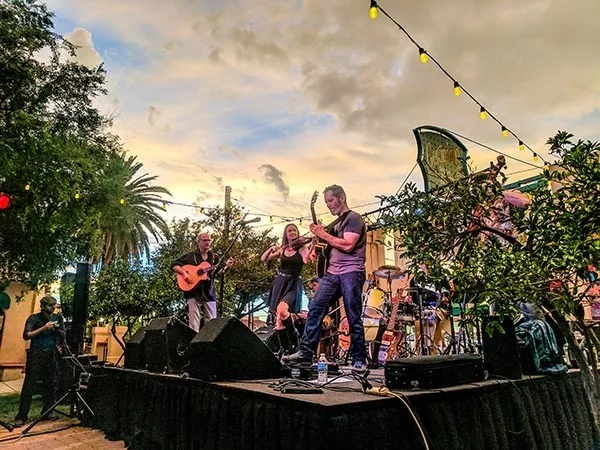 Rock, pop: Latino singer/guitarist
Oscar Fuentes
entertains at Monterey Court. Later,
Santa Pachita
will bring the dancefloor to life.
Details here.

Sister Solace
is a unique harmony-based vocal group. They will perform an evening of folk revival at the Scottish Rite Cathedral.
Details here.

Native Voices
features three award-winning Native American artists performing a scared evening of story and song in the round:
Gabriel Ayala, Darryl
Tonemah
and
Randy Kemp
. At The Sea of Glass–Center For The Arts.
Details here.
Featuring an ever revolving cast of esteemed pickers, Freddy Parish's monthly residency,
Dry 'n' Dusty
, takes the listener on a musical journey from Bakersfield to the Appalachian Mountains. At Exo Roast Co.
Details here.
Conveying a modern sense of urgency through traditional music, perfect for troubled times.
Just Najima
and
Brokedown Palace
are at the Sky Bar.
Details here.
DJ
NoirTech
presides over the Purple Rain '80s Dance Party at the Surly Wench Pub.
Details here.

Nitecall
sees DJ
Mijito
and guest DJ
Blvk Cat
spinning witch house/electro/dance punk/wave. At R Bar.
Details here.

Project 54: A Time Traveling Disco Experience
transports revelers to when a disco ball was more than a light fixture. DJs spin at Solar Culture.
Details here.

Utilizing irresistible cumbia rhythms as lingua franca,
El Tambó Fest 2019: Cumbia Summit of the Borderlands
features live performances by cumbia legends
Vox Urbana, Native Creed, Frontera Buglalú, Sister Mantos
and
La Diabla
. And, globetrotting DJs—
Riobamba, El Dusty, Chaboi
alongside Sonido Tambó residents
DJQ, Dirtyverbs, Humblelianess
and
Quiahuitl
—dropping bomb after mad bomb of sonido Latino.
Details here.
Downtown Radio and Zia Records presents The fourth annual Psych-Out. This year's event features
Sugar Candy Mountain, The Desert Beats, Silver Cloud Express, Tropical Beach,
and
The Psychedelephants
. At The Rock.
Details here.

Inspired by the music pouring out from the gin mills across the Trinity River while still in junior high, he first took pen to paper. Later, it was the hard knocks and broken bones earned on the rodeo circuit that prodded this singer-songwriter to record Black and White Label (2006), his first self-release. Country star
Cody Johnson
is in a "Honky Tonk Mood." At Desert Diamond Center.
Details here.

Australian electronic musician/producer
What So Not
pushes the boundaries of bass. At Gentle Ben's. Backed by beatmaker
Tails
. Details here.
Details here.

NYC by way of Tucson, indie folk singer-songwriter
Naomi Vernon
is back in the desert to perform in the tasting room at Sand-Reckoner.
Details here.
Performing original compositions and adaptations rooted in various pan-African styles: African Folk, Afro-pop, Afro-Cuban and Afro-Caribbean rhythms.
The Key Ingredients of African Soul
mesmerize and make bodies involuntarily sway at Monterey Court.
Details here.
Americana songstress
Joyce Luna
shares the stage with fiddle and cello duo
Young MacDonald
in honor of her birthday at Congregation Chaverim.
Details here.
Tradiciones Entre Peruanos
perform a blend of songs true to their Latin American roots. At Exo Roast Co.
Details here.
Billed as "An evening of acoustic music, fiddles, freaks and fervor":
The Subnormal Trio
hold fascination at The Dusty Monk Pub.
Details here.

Master of a 23-string homebuilt banjo
Paul Metzger
and vocalist/guitarist/thereminist
John Saint Pelvyn
improvise at Subspace.
Details here.
All-ages pandemonium is sure to ensue at Spark Project Collective when
Whiskey Drunk, Robber's Roost
and
Crow Cavalier
crank up the amps.
Details here.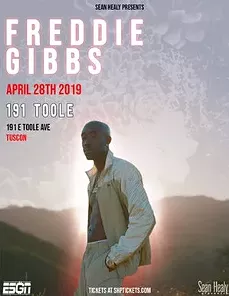 After selling 40 million albums worldwide as frontman for Poison—and all the excesses that come with that—
Bret Michaels
has taken to the road solo to prove that he remains "Unbroken." At Encore (formerly Club XS). Flanked by
Drop D
and
Push
.
Details here.

His credo: You Only Live 2wice. Despite narrowly dodging a gunman's bullets in 2014 and despite being arrested in Toulouse, France, then extradited to Austria in 2016 to face allegations of sexual assault, rapper
Freddie Gibbs
rebounds with his latest,
Bandana
(RCA Records, 2019). At 191 Toole.
Details here.

"Born in a small town," strewn with "Little pink houses for you and me…"
John Mellencamp
presents his populist brand of rock at the Tucson Music Hall.
Details here.
This tempestuous chanteuse made her mark as co-lead vocalist with
Pink Martini
. Now, fronting a gutsy new band,
Le Bonheur, Storm Large
tears out pages from the American songbook and writes new anthems as soul-stirring rock goddess. At the Fox Theatre.
Details here.
Love. Is it only a capricious exercise in futility?
Cole Swindell
pleads his case that it always results with a "Break Up In The End." At the AVA Amphitheater.
Details here.

FIRE Music Video Release and Storybook Concert is a multi-media event:
Leigh Lesho & The Great Light
will perform the 12 chapter storybook with Level 2 Flamenco Dance Group. At Mercado San Agustin Annex.
Details here.

Mary Timony's D.C. power pop trio
Ex Hex
prove that they are "Tough Enough." With L.A.'s psych/punk/grunge/post-future rockers
Feels
, featuring
Shannon Lay
on guitar, at Club Congress. Local mystics
Lenguas Largas
opens the show. Expect chaos.
Details here.
This powerhouse all-male Argentinian company blends precision footwork, rhythmic stomping, drumming and song that originated in the 17th-century in the South American pampas.
Che Malambo
unleash their formidable energy on stage at Centennial Hall.
Details here.