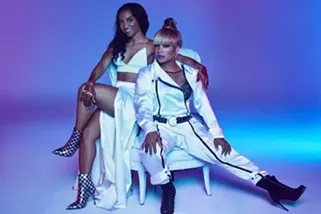 During the 1990s, despite numerous well publicized spats with the law, their management and with each other, this girl group scored four No. 1 singles on the Billboard Hot 100: "Creep," "Waterfalls," "No Scrubs" and "Unpretty."
TLC
get
CrazySexyCool
at the Pima County Fair.
Details here.

The Tucson International Mariachi Conference 2019
kicks off with a showcase on Thursday, April 25, followed by a Espectacular Concert on Friday, April 26, and culminating on Saturday, April 27, with
Fiesta de Garibaldi
. At AVA Amphitheater.
Details here.


The Members Only Tour brings "Greatest Asian rapper alive"
Kid Trunks
plus
Craig Xen
and
Rob Banks
to 191 Toole. With
Coolie Cut
and
Bass Santana
.
Details here.

For the moshers:
Knocked Loose, The Acacia Strain, Harm's Way, Sanction
and
Higher Power
provide all-ages mayhem at The Rock.
Details here.
Deeper: DJs
Atom Energy
and
Lunarfox
spin house at Passé.
Details here.
The Titan Valley Warheads
perform bluegrass and western at Monterey Court.
Details here.


Featuring local poets
Kristen Nelson
and
Aura Valdes
, The
36th Annual Tucson Poetry Festival
launches with readings at the Steinfeld Warehouse Community Arts Center.
Details here.