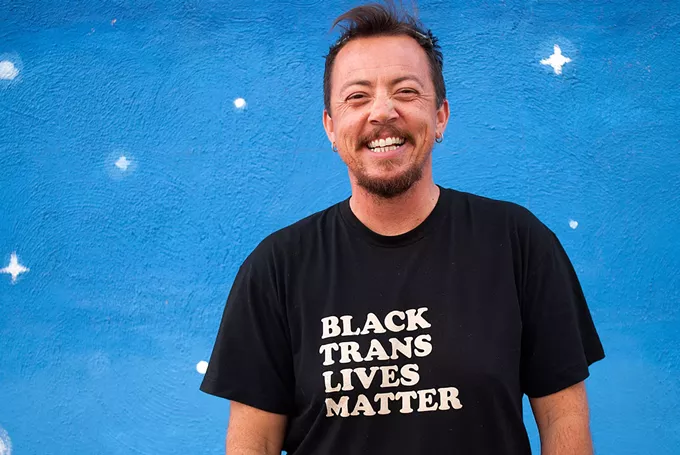 Tucson's thriving poetry scene adds another accolade as TC Tolbert, the town's poet laureate, receives the Academy of American Poets $100,000 Laureate Fellowship.
Tolbert is a lecturer at the University of Arizona and is one of 13 poets nationwide to be honored with this fellowship.
"I'm absolutely humbled by this award and deeply grateful that the committee recognizes the necessity of amplifying the many voices of Tucson's trans, non-binary, and queer communities," said Tolbert, who identifies as trans and genderqueer.
The Academy of American Poets was founded in 1934 and works to champion poets, poetry and the work of poetry organizations. The Laureate Fellowship is a new award and this year reflects the theme of Poetry and Democracy.
"By supporting poets laureate at the state and local level, we hope to ensure that more people become acquainted with poets and poetry where they live and have an opportunity to benefit from innovative and groundbreaking programming close to home," said Michael Jacobs, chairman of the Academy of American Poets.
Tolbert already has plans to put the fellowship money to good use, and will conduct a series of workshops for primarily youth trans, non-binary, and queer, or TNBQ groups. The money will also go towards creating a series of public installations highlighting TNBQ and LGBTQ+ voices and issues across Tucson.
Tolbert earned a master's degree in creative writing with a specialization in poetry from the UA in 2005 and is the author of
Gephyromania
and four chapbooks of poetry.
"This is a fantastic honor for TC, who's one of our very favorite MFA alumni for both the quality of their work, as well as the attention to the local that's been a huge part of TC's presence and ethos as a teacher, writer, poet laureate and citizen," said Ander Monson, director of the UA Master of Fine Arts program in creative writing. "This honor is well deserved, very gratifying and not in the least surprising."
---
Tucson Poetry Festival:


Poetry is everywhere this week! Along with the announcement of TC Tolbert's award, the Tucson Poetry Festival is taking place around town this weekend. Founded in 1981, the Tucson Poetry Festival works to celebrate, expand and create an audience for contemporary poetry in Tucson. Throughout a series of events, both local and visiting poets will share their work with the community. Find a
full list of events on their website here.
Special events not to miss:
Kick-Off Reading for the 36th Annual Tucson Poetry Festival
- This event will take place Thursday, April 25 at the Steinfeld Warehouse Community Arts Center. Local poets Kristen Nelson and Aura Valdes will read from their work and start off the festival for the year. 6:30 p.m. Donations requested.
Details here.
Poetry Party
- Want to celebrate poetry with a side of fun? Party at Cafe Passe Friday night (April 26) and try the festival's signature cocktail "The Gesture." Ten percent of bar sales will go towards the festival fund for next year, so have a drink and help the festival as well! Sounds like a win-win. 9 p.m.
Details here.


Finale Reading for the 36th Annual Tucson Poetry Festival
- Although the finale reading, this isn't quite the last event for the festival but it's still one you won't want to miss. Head on over to Solar Culture on Saturday night to hear from national poets Angel Dominguez, Michael Klein, Baruch Porras-Hernandez, and 2018 National Student Poet Heather Laurel Jensen. 6:30 p.m. Donations requested.
Details here.


Tucson Poetry Festival Presents: Community Open Mic -
Now this one is, for real, the last event of the festival. So you had a busy weekend and you didn't make it to the other events, well there is still time! Fill your Sunday evening with poetry at Owl's Club, and if you are feeling brave, read one of your own poems! Sign-up opens at 6:30 p.m. reading starts at 7 p.m. Readings are limited to 2 to 3 minutes each.
Details here.