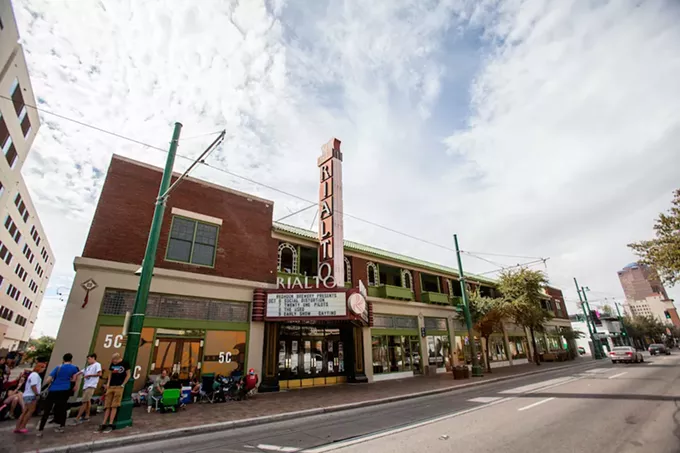 A proposed $88 million hotel project that would have incorporated the downtown's historic Rialto Theatre is dead.
Developer Scott Stiteler, who announced the plans last October, told the Weekly that he couldn't find a way to make the project work, saying that urban development involves many challenges.
"It's very different than buying a piece of land and developing something on the periphery of a community, because you're dealing with usually very small sites and a lot of neighbors and viewpoints," Stiteler said. "To get everything you want in a building that's gonna last for a long time and make an impact for the surrounding area, it's not easy."
The proposal would have put two Marriott hotel brands, Moxy and Element, on the parcel of land behind and to the west of the Rialto Theatre. It would have injected millions of dollars into a makeover of the Rialto's interior as well.
"We put our heart, soul, and pocketbook into it," said Stiteler. "We spent $750,000 on the plans for this, which we will lose. Maybe not entirely, Jim, because we learned a lot. We know more about the 22,000-square-foot parcel and the theater and the structure of the theater. So maybe all is not lost, because probably no one understands the development potential of that site, strengths and weaknesses, better than we do. I love that block, so I'm not going anywhere, and we have big investments across the street on the other two blocks. We will do something great there one day."
Rialto Theatre Foundation Executive Director Curtis McCrary said he was disappointed that the plans fell through, but the show would go on.
"Everyone was hopeful that the dream as outlined could be realized and it would have made for huge improvements to the theater and that would have been a really great thing," McCrary said. "While it's disappointing, it's not really going to affect anything in terms of what we do or are doing or will continue to do."
McCrary said the nonprofit Rialto Theatre Foundation, which recently wrapped up a major capital campaign that has allowed the theatre to revamp its bathrooms and make improvement to the heating and cooling systems, will now decide how to best use its remaining resources on less-ambitious improvements than the makeover promised by the hotel project.
"Now we can instead take the actions that we were otherwise planning to take to bolster the structural needs of the theater," McCrary said. "And then we have significant funds left and might be some opportunity to raise a bit more funding, because it's a 100-year-old theater. The million dollars is going to be able to help us accomplish certain things but there are lots of needs."
Since the project isn't moving forward, the Rialto won't be relocating its operations to the Corbett Warehouse on Sixth Avenue and Seventh Street for two years during the hotel construction process.
The Corbett Warehouse is owned by Stiteler, who says he'll be turning his focus to that parcel next while reconsider what can be done with the property surrounding the parcel.
Stiteler and his various partners have developed a number of downtown projects, including the AC Marriott at Broadway and Fifth Avenue, as well as the Rialto Building that is now home to the Connect co-working space, Diablo Burger and other restaurants; the neighboring block that houses Hub and Playground; and the One North Fifth apartment building. He says he will continue his downtown development efforts despite this setback.
"I won't rest until I complete the four blocks that I have the opportunity to develop, with a vision that I think is good for what we're doing, for the community, the neighborhood," Stiteler said. "They're four really important blocks, and two of them are in a great place. … We better get it right. And sometimes getting it right means you have to walk away from something and revisit it later."