The Spring Concert Series continues. Musical camaleón and curandero
Carlos Arzate & the Kind Souls
work their magic on the plaza at Hotel Congress.
Details here.

In a Rabelaisian celebration of liberation from restraint and societal dogma, under the stewardship of Tucson Libertine League's
Lola Torch, Reveal: A Debut of Burlesque Performances
unveils itself at 191 Toole.
Details here.

"Shake, shake, shake." Shaking booties since 1993,
Funky Bonz
will do just that at Saint Charles Tavern.
Details here.
Psychedelic, darkwave cumbiancheros XIXA with radicals
Ojalá Systems
thresh at Club Congress.
Details here.


Looking for something from the underground? From D.C. post-punk/darkwavers
Social Station
willfully enter The Shit Dungeon. With
Vasectomy
and
Lav Andula
in tow.
Details here.
And, in the twilight, as part of the Friday Night Live Free Concert Series,
Zona Libre
perform contemporary Latino, urbano and popular Americano. At Main Gate Square.
Details here.
Since 2005, these multiple Best of Tucson winners for Best Cover Band channel new wave classics, pop and power ballads from what could be your favorite decade.
80s & Gentlemen
rock on the rooftop at Playground.
Details here.

Kyklo
plays the music that wafts through "mountain villages, ancient islands, hashish dens, cafés, harems, pubs, dance halls, cloisters and prisons of the old world." In the tasting room at Sand-Reckoner.
Details here.
Looking for something low-key?
Jazz Late Night
with
Mesquite
is at Maynard's Market & Kitchen.
Details here.

In two dramatically different sets,
Taco Sauce
and
Juju Fontaine
will raise the dust, and likely swill a few beers, in honor of frontwoman Gabi Montoya's birthday. At Tap + Bottle-Downtown.
Details here.

From Durango, Colorado,
J-Calvin
deliver a potent mix of neo-soul/funk at Exo Roast Co.
Details here.
Surf's up!
Shrimp Chaperone
and
The Furys
pay musical homage to surf legend Dick Dale. At Sky Bar.
Details here.


From Nantes, France, garage rockers
Rock Roll & Remember
unveil their latest recording
Tyranny Of Men
(Compact Disc Records) at Owls Club. A set by "international skiffle trio"
Golden Boots
kicks off the festivities. And the futuristic funk of
Pork Torta 2.6
brings the night to a close.
Details here.

Touring in support of his solo debut, Wolves, Matchbox 20 guitarist
Kyle Cook
lands at Monterey Court. With
Paul McDonald
cushioning the landing.
Details here.
What a Good Day. Hailed by Albert "Ice Man" Collins, as "One of the brightest young stars on the blues scene today."
Carvin Jones
brings
The Big Time Souvenir Tour
to 191 Toole.
Details here.

Experience Buster Keaton's 1920 silent film
One Week
, as it was originally screened, accompanied by organist
Ron Rhode
on The Mighty Wurlitzer Organ. At the Fox Theatre.
Mariachi Los Changuitos Feos de Tucson
round out the event.
Details here.

The Joyce Luna Trio
debuts at Crooked Tooth Brewing.
Details here.

The Eugene Boronow Duo
performs bossa-nova and melodious original compositions in the tasting room at Sand-Reckoner.
Details here.

"Americana's most wanted fugitive,"
Mark Insley and The Broken Angels
retell tales of woe at The Dusty Monk Pub.
Details here.

Jimmy Carr
and the Awkward Moments
help The Coronet celebrate their fifth anniversary.
Details here.
He's had a lot on his mind. Singer/rapper
Jake Miller
is still "Drinkin' About You." At The Rock. Pop rockers
Just Seconds Apart
and
Logan Henderson
share the bill.
Details here.

DJ
Stubbie
precedes over
The Fineline Revisited
. At the Surly Wench Pub.
Details here.
Imbued with the sabor and infectious rhythms of Bolivia, Peru, Brazil and Colombia.
Baracutanga
ignite the dance floor at Monterey Court.
Details here.


Deep Roots Folk Blues musician
Christopher T Stevens
performs the music that was spawned upriver from New Orleans in the Mississippi Delta. At Exo Roast Co.
Details here.
Pushing Buttons: A Monthly Producer Getdown is host a
Battle of the Beats
. At Thunder Canyon Brewstillery-Downtown.
Details here.

From British Columbia, this singer-songwriter's writing style hovers somewhere near that of Jackson Browne, Gillian Welch and The Woods Brothers.
Sam Weber
follows the
Shadows in the Road
. At The Sea of Glass Center for The Arts.
Details here.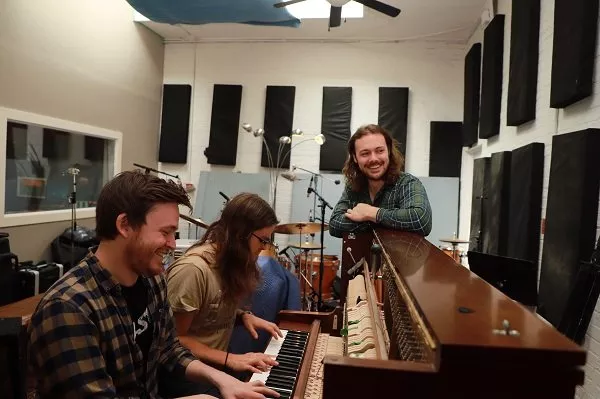 Capturing a futuristic vibe, with alien basslines and gangster beats,
Space Jesus
navigates his interstellar vessel through a traversable wormhole. At the Rialto Theatre. With electronic/bass/trap artist
Buku
.
Details here.

Layers of improvisational guitars and tribal hard-bop drumming coalesce this modern jazz duo's telepathic kinship and fuels inspired performances. Identical twin brothers,
The Mattson 2,
shimmer and shake at 191 Toole.
Details here.