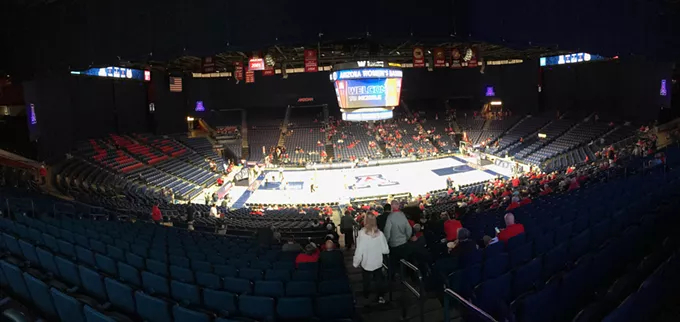 A buzz filtered through the crowd of 3,265 at McKale Center last Thursday night as the Arizona Wildcats played their first women's basketball postseason game in eight years.
The Wildcats (20-13, 7-11), took care of business in an opening round clash with Idaho State in the Women's National Invitational Tournament, winning 66-56.
The team's success stemmed from a team-wide ability to hit free throws, with the home side converting 26 of 32 attempts from the line. The Wildcats also were able to feed the ball inside to freshman forward Cate Reese with great frequency, with the 6 foot 2 inch forward putting up a team-high 20 points to go with 10 rebounds in the win.
Coach Adia Barnes thanked the fans that made their way to McKale for lighting a fire under her team. Barnes, who's gone 40-53 in three seasons in Tucson, said last Thursday's postseason debut is the start of what she hopes to be a basketball transformation for the women's game in Tucson.
"It means a lot, you know, to not playing the postseason for eight years and then come here with a great, great crowd," Barnes said. "So, everybody did their job and got the fans excited."
The importance of the team's postseason play was not lost on senior forward Destiny Graham, who was recruited to Tucson by former coach Niya Butts.
"It's a good feeling, and it also just shows how far we've come especially from the beginning of the season even though we struggled a little bit today playing them compared to the first time," Graham said. "I think we just fought, and they had some runs. We stopped them. We scored on offense when we needed to."
Graham, like Barnes, believed Thursday's game can serve as a turning point for a Wildcats program that hasn't qualified for the NCAA Tournament since 2005.
"I think that it sets the tone," Graham said. "I think this win kind of makes kids want to come here. I think it's setting history too, for the school, for the women's basketball team."
Barnes was proud of the play of freshmen like Reese, touching on how the team's younger players have a shot at building something special in Tucson.
"I think our freshmen, they're growing, they're getting more experience," Barnes said. "And remember, we've lost some close games to some really good teams. So I think all of that, it's paying off and I'm just proud, I'm proud of the fight."
Taming the Tigers

The Wildcats continued their postseason torrent Sunday afternoon, taming the Pacific University Tigers, 64-48.
The second-round victory was wire-to-wire for Barnes' squad, with the Wildcats outscoring Pacific 25-12 in the game's first quarter, before taking a 35-29 lead into the half.
The Wildcats continued their offensive tour de force in the game's second half, outscoring the Tigers, 29-19.
Three Wildcats finished Sunday's contest in double figures, led by guard Aari McDonald, who scored 20 points on 8-of-19 shooting.
McDonald, who also finished with a team-high 7 assists in the victory, was joined in double figures by teammates Reese (16) and Dominique McBride (11).
McDonald also led the Wildcats in rebounding on Sunday, with 12 boards in 34:51 of game action.
Sunday's win moves the Wildcats into the WNIT's Sweet 16 round, where they'll play the University of Idaho (22-11, 16-4) at McKale Center Thursday at 6:30 p.m.