TMA Spring Art Market & Flower Festival.
Home is where the art is, right? And this weekend, the art is definitely down at TMA, where more than 100 unique and local artists will be showcasing their pottery, jewelry, fine art, glass, textiles and gift items. Florists and nurseries will be offering up living art as well, while local food vendors and bands round out the experience with some good eats and good beats. A special "Garden in the Galleries" event with floral arrangements by more than a dozen local nurseries and florists will be on display starting Thursday, March 14. The market is 10 a.m. to 5 p.m. Friday, March 15, through Sunday, March 17. Tucson Museum of Art, 140 N. Main Ave. Admission to the galleries is free during the market and festival!
Details here.

Mahler Symphony No. 5.
Mahler's Symphony No. 5, particularly its horn bits, might sound familiar to you from the 1971 film Death in Venice. At this Tucson Symphony Orchestra event, you'll also hear the Van Cliburn silver medalist, pianist Joyce Yang, team up with former TSO principal trumpet Conrad Jones to perform Shostakovich's Piano Concerto No. 1. Rounding it out is Giuseppe Martucci's Notturno, composed as part of his mission to get 19th century Italians interested in anything besides opera. (It worked—they loved it. And you will too!) 7:30 p.m. on Friday, March 15 and 2 p.m. on Sunday, March 17. Tucson Music Hall, 260 S. Church Ave. $15 to $86+.
Details here.
Marana Bluegrass & Acoustic Music Festival.
Bill Monroe, often called the "father of bluegrass," said this of the twangy, foot tappin' genre: "It's Methodist and Holiness and Baptist. It's blues and jazz, and it has a high lonesome sound." Get your fill of lonesome sounds this weekend by heading up to Marana, where bands from the local region will be playing original tunes. See bands like the Dusty River Band, Brokedown Palace, Out of the Blue and others that not only have a quintessential bluegrass sound, but those names are quintessentially bluegrass. And hey, they'll throw in some blues as well. 3 p.m. to 6 p.m. Friday, March 15, 10:45 a.m. to 5 p.m. Saturday, March 16, and 9:45 a.m. to 5 p.m. Sunday, March 17. Gladden Farms Community Park, 12205 N. Tangerine Farms Road, Marana. $20 per day or $30 for a weekend pass.
Details here.

The People Electric.
Hawkinsdance is presenting this hour long show, with nine dancers and music by local artists, for their first self-produced contemporary dance concert. The title work of the evening, The People Electric, features six dancers, vocals by Katie Heavenly and Jillian Bassett, and fashion to represent feminism's second wave in the 1970s. The evening's other featured work, The Crystal Cave, presents a trio of male dancers dancing to music by Neo-classical pianist Anton Faynberg, and imagines a world uncorrupted by the effects of humanity. 7:30 p.m. on Friday, March 15, and Saturday, March 16. 2 p.m. on Sunday, March 17. Scoundrel and Scamp Theatre, 738 N. Fifth Ave. $20 or $12 for youth (22 and under!)
Details here.

Matilda (Free Screening).
A young girl uses her telekinesis to make the world a more fun place. What more do you need? Based off the beloved Roald Dahl book, this film is a Danny Devito extravaganza! Not only does he play Matilda's father, but he's the narrator and director as well. So if you're looking for a classic '90s film with a heaping helping of the Veet, this is the show for you. This screening will take place outdoors on "Hippie Hill" at Himmel Park, please bring your own seating. Presented by The Loft Jr. 6:30 to 8:15 p.m. Friday, March 15. 1000 N. Tucson Blvd.
Details here.

El Patrón.
The Screening Room presents the public premiere of a locally made crime drama. Not only do you get to see the movie, plus a few local short films, but you get to meet the cast and crew as well. This is an all-around great networking opportunity for Arizona filmmakers. 6 to 9 p.m. Friday, March 15. 127 E. Congress St. $5.
Details here.


Margarita & Sangria Festival.
There's only two ways to enjoy fruit: floating in your alcohol, or pinned on the rim of the glass. Either way, this festival is sure to entertain. The Oasis at Wild Horse Ranch is hosting a Margarita & Sangria Festival where you get to sample over 25 different drinks, dance to music and feast from local food trucks. 2:30 to 5:30 p.m. Saturday, March 16. 6801 N. Camino Verde. $25 regular admission, $40 VIP.
Details here.
All One Voice.
"This is the sound of all of us, singing with love and the will to trust. Leave the rest behind; it will turn to dust. This is the sound of all of us." These are the lyrics to "One Voice," a song by Australian-born singer-songwriter and member of The Wailin' Jenny's Ruth Moody. On this night, 12 Tucson choruses will come together as one voice to perform this song together. We're talking everyone from the Tucson Girls Chorus to Reveille to Tucson Desert Harmony. All the choruses will perform individually before joining together for the big finale. Couldn't you use a heaping helping of unity? 7 p.m. Saturday, March 16. Ascension Lutheran Church, 7650 N. Paseo del Norte. $15.
Details here.
Raffi.
Is there a more wholesome figure on this Earth than the children's entertainer Raffi? Raffi, who has never made any commercial endorsements aimed at kids because he wants to treat his young fans with respect? Raffi, who sings tunes like "Baby Beluga" and "Bananaphone?" Raffi, who founded the Centre for Child Honouring, a nonprofit whose motto is "Respecting Earth & Child"? If there is a more wholesome figure (which we figure is pretty unlikely), he or she probably isn't coming to Tucson this week, and Raffi is! It's been 40 years since he released Singable Songs for the Very Young, and he's celebrating with this tour, at which Beluga Grads (his child fans back in the '70s and '80s who are now grown up) and everyone else are welcome. 1 p.m. Saturday, March 16. Fox Theatre, 17 W. Congress St. $35.50 to $83.50.
Details here.

37th Annual Wa:k Pow Wow.
Every month in Tucson is a pretty good month. But in March, it's neither snowing nor unbearably hot. AND it's the month that features Tucson's largest gathering of Native American arts, crafts, culture, food and dancing! Everyone is welcome (but note that video cameras, drugs and alcohol are most definitely not) to enjoy watching team dancing, hoop dancing, owl dancing and inter-tribal dancing. On the non-dancing front, be sure to catch the drum contest. Ryan Rumley is the master of ceremonies, and Eldred Matt is the arena director. 10 a.m. to 5 p.m. Saturday, March 16, and Sunday, March 17. San Xavier Mission del Bac church, $7 adults, $5 kids, free for kids 6 and under. $3 per vehicle to park.
Details here.
Climate Change in Arizona: What Can and Should We Do?
Sometimes issues like climate change seem so enormous that you're left feeling powerless. This program sponsored by the League of Women Voters of Greater Tucson is designed to help mitigate this feeling. You'll hear from three scientific experts: Diana Liverman, Regents professor of geography and development and former co-director of the UA Institute of the Environment; Kathy Jacobs, director of the UA Center for Climate Adaptation, Science and Solutions; and Edward Beshore, a member of the local chapter of the Citizens' Climate Lobby. 9:30 a.m. to noon. Saturday, March 16. Joel D. Valdez Main Library, 101 N. Stone Ave. Free.
Details here.
Silver Spike Festival.
On March 20, 1880, the Southern Pacific Railroad arrived in Tucson, with long-lasting effects including vastly expanding the city's economy and causing people nearly 140 years into the future to have to sit in excruciating traffic while they wait for the damn thing to go by. Seriously though, the arrival of the train in Tucson was hugely important and definitely worth celebrating. Just see what Charles D. Poston, who some people call "The Father of Arizona," said this in the Arizona Daily Star the day before the arrival: "And now the railroad comes along, like a giant anaconda, embracing the continent in its coil, and its ponderous machinery breathes the vitality of civilization in sonorous respirations, breaking the silence of the desert and awakening the reverberations of the mountains for the first time since the planet commenced its revolutions in the universe." The Southern Arizona Transportation Museum is having a vintage vehicle display, a re-enactement of the arrival and live music to celebrate. 9:30 a.m. Saturday, March 16. Southern Arizona Transportation Museum, 414 N. Toole Ave. Free.
Details here.

Tour of Tumamoc Hill.
Tu-mamoc? Or not tu-mamoc? That is the question. You've probably seen Tumamoc Hill, and you've likely even hiked it. But have you ever had emeritus curators of the UA School of Anthropology and a research associate from the Arizona State Museum give you a guided tour of all the ceramics, rock art and pit remains on the hill? What about the village site? This is your chance. Paul and Suzanne Fish, the emeritus curators, and Gayle Hartmann, the research associate, are offering this guided tour of the hill as a fundraiser for the Tucson Presidio. Why not support a local cause while learning a little bit more about local history yourself? Tu-mamoc, indeed. 10 to 11:30 a.m. Saturday, March 16. Tumamoc Hill. $30, or $25 for Presidio members.
Details here.

Heart Medicine: Honey, Tonics and Tisanes.
You've probably had honey before, are familiar with the idea of a tonic, and are not totally sure what a tisane is. It's a medicinal herbal tea, originally made with barley. That's just the sort of information you're going to gain at this workshop hosted by Patrisia Gonzales, in partnership with the Dunbar African American Cultural Center, about how to identify desert plants that can calm the spirit, feed the heart and relax the system. You'll be making herbal infused honeys, teas and floral waters, and you'll be feeling so, so calm. We dare you to tell us that doesn't sound appealing. 9 a.m. to noon. Saturday, March 16. UA College of Social and Behavioral Sciences, 200 W. Douglass. $55.
Details here.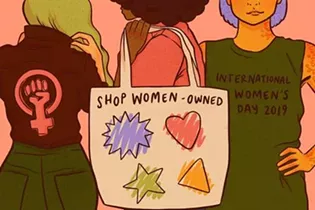 Shop Women-Owned Tucson.
It's Women's History Month in the U.S.! Hooray! Celebrate by supporting some of Tucson's local businesses owned by women. Here's how it works: Stop by Pop Cycle to pick up a stamp card, and throughout March, get a stamp for every $10 you spend at participating establishments (ranging from Tiny Town Surplus to the MOCA Tucson museum shop to Crooked Tooth Brewing Co. See the Facebook event page for a full list!). When your card is full, go back to Pop Cycle to get a free sticker and a coupon for a free blizzard at the Fourth Ave. Dairy Queen, AND to be entered into a raffle. Raffle prizes include a $100 Pop Cycle Gift Card and other assorted Fourth Avenue swag. All month at participating locations! Pick up your card at Pop Cycle, 422 N. Fourth Ave.
Details here.

Free Family Fun Day!
Wonder World Jumping Castles, a family-based, veteran-owned bounce house business here in the Old Pueblo, has been around for five years now. To celebrate, and to thank the community for its support, they're hosting this fun fest with about a dozen different kinds of enormous inflatables, free popcorn and cotton candy, and dozens of vendors selling goods. What, are you going to NOT take your kid to experience this child's paradise? For that matter, are you yourself not going to take advantage of the chance to enjoy this free paradise for your inner child? 11 a.m. to 3 p.m. Saturday, March 16. 1825 N. Alvernon Way. Free.
Details here.

How Rednecks Saved Hollywood.
The Loft Cinema presents a talk by author Joe Bob Briggs on the identity of "rednecks" in American film. The "drive-in movie critic" will use more than 200 clips and stills from movies to examine both grindhouse and mainstream movies. Beyond recounting the history, you will also learn about the most sacred redneck cinematic moments and why the redneck is the scariest monster in all of film history. For real! 7:30 to 10:30 p.m. Saturday, March 16. 3233 E. Speedway Blvd. $18.
Details here.

Civano Park Food Truck Roundup.
Come one, come all, come hungry! All the best food trucks in Tucson are getting together so can have a little bit (or a lotta bit) of great food. Participating food trucks include: Stacey's Irresistible Cheesecakes, Los Locos Tacos, TacoQueta, Meatball Madness, Fiesta Filipina, You Sly Dog, The Curry Pot Sri Lankan Fusion and more. 5 to 7:30 p.m. Sunday, March 17. At Civano Park, 5241 Richard Ashley Way.
Details here.

Downtown History and Libation Tour.
Southern Arizona Guide is hosting a tour where you get to explore the history of Tucson, and taste it too. This walking tour allows you to see Tucson "with the eyes of George Hand, saloonkeeper." Beyond the history, you will get to enjoy libations at the old Presidio and Maynards for lunch. 10 a.m. to 2 p.m. Sunday, March 17. Meet at Mercado San Agustin at Congress and Convento. $69.
Details here.
De Kooning Revealed.
Speaking of the UA Museum of Art, you might know that back in 1985, the Willem de Kooning's "Woman-Ochre" painting was stolen from the museum, and that thanks to a series of fortunate events and a bunch of kind people, the priceless painting was recovered and returned in 2017. Now, the museum's leadership council is hosting an exclusive, pre-conservation viewing of the painting, giving you a chance to become a part of history (or at least to have a cool story to brag about at your next family gathering). Enjoy cocktails, heavy hors d'oeuvres and entertainment by the Fred Fox Jazz Ensemble and the UA School of Dance. 5:30 to 8 p.m. Sunday, March 17. UA Museum of Art, 1031 N. Olive Road. $95 for museum members, $125 for non-members.
Details here.

The Emperor!
These free concerts put on by the Civic Orchestra of Tucson will feature Rimsky' Kosakov's Le Coq d'or (The Golden Cockerel) Suite, Glinka's Ruslan and Lyudmila Overture and Beethoven's Piano Concerto No. 5 in E-flat Major, Op. 73, "Emperor." This last one was Beethoven's last completed piano concerto, and will feature piano soloist Rex Woods, who has been teaching at the UA since 1988 and who presented his first public solo recital more than 50 years ago. 3 p.m. on Saturday, March 16, at Journey Church, 4700 N. Swan Road. 4:30 p.m. on Sunday, March 17, at Crowder Hall, 1017 N. Olive Road. Free.
Details here.

St. Patrick's Day Parade and Festival.
What are your St. Patrick's Day plans? Tossing back a few pints at the pub? Tossing back a few more pints at the pub after that? Well, of course. But what about all day before it becomes socially acceptable to head to the pub and throw back a few pints? Why not go to the Tucson St. Patrick's Day parade? Last year, more than 10,000 Southern Arizonans were there, so it must at least be worth checking out. There will be traditional Irish dancing, a performance by Nancy McCallion and friends, and plenty of other traditional Irish cultural events. St. Patrick's Day Committee president John Murphy and guest emcee David Fitzsimmons lead the opening ceremony. 10 a.m. Sunday, March 17. Armory Park south of Sixth Ave. Free.
Details here.
Steele Blue at Tohono Chul.
Tohono Chul's Sundays in the Garden spring concert series features music on Sundays throughout March and April, just before it gets too hot to endure any outdoor music. This week, vocalist Sheal Kimball and guitarist Mike Zimmerman will perform their covers and arrangements of everything from classic rock to jazz standards. Sheal studied jazz and classical voice in college, and cites Ella Fitzgerald, Peggy Lee and Pat Benatar among her main vocal influences. Mike is a Guitar Institute of Technology graduate and guitar instructor largely influenced by the likes of Jimi Hendrix, Eric Clapton and Eddie Van Halen. Don't miss them playing among the prickly pears. 1:30 to 3 p.m. Sunday, March 17. Tohono Chul Performance Garden, 7366 N. Paseo del Norte. Fee with admission: $13 adults, $10 senior/military/student, $3 kids 5 to 12 and free for members and kids under 5.
Details here.

Witness to Democracy: The Journey of a Mother and a Photographer.
Part of the Loft's "Journalism on Screen" series, this documentary tells the story of three people brought together by the tragic killing of college student Lee Han-yeol, whose death propelled the South Korean Democracy Movement in June 1987. Followed by UA professors and filmmakers. 2 to 3:45 p.m. Sunday, March 17. 3233 E. Speedway Blvd. $8.
Details here.

St. Patrick's Day Roundup.
What, you thought Tucson was going to let an excuse to have fun just slip by unnoticed? Here's a list of only some of the many events happening when the Old Pueblo embraces the Old World on Sunday, March 17.
•
Arizona Beer House
is hosting a free, family-friendly event along with Tucson Celtic Festival and Scottish Highland Games. This features a jumping castle, live music, food trucks, face painting, bagpipers, balloon twisting, Irish Whisky, and more. Noon to midnight. 150 S. Kolb Road.
Details here.

•
1912 Brewing Co.
is hosting an employee cook-off of corned beef and cabbage (what else?) and you get to eat it! They will also be releasing three beers in celebration of this event: the Shenanigans Pale Ale, the Irish Sobriety Imperial Red Ale, and a new Irish Creme Stout. 11 a.m. to 9 p.m. 2045 N Forbes Blvd, Ste. 105.
Details here.


•
Ten55 Brewing and Sausage House
is releasing a new Irish Red Ale and maybe even tapping a special keg just for the occasion. 11 a.m. to 10 p.m. 110 E. Congress Street.
Details here.
Events compiled by Briannon Wilfong, Emily Dieckman, B.S. Eliot and Jeff Gardner.