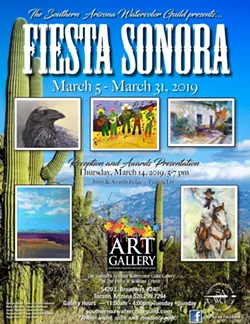 Fiesta Sonora Show.
Did you know there's a Southern Arizona Watercolor Guild? Now that you do, can you think of anything lovelier? If you've tried watercolor, you know how difficult and unforgiving it can be, but if you're good at it, or you know someone who is, you know how stunning the results are when it goes well. Come check out some depictions of the Sonoran Desert, and soak up the beauty just like a paper soaking up watercolor paint. Hours are 11 a.m. to 4 p.m. Tuesdays through Sundays throughout March. A reception is 5 to 7 p.m. on Thursday, March 14. SAWG Gallery, 5420 E. Broadway, #240. Free.
Details here.

Morocco.
As 1930 rolled around, and Hollywood embraced the advent of sound, they took every chance they had at heightening drama. Director Josef von Sternberg's romantic melodrama was certainly no exception. Morocco follows the career of a cabaret singer fleeing her former life, and performing in North Africa. While entertaining, she meets a strapping young legionnaire. Is romance soon to ensue? Of course it is. You knew that. 7:30 to 9:15 p.m. Thursday, March 14. 3233 E. Speedway Blvd. Regular admission prices.
Details here.

Walk a Mile in a Refugee's Shoes.
Even with more than 68 million people displaced around the world, sometimes it's still easy to forget how fortunate we are to have luxuries like running water, places to call home, and united families. We Are All America, the Tucson International Rescue Committee and the UA are teaming up to host this second annual simulation event, which will provide participants with a small window into the hardships and pain refugees endure. It also features guest speakers, performances and refugee stories of resilience. It's a valuable way to spend an afternoon. Noon to 4 p.m. Thursday, March 14. UA Mall, 1303 E. University Blvd. Free.
Details here.