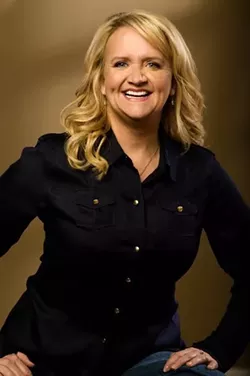 Modern Woman Tells All

We are trying not to refer to Carol Leifer as a Michaelangela of comedy, but there it is. She started her standup career in college in the 1970s, when that was not at all the done thing. Most recently, she's been a writer for our favorite TV shows: Seinfeld, Curb Your Enthusiasm, Modern Family and Saturday Night Live. An actor and producer as well, she's also written books with compelling titles: How to Succeed in Business Without Really Crying and the irresistible-as-chocolate When You Lie About Your Age, The Terrorists Win.
At 10:30 a.m., Sunday, March 10, Leifer shares stories from her incredible career as well as her thoughts on women's issues, her Jewish roots, LGBT perspectives and her four rescue dogs at a benefit for Women's Philanthropy of the Jewish Federation of Southern Arizona. The event is at the Westin La Paloma Hotel and reservations are $40 for those who already have donated at least $180 to the JFSA. Surely you know someone? Visit jfsa.org/connections-2019 for details.

Think Positive

Billboard Magazine has called Chonda Pierce "the country comic," so even though Larry the Cable Guy is cancelled at Casino del Sol Saturday, the week shouldn't be a total loss. Pierce performs at 7 p.m., Tuesday, March 12, at the Fox Tucson Theatre. Tickets are $21.20 to $52 via awakeningevents.com.
Like most of the Awakening stable, Pierce is Christian; her website has a tab for "Prayer." It's given her a bright outlook, though, in the way of lemons making lemonade. Her first film, Chonda Pierce: Laughing In The Dark, was based on her struggle to overcome depression. While it may not be every comedy fan's taste, her positivity has made her the top-selling female comedian, per RIAA data.
A preacher's daughter, Pierce got her start in show business playing the role of Minnie Pearl at Nashville's Opryland theme park. She so loved telling jokes as Minnie Pearl she decided to make it her career. According to her website bio, "she credits her southern upbringing both for her warped sense of humor and her solid roots."
Speaking of Women

March 28 through 30 are set for this year's all-female, multi-genre Cactus Flower Comedy Festival. Details about selected standups, storytellers and improvisers are still being sorted, but festival hosts the Tucson Improv Movement will feature their popular female teams the Riveters, the bilingual Como Se Dice and female members of Throwdown.