How to Grow a Healthy Vegetable Garden. Yes, going out to eat is always a good time. But so is growing your own food right out of the ground! Vegetable growing in Tucson can be different (and difficult), but Southwest Victory Gardens at the Flowing Wells Library is here to help you out. This class teaches the basics of choosing and selecting seeds and seedlings, the unique seasons of the Sonoran Desert, and how to plant a garden for maximum production. 5:30 to 7:30 p.m. Tuesday, March 5. 1730 W. Wetmore Road. Details here.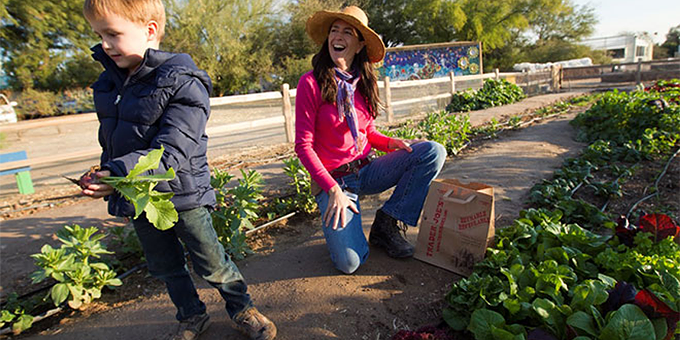 <!———EndFragment———>
Taco Techno Tuesday.
Batch Cafe & Bar is combining everyone's favorites: delicious tacos by Ruben Soto and tasty beats by DJ Hart & friends. You get to fill your mouth and ears at the same time! The only issue is figuring out how to eat a taco while raving. 7 p.m. to midnight. Tuesday, March 5. 118 E. Congress St.
Details here.

Mardi Gras Roundup.
Fat Tuesday is coming! And plenty of local restaurants and breweries are seizing the day (or the whole week) to get in on the action. Here's a list of some of the happenings: Dillinger Brewing Company is celebrating early with a release of their Hurricane Gose infusion and playing big band jazz. 5 p.m. Friday, March 1. 3895 N. Oracle Road. Kingfisher Grill is letting "The Good Times Roll" with live New Orleans music and festive dishes like gumbo, red beans and rice, and jambalaya. The Old Pueblo Jazz Band kicks off the celebration. 5:30 to 8:30 p.m. Tuesday, March 5. 2564 E. Grant Road. Brodie's Tavern is celebrating for five days straight with their Mardi Gras Party. Yes, the masks and beads are to be expected, but they'll also be serving up specialty drinks like daiquiris, bloody Marys and hurricanes. Noon to 2 a.m. Friday, March 1, to Tuesday, March 5. 2449 N. Stone Ave.
Details here.

PCC Music Presents the Chorale & College Singers.
Get ready to hear some beautiful music! Our local community college is putting on this concert full of classical and 20th-century repertoire, including Pie Jesu, from Andrew Lloyd Webber's Requiem, Mozart's "Vesperae solennes de Confessore" and Susan LaBarr's arrangement of "Hold Fast to Dreams." The select mixed-voice a capella choir will be performing numbers by Samuel Barber, Francis Poulenc and Renaissance composer Michael East. Supporting local students who are making art and following their dreams? We can't think of a better way to spend a Tuesday evening. 7:30 p.m. Tuesday, March 5. PCC Center for the Arts at West Campus, 2202 W. Anklam Road. $5 to $6.
Details here.


Arizona Friends of Chamber Music Festival.
With five days' worth of music, this festival will have something for all instrumental music lovers. Day one features, just for example, both Philip Glass and Shostakovich. Day two's got Beethoven and Mozart. Day three features Bacewicz and Arensky. Day four has Kevin Puts and Taneyev. And day five will be serving up Brahms and Mendelssohn. And that's just some of the music you'll hear! 7:30 p.m. on Tuesday, March 5, Wednesday, March 6, and Friday, March 8. 3 p.m. on Sunday, March 10. Leo Rich Theatre, 260 S. Church Ave. $30 adults, $10 students.
Details here.
Mardi Gras at Hotel Congress.
Ah yes, Mardi Gras. If you're Catholic or like to use Lent as an opportunity to go without something or develop a good habit, then it's your last night to engage in total debauchery. If you don't do lent, then it's still a great excuse to engage in total debauchery. Food and drink specials, capoeira dancers, tarot card readings and face paintings will abound. Try three different varieties of Abita beer, or order a Hurricane or Sazerac just like in NOLA. Plus, grab a slice of the largest King Cake in all of Arizona, then take a photo of yourself eating it in the photo booth. Starts at 4 p.m. on Tuesday, March 5. Hotel Congress, 311 E. Congress St. Free before 6 p.m. and $3 after (Happy Hour is from 4 to 6 p.m.)
Details here.


Airplane.
For their Tuesday Night Classics series, Harkins Theatres is showing the best damn airplane-based-screwball-comedy-featuring-Leslie-Nielsen movie of all time. So full of one-liners and memorable gags, it'd be impossible to fully describe the cultural impact this movie made. So let's just say this: The first two days of the film's box office gross covered its entire production budget. That's a winning movie, right there. 7 p.m. Tuesday, March 5. 5455 S. Calle Santa Cruz.
Details here.

Water Matters More: Water Issues in Arizona's Patagonia Mountains.
This local short film tells the story of the Sonoita Creek watershed and the damage a mining company might cause on the landscape and its nearby communities. This free screening at the Loft Cinema is hosted by Tucson Audubon Society and Patagonia Area Resource Alliance. 6:30 to 8:30 p.m. Tuesday, March 5. 3233 E. Speedway Blvd. Free screening but RSVP required.
Details here.

Events compiled by Briannon Wilfong, Emily Dieckman, B.S. Eliot and Jeff Gardner.