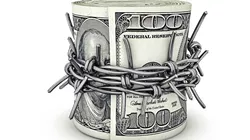 The United States officially incarcerates more people than any other nation on earth.
Incarceration cost U.S. taxpayers more than $80 billion in 2016. Some states such as New York and Washington spend between $50,000 and $60,000 a year for each prisoner.
What does that cost buy?
What purposes does imprisonment serve?
What purpose should it serve?
Who should be imprisoned? For what? Why?
Who should operate prisons in the United States–government or for-profit corporations?
Pima County Public Library is inviting the community to explore these questions and share ideas at an upcoming FRANK Talk facilitated by Dr. T.J. Davis, Arizona Sate University, School of Historical, Philosophical and Religious Studies.
The event will take place
Saturday, March 9
from 2 to 3:30 p.m. at the Joel D. Valdez Main Library. The event is free to attend and open to all. No advance registration required.