Winemaker Dinner at Elvira's.
Tucson's best "Tequila, Cocina & Vino" hub, Elvira's is hosting the founding owner of Beaux Freres winery. At this four-course dinner, they will pair wine, dishes and insider information on owning and starting a winery. Have a chat with founder Michael Etzel and enjoy fancy drinks and food at the same time! 5:30 to 7:30 p.m. Friday, March 1. 256 E. Congress St. $80.
Details here.

Mardi Gras Roundup.
Fat Tuesday is coming! And plenty of local restaurants and breweries are seizing the day (or the whole week) to get in on the action. Here's a list of some of the happenings: Dillinger Brewing Company is celebrating early with a release of their Hurricane Gose infusion and playing big band jazz. 5 p.m. Friday, March 1. 3895 N. Oracle Road. Kingfisher Grill is letting "The Good Times Roll" with live New Orleans music and festive dishes like gumbo, red beans and rice, and jambalaya. The Old Pueblo Jazz Band kicks off the celebration. 5:30 to 8:30 p.m. Tuesday, March 5. 2564 E. Grant Road. Brodie's Tavern is celebrating for five days straight with their Mardi Gras Party. Yes, the masks and beads are to be expected, but they'll also be serving up specialty drinks like daiquiris, bloody Marys and hurricanes. Noon to 2 a.m. Friday, March 1, to Tuesday, March 5. 2449 N. Stone Ave.
Details here.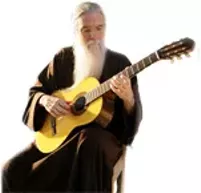 John Michael Talbot.
Being known as Catholic music's most popular artist comes with a lot of hard work. John Michael Talbot, who released his 55th album, The Inner Room, in 2016 and his 30th book, Lessons from a Troubadour, in 2018, has several active ministries. And he's earned dozens of awards and nominations along the way. His "Lifetime of Music & Ministry" tour will feature music from across his four decades of recordings, presented more as a prayer experience, complete with stories and meditations, than a concert. The Tucson show in particular will be presented as preparation for the start of Lent. 7 p.m. Friday, March 1. Thomas the Apostle Catholic Church, 5150 N. Valley View Road. $25 GA and $50 VIP.
Details here.

A Conversation With Edith Head.
Hollywood's most famous costume designer worked on more than 1,100 movies over the course of more than five decades, picking up 35 Academy Award nominations and eight Oscars along the way. This play is based on Edith Head's Hollywood, a biography of the designer which was written with the help of more than 13 hours of recollections recorded by the legend herself, and chock-full of what she herself liked to call "Edithisms." Susan Claassen is the show's actor, director, producer and designer, and was there to help the book's author sort through the hours' worth of recordings and talk to people who knew Head best, like her sketch artist and her friends. 7:30 p.m. on Thursday, Feb. 28 and Friday, March 1. 3 p.m. on Saturday, March 2. Invisible Theatre, 1400 N. First Ave. $35, with discounts available for groups, seniors, active military and students.
Details here.

Group Show at the Wilde Meyer Gallery.
This month, the Wilde Meyer Gallery is dedicated to highlighting more than just one local artist. So come see art by the likes of Bill Colt, Jacqueline Rochester, Sushe Felix, Greg Dye and Barbara Duzan. From colorful landscapes to portraits of animals to scenes from everyday life, it's a show where there's something for everyone. Step right up and feast your eyes on some local art! Show is open throughout March, with gallery hours being 10 a.m. to 5:30 p.m. Monday through Saturday and 1 to 4 p.m. on Sundays. Receptions are 4 to 7 p.m. on Friday, March 1 and Friday, March 15. Wilde Meyer Gallery, 2890 E. Skyline Drive.
Details here.

Monster Jam Arena Tour.
Most people don't realize how much they need monster truck events in their lives until they experience the high-octane thrill of a weekend jam-packed with monster trucks doing donuts, flying off jumps and performing other tricks, like a "stoppie," where the back wheels come off the ground and, nose down, drivers "moonwalk" the truck in reverse. (Maybe you have to see it to get it). With trucks like "Bad News Travels Fast," "Barbarian" and "Stinger Unleashed," you know this event is going to be larger-than-life. Don't miss your chance to watch your childhood Hot Wheel dreams come to life! 7 p.m. on Friday, March 1; 1 and 7 p.m. on Saturday, March 2; and 1 p.m. on Sunday, March 3. Tucson Arena, 260 S. Church Ave. $20 to $48+.
Details here.
Empty Bowls 2019.
Interfaith Community Services and the Tucson Chinese Cultural Center are hosting a gathering of soups, breads and desserts offered by local restaurants. Aside from the great local food, there is also a sale on ceramic bowls, with all proceeds going to support the Interfaith Community Services Food Banks and services. 11 a.m. to 1:30 p.m. Saturday, March 2. 1288 W. River Road. $25.
Details here.

Crooked Yoga.
Every Saturday, Crooked Tooth Brewing Co. teaches Tucsonans in the ways of grounding and in the ways of gulping. What better way to get zen than to enjoy some craft beers at the same time? Yoga plus a pint of beer is only $5. Bring your own mat. 10:30 to 11:30 a.m. Saturday, March 2. 228 E. Sixth Street. $5. All ages. (Any person under 21 must be accompanied by a guardian.)
Details here.
Rails in the Garden.
Did you know that there's a Tucson Garden Railway Society, dedicated to modeling large-scale railroads and educating the public about the wonders of modeling railroads? If you didn't, then you probably don't know that they have an annual self-guided, self-paced tours of some of the city's neatest model train layouts created by their members. Taking in art and learning about railroad history is a great way to spend a weekend morning or afternoon no matter how old you are, so get your caboose out there. 10 a.m. to 4 p.m. Saturday, March 2, and Sunday, March 3. See tucsongrs.org for route information. Free.
Details here.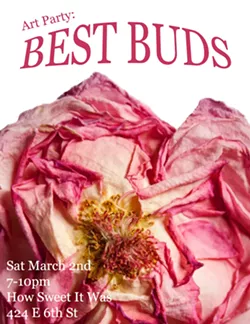 Art Party: Best Buds.
This month, downtown clothing store How Sweet It Was is featuring the art of Tucson's favorite freelance florist, Brittany Peña. You may have seen her bouquets around town, mixing and matching specimens, playing with space and exhibiting totally unique textures. What you almost definitely haven't seen is these sculptural arrangements translated to an entire room. Come down to this show to be surrounded by glorious petals and ponder concepts like impermanence and the way art galleries, flowers and humans alike morph over time. (And enjoy some snacks and arrangements that are for sale.) 7 to 10 p.m. Saturday, March 2. How Sweet It Was, 424 E. Sixth St.
Details here.

Soundwalk with MOCA.
You ever walk down the street and just listen? We mean, like, really listen. Listen more than you look. Listen to the sounds of people's pant legs moving past each other as they walk, and to the sounds of car windows being rolled down in the distance, and to the sounds of birds moving around in the trees? Local field recordist David Dearmore does. At this event, he'll lead us through downtown Tucson's streets, washes, gardens and parks and teach us how to listen, and how to use listening as a way to understand what is being lost and replaced as Tucson becomes further gentrified. Stop at any time to focus on a sound, using either your ears or a set of microphones and recorders. (Some will be provided, but you're encouraged to bring your own—a phone works just fine.) At the end, get a 'zine full of sound walking and field recording best practices compiled by Dearmore. 11 a.m. to 2 p.m. Saturday, March 2. Tucson Museum of Contemporary Art, 265 S. Church Ave., is the starting point. $30, or $25 for MOCA members.
Details here.
Tess Redmoon & Red Clay.
When was the last time you heard a really solid flute performance? What about a performance by a flutist who can play jazz, classical, world music or original songs? Award-wining flutist, singer, songwriter and composer Tess Redmoon's song "Borderlands" was a finalist in the ACLU songwriting competition to convey the struggles of immigrants crossing the United States' southern border. Today, she and her group Red Clay will perform original music at the Tucson Desert Art Museum, out in the open where we can all get a breath of fresh air. 2 to 3 p.m. Saturday, March 2. Tucson Desert Art Museum, 7000 E. Tanque Verde Road. $15 includes museum admission.
Details here.

Grand Canyon State.
It's the 100th anniversary of the Grand Canyon being designated a national park, and if you've ever seen that beauty, you know that it's something worth celebrating. The Tucson Symphony Orchestra is on it! Watch film of the park, as well as a 1958 Walt Disney Short film about it, played to Grofé's Grand Canyon Suite, which premiered in Tucson. The suite might sound familiar because one of the movements was heavily featured in that most classic of movies: A Christmas Story. The Grand Canyon is our collective pride and joy, so why miss a chance to watch a symphony play in its honor? 4 p.m. on Saturday, March 2, and 2 p.m. on Sunday, March 3. Tucson Music Hall, 260 S. Church Ave. $15 to $86.
Details here.
Zócalo Open House.
If you like to keep up with local business or art news, you might know that Tucson shopping destination Zócalo was sold last year. You might not know that it was sold to the local garden Green Things, and that the previous proprietors have stayed on to help continue and expand their vision for the shops. What are we left with? A super cool home and garden center full of paintings, home décor and plants with a southwestern and Latin American flair. This is their grand opening event! Swing by for refreshments, snacks and a tour of the new digs. 1 to 6 p.m. Saturday, March 2 and Sunday, March 3. Zócalo, 3384 E. River Road. Free.
Details here.

BANFF Mountain Film Festival.
Summit Hut and the Fox Theatre are coming together to screen three nights of films on "remote journeys, ground-breaking expeditions, and cutting-edge adventures told through the eyes of adventurers." From snowy peaks to green forests, these films document the most exciting hikes and climbs around the world. Maybe you can't scale the front face of Half Dome, but watching someone do it on the big screen is almost as good. Proceeds from the festival will support local outdoor-oriented non-profits. Doors open at 6 p.m., films start at 7 p.m. Thursday, Feb. 28, to Saturday, March 2. $15 or $60 VIP. 17 W. Congress St.
Details here.
Phoenix Scottish Games.
So, yes. Technically this is not in Tucson. But it's the 55th annual celebration of Scottish culture up in Phoenix, complete with dancing, live pipes & drums, and athletics. Try events like the caber toss, the sheaf toss, the hammer throw and "putting the stone," or let wee ones try mini versions of the games. And check out the clothing, instruments, jewelry and culinary delights (Scotch whisky or haggis, anyone?) over in the Celtic Village. AND take a chance to learn about your heritage in the genealogy tent. What have you Scot to lose? 9 a.m. to 7 p.m. on Saturday, March 2, and 9 a.m. to 5 p.m. on Sunday, March 3. Steele Indian School Park, 300 E. Indian School Road. $20 at the gate or $17 in advance, with a second day for just $10.
Details here.
Hoge Day–Lithophilia.
The word of the day, or maybe of the month, here in the Old Pueblo, is lithophilia, or the love of stones. The Triangle L. Ranch over in Oracle is celebrating the work of artist Hoge Day—in which the artist's lithophilia is evident—in their Adobe Barn Gallery. His graphite and charcoal works, sometimes accented with acrylics and pastels, range in size from 40-inch x 32-inch to eight feet! Exhibit is on display throughout March, but a free opening reception is 2 to 5 p.m. on Sunday, March 3. Triangle L Ranch Adobe Barn Gallery, 2805 N. Triangle L Ranch, Oracle.
Details here.

Nurturing the Diverse Soul.
There are practically countless options for what to explore at the Tucson Festival of Books this weekend, but here's just one example of a panel worth checking out: The library's Nuestras Raíces committee, which celebrates and honors the county's Latinx and Spanish-speaking communities, is hosting this panel on how staying rooted in culture can hep women of color thrive and stay resilient in motherhood, self care and activism. Dominique Calza moderates this panel of local authors Naomi Ortiz and Michelle Tellez, and the rest of us get to sit back and soak up the wisdom. 1 to 2 p.m. Sunday, March 3. Tucson Festival of Books, Nuestras Raíces tent on the UA Mall.
Details here.
Arizona Friends of Chamber Music Festival.
With five days' worth of music, this festival will have something for all instrumental music lovers. Day one features, just for example, both Philip Glass and Shostakovich. Day two's got Beethoven and Mozart. Day three features Bacewicz and Arensky. Day four has Kevin Puts and Taneyev. And day five will be serving up Brahms and Mendelssohn. And that's just some of the music you'll hear! There's so much more to enjoy at this festival, so attend one day, some of the days or all five to soak up some songs. 3 p.m. on Sunday, March 3. 7:30 p.m. on Tuesday, March 5, Wednesday, March 6, and Friday, March 8. 3 p.m. on Sunday, March 10. Leo Rich Theatre, 260 S. Church Ave. $30 adults, $10 students.
Details here.
Raw.
In honor of Women in Horror Month's 10th anniversary, the Loft Cinema is screening Julia Ducornau's debut film. The flick is part sister-bonding, part coming-of-age story, and of course, part gross-out horror. To add to the atmosphere, the Loft is also hosting a blood drive with the American Red Cross. Get spooked and save a life! Blood drive is from 2 to 7 p.m., screening is 7:30 to 9:10 p.m. Sunday, March 3. 3233 E. Speedway Blvd. $8.
Details here.


The Wild Bunch Panel Discussion.
At the Tucson Festival of Books, film writers and historians Gregory McNamee, Thomas Sheridan and W. K. Stratton will host a panel about Stratton's new book: The Wild Bunch: Sam Peckinpah, a Revolution in Hollywood, and the Making of a Legendary Film. The epic Western was nominated for two Oscars, and revolutionized quick-cut editing in action sequences, as well as slow motion. 4 to 6 p.m. Sunday, March 3. University of Arizona Mall.
Details here.


Events compiled by Briannon Wilfong, Emily Dieckman, B.S. Eliot and Jeff Gardner.