On Friday, Feb. 22, Tucson band La Cerca is releasing the physical edition of their newest album Night Bloom, which landed on our "Local Albums of the Year" list for 2018. The shoegaze/alternative rock outfit has released many albums about the desert and its barrios, but none quite like the darkly hypnotizing "Night Bloom."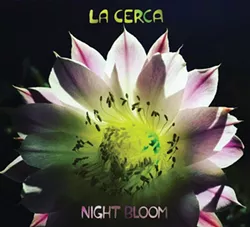 The Weekly's review of Night Bloom:
Featuring a distinct shift from their previous works,
Night Bloom
finds La Cerca moving in a darker, rawer and more spacious direction. With winding guitar passages, waves of distortion and impressionistic playing, Andrew Gardner and company recorded a series of killer nocturnes here. At points, La Cerca completely steps away from traditional rock structures, and instead ventures into the realms of shoegaze, space rock and psychedelia. If you're looking for one local album this year rich in gorgeous and dark textures, this is the one.
The release show includes performances by La Cerca, as well as Louise Le Hir and Soda Sun. 8 to 11 p.m. Friday, Feb. 22. Club Congress. 311 E. Congress St. Free. 21+