ArtNow! With Julie Henson.
ArtNow is MOCA's monthly playful lecture series where artists-in-residence talk about their art. This month, Julie Henson, whose art has been exhibited throughout the country, covered in several publications and gotten her nominated for a 2017 Rema Hort Mann Foundation Emerging Artist Award, will lead the evening. She'll talk about the references (often to iconic women) in her work, ranging from Miss Piggy to Dolly Parton to America's Got Talent, the role gender plays in success in America, and how celebrities and TV personalities shape our perceptions and beliefs. 6 to 7 p.m. Tuesday, Feb. 19. Tucson Museum of Contemporary Art, 265 S. Church Ave. $10 admission, free for MOCA members and students.
Details here.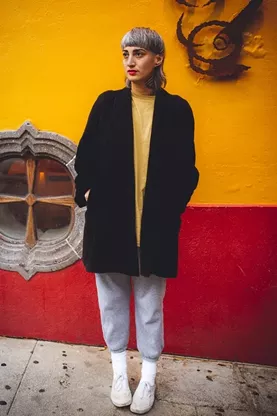 Y La Bamba.
Back with their feminismo-driven indie/folklorico fusion and fifth album,
Mujeres
. This time Portland-based singer-songwriter Luz Elena Mendoza helmed the LP herself, making it even more personal than 2016's NPR-darling
Ojos Del Sol
. Mendoza's collab with Mexican cantante Lila Down deepened her emotional range and vocal confidence. Such tunes as "Cuatro Crazy" reflect the rhythmic influence of her work with Sergio Mendez. "Soy como soy" (I am how/like I am), Mendoza whispers, unapologetically tracing her parents' Mexican raices, wrestling with the constraints of a traditional Catholic upbringing. Mendoza herself is a U.S.-born chicana, more political than religious. But how can she reconcile the differences between herself and her mother, one generation, but worlds apart? Mendoza is honest and raw. Mendoza is exploring cultural and religious identity, blending the musical idioms of traditional música mexicana with American folk storytelling and car-crash guitar.
Mujeres
is personal, but Mendoza insists that her truth-seeking is in service to all women, struggling to discover their role in contemporary society. Tuesday, Feb.19, 191 Toole. Doors: 7 p.m. $12. 21+.
Details here.

Morbid Angel.
Barbed-wire angel wings cover hearts of sun-deprived desert dwellers. Thirty years in, the Morbid Angel tees are as essential metal accoutrement as pewter pentagrams and inverted crucifix. And the music? Hell, kids, it's the lifeblood of death metal itself, thrash in the realm of darkness, disorienting tempo shifts and busted lawnmower vocals that'd do old Satan proud. Their first four long-players—Alters of Madness ('89), Blessed are the Sick ('91), Covenant ('93) and Domination ('95)—are essential genre classics. Trey Azagthoth, the sole remaining founding member, is a beastly metalist, a guitar hero for the Sumerian age and beyond—check his solos, his mystical state called the "Temple of Ostx." Each five-minute aural assault is damn complex—and kudos to original band skinsman Pete Sandoval for putting the heart-attack drumming in death metal. Twenty years after Beavis and Butthead and suicide/Satan-worshipping media freakout, Morbid Angel endures a tight, rhythmic monster, leading fans down to primordial hell and expunging their rage with every spilt beer, raised fist and shitty line of G. Din to reclaim power—tyrants be damned. With Cannibal Corpse, Necrot and Blood Incantation, Tuesday, Feb.19. Club XS, 5851 East Speedway Blvd. Doors at 7 p.m. $30. All ages.
Details here.


Events compiled by Briannon Wilfong, Emily Dieckman, B.S. Eliot and Jeff Gardner.