An exercise in philistinism? In January 2017, this violin virtuoso donned a baseball cap and rumpled shirt and played as a hum-drum busker in a D.C. subway station, performing one of the most challenging solo pieces ever composed effortlessly—Bach's
D
minor Chaconne
—on his 1713 Huberman Stradivarius violin worth $3.5 million. Of the thousands of passersby, only seven stopped to listen. This doyen collected $32.17 in alms.
Joshua Bell
holds court at Centennial Hall.
Details here.

Tucson's favorite psychedelic cumbancheros
XIXA
are at Club Congress. With support from "a radical collective of loosely organized artists, creators and criminals,"
Ojalá Systems
.
Details here.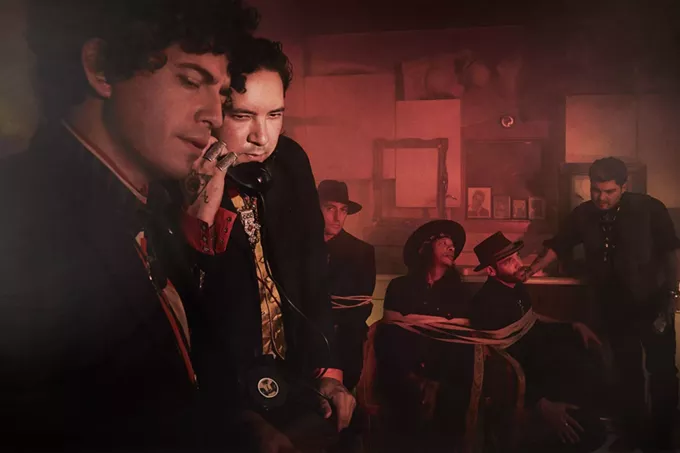 The Rialto Theatre hosts Metal Fest XVI, featuring
Then When, Sucker For The Sour, Sigils Of Summoning, Animate Echoes, Gutter Town, Exit Dream
and
Head Rust.
Details here.

The
Jacob Acosta Band
provides the soundtrack for Harbottle Brewing first anniversary soiree.
Details here.
Miss Olivia & the Interlopers
share their jazz-inflected soul with all in the tasting room at Sand-Reckoner.
Details here.
Southern rock, seared, and laid over a lush bed of Americana seasoned with a sprinkling of Cajun spices.
Caleb & the Homegrown Tomatoes
"chase clouds" at Monterey Court.
Details here.

Featuring pianist Barry Douglas, the
Tucson Symphony Orchestra
perform Tchaikovsky's
Piano Concerto No. 1
and Anton Bruckner's
Symphony No. 7
. José Luis Gomez is at the podium. At the Tucson Convention Center.
Details here.
Dig out your best '80s finery for a dose of post-Valentine's Day campy fun and nostalgia. DJs
Plastic Disease
and
NoirTech
provide the soundtrack for the
Pretty In Pink Themed Dance Party
at the Surly Wench Pub.
Details here.
Sky Bar is the site for a power country, blues hoedown. Featuring
Hank Topless Band
,
Get Right Rounders
and
Chris Hall
.
Details here.
From the Appalachian Mountains to Bakersfield, Freddy Parrish traces the roots of country music in a monthly residency:
Dry 'n' Dusty
at Exo Roast Co.
Details here.
Jacques Taylor & The Real Deal
drop a time bomb filled with old school, Motown and R&B at Casino del Sol.
Details here.

Punk rock/post-punk legend
Kid Congo Powers
(The Cramps, Gun Club, Nick Cave & The Bad Seeds, Sex Beat Dance Party) tops the bill at
Chick Cashman presents
A Love Hangover Pajama Party
. With special guests
Escape-ism
(featuring Ian Svenonius and Alexandra Cabral) and
ShuShu
. Kon Tiki serves as launching pad.
Details here.
The infamous
Tequila Taxi
makes a stop—long enough for the
Al Foul Trio
to stumble out—into the courtyard at Mercado San Agustin.
Details here.

From the City of Angels, angelic alt-pop trio
Tangerine
wake from a
Fever Dream
at Club Congress. Flanked by synth-loving indie poppers
Chateau Chateau
and
Night Weather.
Details here.
Tejano singer/accordionist
AJ Castillo
headlines a Valentine's Day Dance at Casino del Sol Events Center. With
Dezigual and Louie Marinez y Myzterio
.
Details here.

On the heels of
Rocking In The Rain
, their latest release,
Midnight Transit Co.
storm into 191 Toole. With
Beyond Words
.
Details here.
The Mafiatic Misfits, McNastee, King Dice, Trent Stark
and
LoyalT
headline The
Cali-Zona Love Tour
. At CeeDee Jamaican Kitchen.
Details here.

Equal parts talent and entertainment,
Paul "The Piano Man" Jenkins
tickles ivories at Hotel McCoy.
Details here.
It's complicated. Phoenix alt-rockers
No Volcano
are "Coming Up Roses." While "slob rockers"
The Gem Show
are repentant and "Never Going To Do That Again." See for yourselves, at Che's Lounge.
Details here.

Not for the faint of heart,
Musk Hog
and
Creeper Van
do odiferous and suspicious things at Saint Charles Tavern.
Details here.

No place is safe from the incessant techno rhythms of
Disco Zombie
nor the bass laden beats of
FAIRYDVST
.
Project Atlas
presents
Dungeon Of Love
at Solar Culture. Enter at your own risk.
Details here.

Tokyo garage punks
Your Pest Band
rip and tear through a set at Owls Club.
Lenguas Largas
and
Resonars
only add to the mayhem.
Details here.
Providing the beats and melodies and energy behind everything,
Golden Boots
and
Feverfew
occupy Che's Lounge patio.
Details here.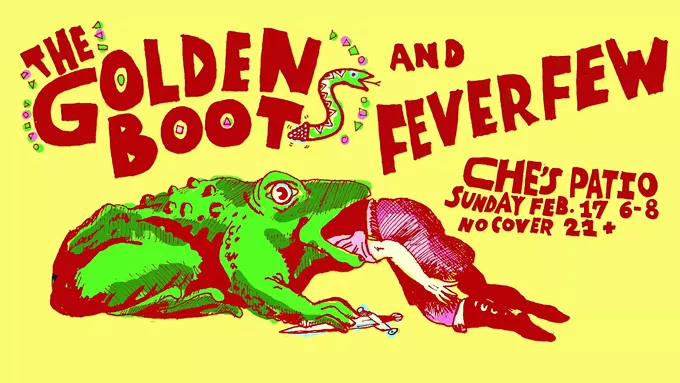 Febbo & Fuentes
play bilingual AmeriMexicana for the betterment of the human soul. At Public Brewhouse.
Details here.
Faithfully capturing the interaction of
cante
(song),
baile
(dance) and
toque
(guitar),
Tablao Flamenco
present the music of the Andalusian Roma Gypsies of southern Spain. At Exo Roast Co.
Details here.
Pop punks, from Tampa, Florida,
Up From Here
, top the bill at Sky Bar. With
In Lessons
and
Something Like Appropriate
.
Details here.
This English guitarist's piercing, yet delicate, technique and execution have earned him a Top 20 spot on
Rolling Stone's
list of
Best Guitarists of All Time
.
Richard Thompson Electric Trio
is at The Fox Theatre.
Details here.