Pop up with Pueblo Vida + Exo Kitchen. For a special Valentine's Day treat, head over to Tap & Bottle's downtown location, where Pueblo Vida Brewing is bringing the beer and Exo Kitchen is bringing the food. This evening includes four beers over four courses. Talk about a pleasant evening: You're surrounded by the things you love and your date is there as well. 6 to 10 p.m. Thursday, Feb. 14. 403 N. Sixth Avenue. $45. Details here.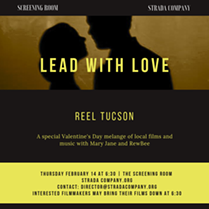 Reel Tucson–Lead With Love. This special Valentine's Day Reel Tucson, a local short film contest, focuses on the more romantic side of films. The evening is only $5, and for those daring, it's free to enter your film. The evening includes local films and music with Mary Jane and RewBee. Hosted by Strada Company and The Screening Room. 6:30 to 9 p.m. Thursday, Feb. 14. 127 E. Congress St. Details here.

<!—————EndFragment—————>
Valentine's Day Date Night!
$29 per painter. Grab a friend and follow our instructor's step by step instructions while you sip some wine or beer and create your own beautiful masterpiece! Creative Juice 6530 E Tanque Verde Rd in La Plaza Shoppes. 6:30 to 8:30 p.m.
Details here.
I've Got a Crush On You – A Valentine's Day Concert!
Join local favorite Big Band Xpress for a romantic night of jazz standards, love songs and big band tunes. Starring the one and only Armen Dirtadian. You'll hear songs like "I've Got You Under My Skin," "Nice and Easy," Where or When," and more. If you are looking for the perfect date night this Valentine's Day, tickets range from $13-$25. The Gaslight Music Hall 13005 N. Oracle Rd. 6 p.m.
Details here.

With Love, Marilyn. This special, four-night-only performance is all about one of Hollywood's most iconic figures: Marilyn Monroe. In this one-woman show, she's portrayed by Erin Sullivan, who has nearly 30 years of theater experience under her belt, including portraying Marilyn in Marilee and Baby Lamb: The Assassination of an American Goddess. Not to mention, Sullivan's the playwright of this show as well! It takes us behind the scenes to a dress rehearsal for a show, where Marilyn is singing songs like "I Wanna Be Loved By You," "My Heart Belongs to Daddy" and "Diamonds are a Girl's Best Friend." 7:30 p.m. Thursday, Feb. 14, through Saturday, Feb. 16, and 2 p.m. on Sunday, Feb. 17. Temple of Music and Art, 330 S. Scott Ave. $50. Details here.


Pollen Path. The flowering plants of the Sonoran Desert, with all of their colors, shapes, textures and lines, provide joy and inspiration to many a desert dweller or visitor. And the path of pollen from flower to seed is what makes this all possible. For this art exhibit at Tohono Chul, artists were asked to contribute works of art that focus on the pollen producers and transporters of the desert—which gave them pretty much limitless possibilities to work with. Erinn Kennedy is the featured artist. See what they came up with at this exhibit, running from Thursday, Feb. 14, through Wednesday, April 17. Reception with the artists is from 5:30 to 8 p.m. Thursday, Feb. 14, at the Tohono Chul Main Gallery. 7366 Paseo del Norte. Reception is free. Details here.
Love Hurts. Seriously. The good love giveth and the good love taketh away. If you're not really in the mood to celebrate this confusing feeling, or at least not to celebrate it traditionally, head downtown to Crooked Tooth, where they traditionally haven't done anything traditionally. Kari Cadenhead of Marigold Tattoo Studios will be doing stick and poke tattoos for just $40, Whiskey Drunk will be playing live music from 7 to 9 p.m. and Fat Noodle food truck will be onsite with black noodle ramen, and plenty of vegetarian options. So, whether you want to distract yourself from the pain of love with some physical pain, drown out your thoughts with music, eat your feelings or just have a good time, don't miss it. 5 to 9 p.m. Thursday, Feb. 14. Crooked Tooth Brewing Co., 228 E. Sixth St. Details here.


Events compiled by Briannon Wilfong, Emily Dieckman, B.S. Eliot and Jeff Gardner.