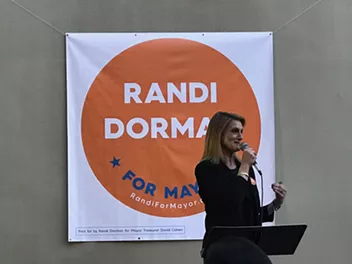 "It's time for us to not just fix the roads but make sure they lead somewhere," Randi Dorman told a cheering crowd on Tuesday evening.

To kickoff her campaign for mayor of Tucson, Dorman laid out her priorities for office during a casual gathering at the Connect Coworking courtyard, complete with drinks and live music.
Originally from New York, Dorman worked in advertising with international brands such as Charmin, Crest and Old Spice for 15 years before moving to downtown Tucson in 2001 with her husband, Rob Paulus, an architect and developer. Together they formed R+R Develop, a local real estate development company.
In 2005 the couple worked to convert a closed ice factory into the residential Ice House Lofts on 17th Street. Now, R+R is in the process of developing mixed-use apartments, offices and retail spaces adjacent to the Trinity Presbyterian Church on Fourth Avenue and University Boulevard.
Dorman has served as the president of the Museum of Contemporary Art in Tucson for over five years, and currently serves as the chairwoman of the Downtown Tucson Partnership. She hopes to bring her close relationship with the ongoing revitalization of downtown and knowledge of small business economics to the dais.
"We need to take the energy that we put into downtown and we need to start to bring that into the rest of the community," she said.
Among Dorman's interests is economic development, which includes supporting the growth of small and medium-sized businesses, making collaborations through job-training programs and creating a "robust annexation program" to bring in more state-shared revenues that are currently being given to the Phoenix area.
"Keeping our money in Tucson will enable us to pay for the things that create a better quality of life here," she said. "And if we collaborate with the county, we can reduce redundancies in departments like Parks and Planning and Development Services and if we do that we free up money for our community."
Dorman also had a hand in the DTP Connects program, which helped chronically homeless people living in the downtown area find housing opportunities and organizations that help with issues of poverty. She said her team was able to decrease chronic homelessness in the downtown area by 95 percent in a few months.
"In 2018 there were 300 chronically homeless in the City of Tucson, by the city's count. There were 450 housing vouchers that went unused in 2018," Dorman said. "We have to connect the people who are combating poverty with the great programs that already exist here as well as creating new ones to support the people really suffering in our community."
Like other mayoral candidates, Dorman said climate change as an issue that demands attention. Her idea for an environment-friendly Tucson includes sustainable building practices.
"Urban infill, density in the core, where it belongs, and reusing old buildings are some of the greenest building practices you can do and I'm going to make them easier to do," she said. "In addition, incentives for rainwater harvesting, solar installation, tree planting, energy-efficient home and building improvements—if we do those things we create jobs, improve the environment and improve our quality of life."
If elected mayor, Dorman wants to start planning for long-term projects such as an expansion of the city's public transit system and a high-speed rail to Mexico and the Arizona Sun Corridor.
"We have to make sure that we're shovel-ready when funding opportunities arise, like they have in the past. We want to make sure that we're going to be the first in line."
Dorman sees the mayor's position as the "glue that holds everything together."
"Her greatest responsibility is to bring people together and lead with vision. She has to be the connector and the chief collaborator. And that's what I do every single day in my normal business. Every single day I'm bringing people together, bringing ideas together, that's what I love to do and that's why I've wanted to be mayor for over a decade."
"I have spent an extraordinary amount of time sitting in city council meetings. There's a wall of portraits of all of the men who have been mayors of Tucson in the past. All men. It is 2019 and it is time to make a change, it is time to think differently about what is possible for Tucson," Dorman said.
Ward 1 city council member Regina Romero is also in the race for the mayor's seat, as well as former state legislator Steve Farley, advertising agency owner Ed Ackerley and a handful of fringe candidates. The primary election will take place in August.