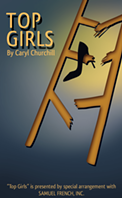 Top Girls. It's the early 1980s, and Margaret Thatcher has just become the United Kingdom's first woman prime minister. Caryl Churchill wrote this play about a time when glass ceilings were starting to crack. It explores the difference between individualistic American feminism and the more collectively-minded feminism of the UK, as well as the choices many women face between successful careers and rich family lives. The framework: A businesswoman named Marlene throws a dinner party to celebrate her promotion, and invites a series of famous women from throughout history: Pope Joan, explorer Isabella Bird, Dull Gret, lady Nijo and Patient Griselda. Wednesday, Feb. 6, through Sunday, Feb. 24, with 7:30 p.m. evening shows and 1:30 p.m. matinees (plus preview shows at 1:30 p.m. on Sunday, Feb. 3, and 7:45 p.m. on Monday, Feb. 4). UA Tornabene Theatre, 1025 N. Olive Road. $28 adults, $26 senior/military, $15 students. Or $17 for the preview shows. Details here.

Yume Japanese Gardens Tea Ceremony. If you've ever had a cup of tea, you probably agree that there's something ceremonious about it. Heating up the water, waiting for it to steep, the way your favorite mug feels in your hands. But this ceremony, following the etiquette that's been followed in Japan for nearly 1,000 years, takes that ceremony to a whole new level of peaceful. Sip on a bowl of matcha and a nibble at a traditional Japanese sweet, while taking in the warmth and formality of a tradition that makes it all the more delicious. Note that non-resident parking is no longer permitted on East Hampton place, so park in the lot or on East Justin Lane, half a block South of Yume. 1 p.m. Saturday, Feb. 9, but make sure you RSVP by Monday, Feb. 4! Yume Japanese Gardens, 2130 N. Alvernon Way. $15. Details here.

Zombie Nightmare. In the true style of cheesy '80s horror goodness, this movie stars a group of dumb teenagers, a baseball bat-wielding zombie, a voodoo priestess and plenty of bloody nonsense to keep your attention held and your brain rotting. For their Mondo Monday special, The Loft Cinema is screening this dud whose only redeeming quality is a soundtrack with Motorhead and Pantera. 8 p.m., Monday, Feb. 4. The Loft Cinema. 3233 E. Speedway Boulevard. $4. Details here.

No Le Digas A Nadie/Don't Tell Anyone. UA's Women & Gender Resource Center is screening this film on sexual abuse among undocumented immigrants. The film follows one woman's story from poverty in rural Colombia to the front page of The New York Times as she becomes "a beacon in a movement for national change." The screening will be followed by a panel-lead discussion on sexual violence, immigration, feminism and how they all intersect. 5 to 7 p.m. Monday, Feb. 4. Student Union Memorial Center building. Details here.