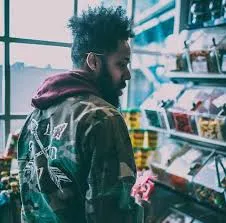 For those not clued-up,
Cash Lansky
​is an independent hip-hop artist out of Tucson. Lansky has been a mainstay on the scene since
Simplicity
, his full-length debut, dropped in 2013.
The very next year, Lansky was handpicked by living hip-hop legend Murs who released
The Tonite Show
—a hip-hop collection which features Marley B, DJ Fresh and Lansky—on the veteran rappers 316 label.
Lansky is back. This time with the Midas touch. The first single from his new album, "GLD."
The 10 tracks on,
Cash is King
(Gldn Artist Group), Lansky's latest, level out a few degrees to the right of the booze-addled slow grooves of Earthgang's "Liquor Sto'" and dip to the left of the "Straight Slammin'" breakbeats of Freddie Gibbs. Lansky flows smooth like Courvoisier over rounded verses. And, just as proper, he can dig in deep spitting out chopper-style lyrical curveballs.
XOXO
tracked down Lansky for a confab.
How would you classify the music on Cash is King?
Conscious, aggressive chill music. If that makes any sense. [Lansky laughs.] I've never been able to classify my music, to be honest.
So, what's the backstory behind "GLD?"
I have a saying: Ugly and gifted. "GLD" is an example of that. We took some ugly places around town, that were once beautiful, and gave them some light. I try to put Tucson staples in all of my music videos.
Who produced "GLD?"
The song was produced by my homie, Roodbeats. The video was shot and directed by the talented team at SD Visions.
Cash, what is your musical background?
From a young age I was infatuated with music. I think it has to do with my mother and grandmother always playing music around the house. I tried playing the trumpet in 6th grade. I sucked at that. But, I always felt I could place words together… That made sense to me. I used to follow my cousin around to studios. That lit the match.
Do you write your own lyrics and music?
Yes. I write all of my lyrics. I've also recorded, probably, 98% of the music as well.
What's on the horizon for Cash Lansky?
I plan on touring more this year and release more content—music and videos. I'd like to write a book and learn how to play the piano.
What inspires you to do what you do?
I take inspiration from any and every thing I can. I feel that creating music is truly my purpose on Earth. I couldn't give it up even if I wanted to.
Passion. Here's a taste. Check out the video to Cash Lansky's latest joint "GLD."