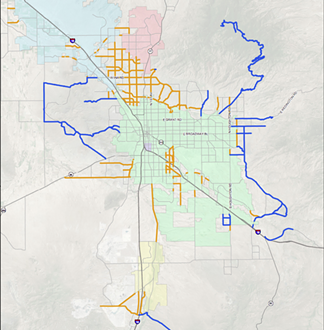 Pima County Administrator Chuck Huckelberry wants to take a portion of the fiscal year 2019-2020 general fund and put it toward road repairs in unincorporated areas.
In a memo to the Board of Supervisors published on Wednesday, Huckelberry recommended a plan to repair arterial roads in unincorporated parts of the county that receive use from at least 40 percent of vehicles originating from towns or cities nearby.
The general fund consists of mainly property taxes, and Pima County residents pay those property taxes regardless of which municipality they live in. County officials believe it would be most fair to use general fund tax revenues in areas outside of specific towns or cities that still receive significant use from residents of those places.
Earlier this month, Huckelberry requested the Pima County Department of Transportation conduct a study that would determine which unincorporated county roads meet the 40 percent criteria. A map and list detailing the roads deemed eligible was attached to the memo, which can be found here.
The transportation department also included "recreational gateway roads" that lead to popular tourism destinations. These roads are also being considered for road repair funding because they are frequently used by out-of-town visitors who contribute to the local economy through hotel bed taxes, according to a county press release.
Huckelberry wrote that local and neighborhood roads would not be eligible for the repairs, since they aren't widely used by the general public. Transportation staff and the county administration are reportedly working on a separate plan for repairs on those roads using state-shared transportation funds.
The press release indicated if the board approves the use of general fund revenues for road improvements, the priority of roads to be repaired will be determined after the start of the 2019-2020 fiscal year in June.