3rd Annual Boots N Brews. Tanque Verde Ranch is collecting a bunch of local breweries for their annual craft beer and culinary weekend. Participating breweries include Barrio, 1912, Sentinel Peak, Uncle Bears, Copper Brothel, Dillinger and more. Beyond the drinks, the event includes buffet food and live music. 4:30 to 9 p.m. Friday, Feb. 1, to Sunday, Feb. 3. 14301 E. Speedway Blvd. Make reservations at tvrfun.com or call (520) 296-6275. Details here.
Native American Crafts Sale. One of the many highlights of living in the Sonoran Desert is how much authentic Native American art, including both handcrafted contemporary and vintage jewelry, there is at your fingertips (and on your fingertips, if you're a ring-wearer). Check out the Zuni, Navajo, Hopi and Santo Domingo artwork at Tohono Chul's sale. In addition, Gerald Dawavendewa, a member of the Hopi tribe, will be at the show demonstrating Kachina carving. (Kachinas are traditional Hopi dolls that depict the spiritual beings central to Hopi religious life.) 10 a.m. to 4 p.m. Friday, Feb. 1 through Sunday, Feb. 3. Tohono Chul Lomaki House, 7366 N. Paseo del Norte. Tohono Chul admission is $13 adults, $10 seniors/military/students with ID, $3 for kids 5 to 12 and free for members and kids under 5. Details here.

Desert Blooms. Spring is coming! Some of Ted DeGrazia's watercolors from the 1950s, of colorful cactus flowers, desert critters and other springtime specialties, will be on display all the way through September in honor of Tucson's most bearable season. (Every season in Tucson is the most bearable season, besides summer.) Head over to the Gallery in the Sun anytime during their open hours, 10 a.m. to 4 p.m. daily., and pay admission: $8 adults, $5 ages 12 to 18 and free for those 12 and under. Or attend the exhibit's opening reception from 5 to 7 p.m. on Friday, Feb. 1, which is free and open to the public. DeGrazia Gallery in the Sun, 6300 N. Swan Road. Details here. <!————EndFragment————>

Love and Light–A New Journey. The YWCA Gallery at the Francis McClelland Community Center will be featuring the work of Gavin Hugh Troy through April 1. A look at his work, which ranges in medium from acrylic to gesso to pencil on canvas or wood, might be just what you need if you've been down in the dumps lately: His scenes of boats, travelers and points of light are hopeful messages of peace and light for the future of our country, inspired by the our newly diverse and Democratic Congress. His work has long included an element of self-discovery—on the scale of countries as well as individuals. Gallery opening reception is 5 to 7 p.m. Friday, Feb. 1. YWCA Southern Arizona, 525 N. Bonita Ave. Free. Details here.


<!————EndFragment————>

81st Annual Tohono O'odham Nation Rodeo & Fair. If you're looking to get out of town this weekend, heading to Sells for this jam-packed weekend might be just what you need. The rodeo events include All-Indian junior and masters rodeo, O'odham Wapkial team roping, wild horse racing, a bull bash and women's steer riding. And there's tons of non-rodeo activities too, like a business expo, basketball tournaments, a carnival, a fun run, a pow wow, a battle of the bands and Toka tournaments, just for example. The theme of this year's parade is "Celebrating the Resiliency of the O'odham Himdag through Beauty, Health and Wellness." Friday, Feb. 1, through Sunday, Feb. 3. Eugene P. Tashquinth Sr. Livestock Complex in Sells, AZ along SR 86. $5 GA, $3 youth 6 to 17 and military, $1 seniors 55+, free for kids 5 and under. Details here.


Tucson Roadrunners vs. Colorado Eagles. The Eagles just made their first visit to Southern Arizona in December, as the 15th American Hockey League club to play a game here in the Roadrunners home facility. Come see these fast-moving teams face off at either one of this weekend's home games. Friday night is social media night, and includes a hockey mask giveaway. Saturday is Phoenix Roadrunners Night, where the team will be wearing specialty Phoenix Roadrunners throwback jerseys, to be auctioned off after the show, and Sentinel Peak Brewing Company will sponsor first responders night. 7:05 p.m. on Friday, Feb. 1, and Saturday, Feb. 2. Tucson Arena, 260 S. Church Ave. $10 to $61+. Details here.<!————EndFragment————>



Awake: The Life of Yogananda. His autobiography is known as "the book that changed the lives of millions." Paramahansa Yogananda brought the teachings of yoga to the West in in the 1920s and '30s. This documentary, screened by the Tucson Jewish Community Center, combines re-creations and real-life footage, featuring interviews from Ravi Shankar, George Harrison and more. 7:30 to 9:30 p.m. Friday, Feb. 1. 3800 E. River Road. $10. Details here.




Grivo. Austin's Grivo don't just create the old wall of sonic spray, but shape-shift musical matter, forming abstract MC Escher drawings in the minds of intent listeners. Continuing and expanding upon Terry Riley's A Rainbow in Curved Air with a heavy injection of shoegaze melancholy, Grivo combines slow, melodic hooks with grinding doom-metal bass lines, which result in abstract forms that reflect technology-driven loneliness. Heavy but warm, their debut album Elude manages to evoke malaise without alienating the listener. Instead, we are drawn into the "Cave" with the players, deprived of all senses but their minor, downtempo dirges. Because the band's core is two brothers raised on jazz guitar and drums, the five-minute-plus songs on Elude are shot through with a dynamic interplay between rhythm and melody, allowing for builds and dissolves often missing in this droning, expansive genre. This music for sad smart folk with not much lift, who long to close the gap between existential isolation and deep human connection. Grivo, with Mute Swans and Moontraxx, on Friday, Feb. 1. Club Congress, 311 East Congress St. 8 p.m. 21+. —BS Eliot. Details here.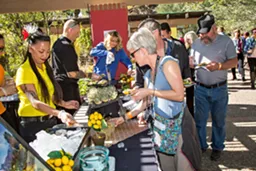 SAVOR Southern Arizona Food & Wine Festival. We all know Tucson has an expansive, delicious and unique food history, but why just talk about it when you can taste it? The SAVOR Southern Arizona Food & Wine Festival at the Tucson Botanical Gardens combines everything you could hope for: heritage foods and ingredients, local wines, local craft beers, and samples from our city's best restaurants. Come hungry, leave full (in every sense). 11 a.m. to 3 p.m. Saturday, Feb. 2. 2150 N. Alvernon Way. $79. Details here.
<!————EndFragment————>

Expecto Bar Crawl. The Wizarding World of Harry Potter is coming to Tucson, so you know what that means: drink! This bar crawl includes drink specials during the crawl, no cover at participating locations, and the first 50 guests get a commemorative koozie. Participating locations include the Playground Bar & Lounge and more. Just one question: Is it considered appropriation if you didn't actually read the books? 5 to 10 p.m. Saturday, Feb. 2. 278 E. Congress St. $10 to $20. 21+. Details here.



Tucson Taco Crawl 2019. At the crawl, not only do you get tacos, but drinks as well. The only issue, it doesn't take place on a Tuesday, so there goes your chance for alliteration. Participating bars include Maloney's, Series19, Cobra Arcade, Playground Bar & Lounge and more. 2 to 7 p.m. Saturday, Feb. 2. Begins at 213 N. Fourth Ave. $20. Details here.
<!————EndFragment————>


Asian Lantern Festival. Tucson is about to get a whole lot brighter, thanks to the efforts of the Reid Park Zoo, the Confucius Institute at the UA, Tianyu Arts & Culture Inc. and the Tucson Chinese Cultural Center. Throughout the next two months, more than 40 customized, colorful lantern displays will be on display at the zoo, where you'll also be able to enjoy Chinese name writing, calligraphy, painting, music, crafts and even carousel rides. This family-friendly event will tap into everyone's sense of childlike wonder, and give you an opportunity to celebrate and learn more about Asian cultures. 6 to 10 p.m. Saturday, Feb. 2, through Saturday, March. 23. $18 adults, $16 kids 2 to 14 and free for kids 1 and younger. Reid Park Zoo, 3400 E. Zoo Court. Members get $2 off admission. Details here.
La Traviata. It's got a love story, it's got a bad case of tuberculosis and it's got more than one delightfully dramatic lovers' duet. La Traviata, one of the most frequently performed operas in the world, is coming to Tucson. It tells the story of Violetta, a wealthy courtesan who throws a party to celebrate the return of her health, being faced with a confession of undying love by Alfredo, a young provincial member of the bourgeois. Will she sacrifice her fabulous lifestyle and wealth for love? Will her decision work out in the end? This emotional and musical roller coaster will have you on the edge of your seat. 7:30 p.m. on Saturday, Feb. 2, and 2 p.m. on Sunday, Feb. 3. Tucson Music Hall, 260 S. Church Ave. $30 to $130. Details here.



Make a History Mashup. Have you seen artist Kim Nicolini's "Facing Work" exhibit on display at the Arizona History Museum? The multimedia exhibit explores the lives and stories of people who work behind cash registers. So, if anyone is qualified to lead a workshop about uncovering the hidden histories art can help us explore, it's her. The museum will provide supplies like photos, safety pins, fishing line, scissors and glue so you can "remix histories." Combining the personal with the historical to create art pieces you can either include in the museum exhibit or take home. 1 p.m. Saturday, Feb. 2. Arizona History Museum, 949 E. Second St. Event included with museum admission; $10 adults, $8 seniors, $5 adult students, $4 student youth (7 to 17) and free for kids 6 and under, veterans and museum members. Details here. <!————EndFragment————>

Small Works Show. This month at the Wilde Meyer Gallery, they're displaying work submitted by some of the gallery's very best artists, whether these works are of landscapes, animals, people or even jewelry. What do they all have in common? They're small! Works in this exhibit range from 5" by 5" to 14.5" by 11". This is a perfect opportunity to take in some bite-size portions of lovely art, and you can do it all month if you want! The exhibit is up from Feb. 1 to Feb. 28, and gallery hours are 10 a.m. to 5:30 p.m. Monday through Saturday and 1 to 4 p.m. on Sundays. Wilde Meyer Gallery, 2890 E. Skyline Drive, suite 170. Free. Details here.



Alejandro Gonzalez Photography Opening. Another month at Crooked Tooth Brewing Co. means another artist being featured on the downtown brewery's walls. This month, enjoy the photography of Alejandro Gonzalez, a Nogales, Mexico, native who earned a BFA in fine arts and art education, as well as a masters in educational leadership at the UA. Gonzalez is in his ninth year of teaching photography at Tucson High School, and also works as a freelance photographer. Check out alexgfotos.com for a sneak peek at his lovely work. 6 to 9 p.m. Saturday, Feb. 2. Crooked Tooth Brewing Co., 228 E. Sixth St. Details here.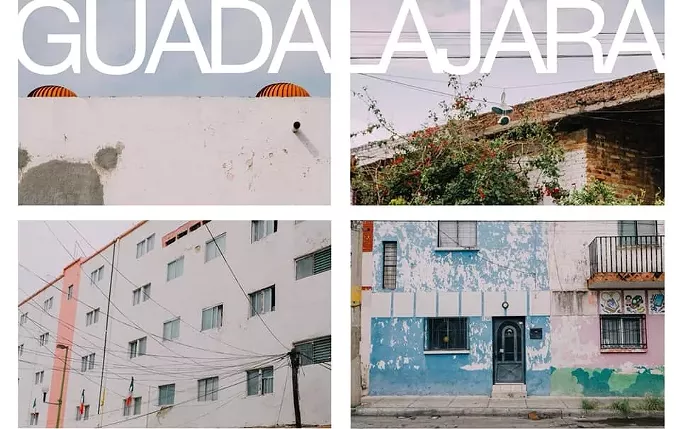 Viva Piazzolla! This year, Ballet Tucson's winter concert is happening in collaboration with the Tucson Guitar Society and The Rogue Theatre as part of the Tucson Desert Song Festival. So you're in for a night where the art is coming at you in all mediums from all angles. Chieko Imada and Mary Beth Cabana choreographed and conceptualized this piece, which portrays the life of legendary composer—and the father of nuevo tango—Astor Piazzolla, through dance. Just to name a few events in his life: He narrowly escaped death by plane crash when his father forbade him from going on a tour he desperately wanted to, he pioneered a method of playing the bandoneon standing up and he traveled all over the world. 7:30 p.m. Friday, Feb. 1, 2 p.m. Saturday, Feb. 2, and 1 p.m. Sunday, Feb. 3. PCC Center for the Arts, 2202 W. Anklam Road. $45, or $40 for seniors/students/military. Details here.


Miss Olivia & the Interlopers. Ain't no doubt Miss Olivia Reardon's got skills. Watch her waifish form sidle to the mic, hear dusty blue-eyed soul, belted yet nuanced, studied yet organic, and goddamn straight at the heart. After years of kicking around her native Ohio, then L. A., now Tucson, she has unearthed a band with enough chutzpah to both compliment and contest her dynamic range, and it's more tremor than earthquake, also the precise sound of band and singer finding each other. The airy and boisterous guitars, bass, sax/keyboards and jazzy-cool drums (like Elvin Jones weaned on Questlove and hip hop. Seriously). Capable of tight, straight-ahead covers (Erykah Badu's "Tyrone") or psych jam-outs, a signature of the band's live shows, Miss Olivia and the Interlopers wistfully channel both Dusty and Stevie, Bettye LaVette and old Allman Bros. How cosmic! (Voted runner up to Calexico as Tucson Weekly's Best Band of 2018, this band is cutting their first record together right now.) With Miller's Planet on Saturday, Feb. 2. 191 Toole. Doors at 7 p.m. Free. 21+. Details here. <!————EndFragment————>


Ten55 Tailgate. Tucson's only brewery/sausage house is gearing up for a Super Bowl party, and you're invited. The day features nacho fries, hot wings, craft beer, appetizer specials and more. You get to eat, you get to drink, you get to watch the game. It's a brewery viewing party, why haven't you been to one yet? 3 to 10 p.m. Sunday, Feb. 3. 110 E. Congress Street. Details here.

Southern Arizona Transportation Museum Lecture Series. February is going to be a very educational month at the best train museum in town, with lectures every Sunday about different aspects or periods of railroad history. Andy Odell is kicking it off this week with a talk on the Prescott and Arizona Central Railway Co. and its accompanying railroad. Never heard of it? That's because the line only lasted for a few years, and almost no evidence of its existence remains. It even has its very own page on a website called abandonedrails.com. Odell will bring you the saga! 3 p.m. Sunday, Feb. 3. Southern Arizona Transportation Museum, 414 N. Toole Ave. Free. Details here.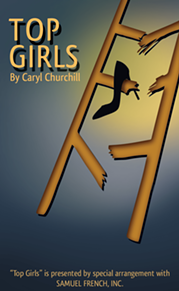 Top Girls. It's the early 1980s, and Margaret Thatcher has just become the United Kingdom's first woman prime minister. Caryl Churchill wrote this play about a time when glass ceilings were starting to crack. It explores the difference between individualistic American feminism and the more collectively-minded feminism of the UK, as well as the choices many women face between successful careers and rich family lives. The framework: A businesswoman named Marlene throws a dinner party to celebrate her promotion, and invites a series of famous women from throughout history: Pope Joan, explorer Isabella Bird, Dull Gret, lady Nijo and Patient Griselda. Wednesday, Feb. 6, through Sunday, Feb. 24, with 7:30 p.m. evening shows and 1:30 p.m. matinees (plus preview shows at 1:30 p.m. on Sunday, Feb. 3, and 7:45 p.m. on Monday, Feb. 4). UA Tornabene Theatre, 1025 N. Olive Road. $28 adults, $26 senior/military, $15 students. Or $17 for the preview shows. Details here.



Dykes and Young, Rogue Darlings, and Justin Nalley. Have you heard of the American Institute of Thoughts and Feelings? It's very Tucson: an artist-run experimental space set on using research, inquiry and community engagement to reflect upon human sentiment. There's a gallery space, a sculpture garden and an adjacent alleyway. It's all located in someone's house. Anyway, at this event, enjoy the music of Dykes and Young and Rogue Darlings, and works by poet and visual artist Justin Nalley. They're committed to making literary events accessible for all. Sunday, Feb. 3. 3 to 5:30 p.m. 116 N. Santa Rita Ave. $5 to $15 suggested donation. Details here.