Brews & Books. Books have a way of making your heart and brain feel full, while beer has a way of making your stomach feel full. So if you're looking to feel fulfilled every which way, a book club hosted by a brewery isn't something you should miss out on. Head over to 1912 Brewing to discuss this month's book, The Mermaid Chair, by Sue Monk Kidd, a story that involves an ailing mother, a trip to an island and a handsome monk—exactly the type of elements that made it a perfect fit to be adapted into a Lifetime movie. While you discuss the book, enjoy beer, mead, wine and whatever food you'd like to bring, because this is a potluck! 5 to 8 p.m. Thursday, Jan. 31. 1912 Brewing Company, 2045 N. Forbes Blvd. Free. Details here.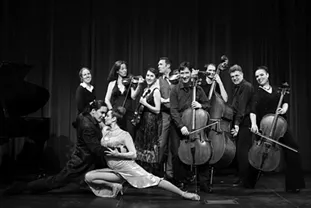 Te Amo, Argentina. World-renowned cellist Antonio Lysy won a Grammy for his album Te Amo, Argentina, an homage to the sounds of the country, from the music of tango in Buenos Aires cafes to the Amerindian rhythms of the Andes Mountains. In this show, the album comes to life, featuring not only chamber works and cello solos by Lysy, but spoken word, film and tango dancing by Miriam Larici and Leonardo Barrionuevo, tango choreographers on So You Think You Can Dance and gold medalists on NBC's Superstars of Dance. Come hear the works of Ginastera, Piazzolla, Guastavino and more. By the time you walk out, you'll be just as in love with Argentina as Lysy is. 7:30 p.m. Thursday, Jan. 31. Leo Rich Theater, 260 S. Church Ave. $30. Details here.


J.I.D. Growing up whip smart and poor made J.I.D. creative and resourceful. To quick flow mix up. To mash together funk and soul with Bollywood flair. To pay little attention to rules and transcend limitations. The resulting hip hop is fresh and deconstructed and, um, dangerous. (Yes, we know, dangerous doesn't exist anymore.) This Atlanta kid grew up on Mobb Deep and Wu-Tang, and J.I.D. too has a crew, Spillage Village (alongside 6LACK). Like Wu, his dystopic visions are darkly comic and fully realized. His high-pitched nasal flow enlists hyper-complex internal rhyme schemes and hypnotic repetition to assert and deconstruct at once, a cut and pasted ransom note atop warped sitars and descending piano scales. The effect is disorienting and utterly original. As J.I.D. guides us through his "get on my dick/cannabis spliff"-enhanced world, that old-fashioned "I feel cool as shit bumping this" vibe is attained. Hell yeah, hip hop doesn't just survive, it thrives in J.I.D.'s jittery, capable hands. J.I.D., with Reason, Hardo, and Lou the Human on Thursday, Jan. 31. 191 Toole. Doors at 7 p.m. $20-$25. All ages. Details here.
<!———EndFragment———>
Events compiled by Briannon Wilfong, Emily Dieckman, B.S. Eliot and Jeff Gardner.