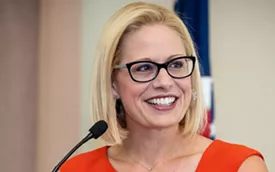 This week U.S. Senator Kyrsten Sinema, along with Sen. Marco Rubio (R-Florida) and Sen. Thom Tillis (R-North Carolina) introduced the Threat Assessment, Prevention, and Safety Act of 2019 (S. 265).
The bill intends to streamline law enforcement efforts on local, state and national levels to better prevent violent acts of mass casualties.

Through the implementation of a Joint Behavioral Threat Assessment and Management Task Force (comprised of federal threat assessment experts, state and local law enforcement officials and mental health service professionals) a national strategy would be created to "prevent targeted violence through threat assessment and management, and evidence-based processes to identify individuals that exhibit patterns of dangerous behavior that may precede an act of targeted violence," according to a press release.
Since perpetrators of these crimes can act anywhere at any time, the task force is supposed to help state and local law enforcement agencies access the same resources for combating these threats as the FBI and Secret Service.
The task force would be able to make recommendations on how to implement protocols for local law enforcement agencies to effectively preempt dangerous attacks. The bill requires these recommendations to reflect the different needs and resources of communities across the country, in order to prevent the enforcement of a national standard.
These recommendations would be funded through grants awarded by the Department of Homeland Security. Grant money would also be available to community stakeholders such as local governments, tribal organizations, educational institutions and nongovernmental organizations who create "community-based behavioral threat assessment and management units."
The bill specifically requires recommendations for a Behavioral Threat Assessment and Management School Violence Prevention Program for educational institutions across the country.
A one-page briefing of the bill created by the office of Sen. Rubio states: "We have the expertise to combat the targeted violence plaguing our schools, places of worship, and public spaces, but we have yet to fully implement it to prevent attacks."
"We must provide law enforcement with the tools they need to keep Arizona families safe and secure," Sen. Sinema said in a press release. "I will work every day to protect Arizonans from senseless, tragic acts of violence."
U.S. Representatives Brian Babin (R-Texas) and Val Demings (D-Florida) introduced a companion bill in the House.