Five Great Things to Do in Tucson Today: Tuesday Jan. 29
Climate and the Deep Blue Sea. The UA College of Science lecture series started a few weeks ago, with a theme of "Searching for Certainty" and a totally impressive, totally kickass lineup of speakers (all of whom happen to be women). This week, geosciences professor Joellen Russell will talk about her work using floating robots and sensors in transforming the way we measure climate change. She'll also look to the future, and talk about how the next generation of floating robots will measure carbon, nutrients and chlorophyll and have concert impacts like allowing us to verify new international carbon agreements. 7 p.m. Tuesday, Jan. 29. Centennial Hall, 1020 E. University Blvd. (free parking in the Tyndall Ave. Garage). Free. Details here.

"Call Him Mac" Reception and Book Signing. You've probably heard of Ernest McFarland, the U.S. Senator, Senate Majority Leader, Arizona Governor, Chief Justice of the Arizona Supreme Court, founder of KTVK and father of the GI Bill. (Historian Marshall Trimble once suggested that if Arizona had a Mount Rushmore, it would be Carl Hayden, Ernest McFarland, Barry Goldwater and John McCain.) But you might not know much about his life as a husband, father and friend to people like FDR, Harry Truman and Winston Churchill. Call Him Mac: Ernest W. McFarland, The Arizona Years, a new book by law professor and historian Gary L. Stuart, published by the UA Press, delves into all of this. Meet the author, pick up a copy and get it signed at this event. 6 to 7:30 p.m. Tuesday, Jan. 29. Arizona Main Library special collections room, 1510 E. University Blvd. Free. Details here.
<!—————EndFragment—————>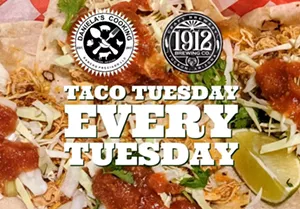 Taco Tuesday at 1912 Brewing Co. Alright, Tucson, time to embrace your local borderlands culture by drinking craft beer and eating Mexican food at the same time. 1912 Brewing is hosting a tasty Taco Tuesday, where they're selling tacos for only $2 each. And if you aren't sure which of their beers go best with the tacos, don't be afraid to ask! 4:30 to 8 p.m. Tuesday, Jan. 29. 2045 N. Forbes Blvd. Details here.

<!—————EndFragment—————>
Maria en Tierra de Nadie. The University of Arizona Latin American Studies Student Organization is screening a documentary film that follows a group of three Central American women who travel through Mexico to the United States border. The screening also features a panel discussion from the film's director, a community organizer, and a professor from the Center for Latin American Studies. English-Spanish Interpretation will be available. 6 to 9 p.m. Tuesday, Jan. 29. The Loft Cinema. 3233 E. Speedway Blvd. Free. Details here.

<!—————EndFragment—————>

Turkuaz.
These purveyors of "Powerfunk" behave more like a performance ensemble than a band, but don't let that distract you from their music. The nine members of Turkuaz each sport their own color on stage, as well as their own instruments: bass, synthesizer, saxophone, drums,
trumpet, guitar, and male and female vocals all mix together to make something relentlessly catchy, danceable and of course,
funky. A typical Turkuaz song (if you could call their music typical) features jangly disco guitars, thumping bass, modern production and vocal hooks straight out of the golden age of funk. If vivid paint splatters had a sound, they would be the music of Turkuaz. Catch Turkuaz with Paris Monster at 191 Toole. 8 p.m. Tuesday, Jan. 29. 191 E. Toole Ave. $20. Details here.


Events compiled by Briannon Wilfong, Emily Dieckman, B.S. Eliot and Jeff Gardner.

Tags: things to do , five fun events , music , education , tacos , food , fun , Tuesday , Jan. 29 , Image , Video