Taco Techno Tuesday.
Celebrating Batch Cafe's birthday just got a little more lively—and tasty! It's the third anniversary of Batch Café & Bar, so they're busting out some awesome tacos and electronic beats. This event falls on the first Tuesday of every month, and this time it happens to be Jan. 1. So if you feel like continuing the New Year's party, this is the place to be. Noon to midnight on Tuesday, Jan. 1. 118 E. Congress St.
Details here.
108 Sun Salutations. What better way to start the new year than by greeting the sunshine with open arms? Barefoot Yoga is hosting this opportunity to do just that—and you don't even have to get up super early, because it starts at 11 a.m. The class will consist of 108 sun salutations, done in increments of nine. 108 has lots of symbolic meanings (it's a "Harshad number," which means its divisible by the sum of its digits. There are said to be a total of 108 energy lines converging to and from Anahata, the heart chakra. And Buddhist malas and Catholic rosaries traditionally have 108 beads). Release any negative 2018 energy that's still lingering, shift your perspective, find your inner drive and give yourself the opportunity to realize you're stronger than you think. 11 a.m. to 1 p.m. Tuesday, Jan. 1. Barefoot Studio, 7352 N. Oracle Road. Free, but space is limited, so call the studio at 797-2881 or sign up online at wellnessliving.com to reserve a spot.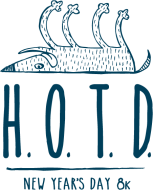 The New Year's Day HAIR of the DOG Run/Walk. Okay, maybe you're not the type of person who gets up early to go biking on the first day of the new year, or the type of person who gets up early to go running on the first day of the new year. But maybe you'd consider a run/walk if it didn't start until 11? And if its rewards were more lasting than food—like a finisher's glass and some collectible poster art? This event features an 8K run along the Pantano or a one-mile loop around Udall Park, the latter which you can do with or without your best canine friend. Both courses are for runners and walkers of all abilities, and benefit the Humane Society of Southern Arizona. The post-race party features music by Shrimp Chaperone, a Dragoon beer garden (you can get either a free beer or a free non-alcoholic beverage from Whole Foods), treats from Le Buzz Caffe, an event expo and prizes. 11 a.m. to 2 p.m. Tuesday, Jan. 1. Morris K. Udall Park, 7200 E. Tanque Verde Road. $30 to $40. Details here.


Marana Eggnog Jog.
Maybe you're not the kind of person who gets up early on New Year's Day to go on a bike ride, but you are the kind of person who gets up early on New Year's Day to go running. Hey, whatever floats your boat. This run features a 10K, a 5K and a fun run that make for a perfect way to kick off that New Year's resolution to start getting fit, to spend more time outside or to participate in more community events. And it's not as bad as it might sound: There'll be free raffle prizes, lots of fun activities and eggnog waiting for you at the finish line. (And hey, you can always go right back to bed after the race is over). 7 to 11:30 a.m. Tuesday, Jan. 1. Continental Reserve Park, 8568 N. Continental Reserve Loop. Preregistration is $20 for adults and $15 for kids 12 and under.
Details here.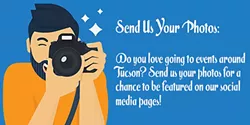 Send Us Your Photos:
If you go to any of the events listed above, snap a quick pic and message it to us for a chance to be featured on our social media sites! Find us on
Twitter
,
Facebook
and
Instagram
@tucsonweekly.
Events compiled by Tirion Morris, Emily Dieckman, B.S. Eliot and Jeff Gardner.