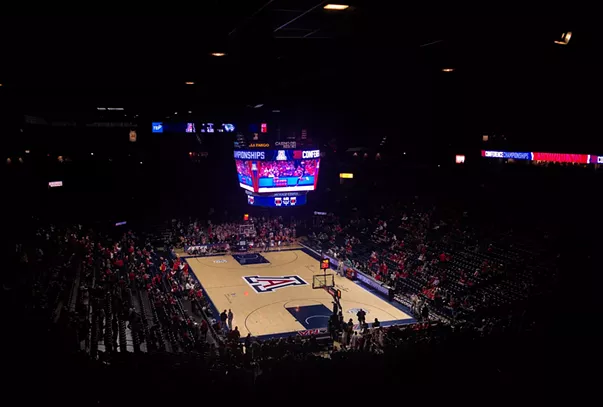 The course of Arizona's home contest with Utah Valley turned on the right hand of sophomore guard Brandon Randolph.
The sophomore's steely eyed shooting touch guided a second half surge that stirred the venerable McKale Center into a frenzy, hitting four-of-five three pointers to pace the Wildcats 51-38 advantage in the game's latter half.
The home side's fate looked glum at the half, with the visiting Wolverines (6-4) hitting 42.6 percent of their shots, while forcing 11 turnovers to give them a 31-29 lead at the half.
The tide took a sharp turn in the immediate aftermath of the break, however, when Randolph drained three straight three pointers to cut the Wolverines' lead to one with 18:06 to play.
Randolph, who finished the night with a team-high 16 points, described his second half surge as a feat he won't soon forget.
"I definitely got going," Randolph said. "My teammates found me and it hyped me up, the crowd up, hyped our whole team up, and I think it helped us move into the game a little more."
Arizona's (7-2) victory over the Wolverines extended their non-conference home win streak to 52 games, with their last loss coming in 2011, when San Diego State beat the Wildcats, 61-57.
Arizona coach Sean Miller gave Utah Valley its share of acclaim for their strong first half, saying his team wasn't ready to fight a scrappy Wolverines squad.
Miller said his team's early struggles were more a result of the Wolverines' defense than any sort of letdown from Sunday's 76-72 road victory over the University of Connecticut.
"We didn't really get after them at halftime and that might be surprising. Our team doesn't have a great margin of error, especially against a team with skill and as experienced as Utah Valley," Miller said.
"They did not catch us off guard. This wasn't a situation where we were still thinking about our UConn victory, it was just the opposite. We had excellent practices, our guys understood that Utah Valley has great size, unbelievable skill level and they run their offense as well as any team we have faced this season. We knew we were in for a fight and it was great for us to respond the way we did at halftime."
Randolph and freshman guard Brandon Williams were the main cogs in Arizona's victory, with the latter scoring 15 points and pulling down a career-high 10 rebounds in the win.
The 6-foot-2-inch guard was caught off-guard by his first collegiate double-double, saying that his teammates had to inform him of his impressive feat.
"When someone told me on the bench, I was shocked when they said I had a double-double; I thought it was assists," Williams said. "As I said, it's just taking a load off of the guys: Ryan Luther, Chase (Jeter) and Ira (Lee). As a guard, that goes a long way."
Tuscaloosa Bound
Miller's squad returns to action to face SEC stalwart, Alabama, on the road on Saturday, with the game tipping off at 11 a.m. Arizona time.
The Wildcats and Crimson Tide have met three times, with Alabama winning two of those contests.
Arizona defeated Alabama in Tucson last year, 88-82, thanks to a combined 54 points from center Deandre Ayton and guard Allonzo Trier.
Both players are now starring in the NBA, along with the Crimson Tide's high scorer from last year's contest, Collin Sexton, who scored 30 points in the contest.
Saturday's game between the Wildcats and Crimson Tide will be carried nationally on ESPN against a 5-3 Alabama squad.