Ryanhood.
Hailing from right here in Tucson, this acoustic-virtuoso duo puts the folk in folk and the pop in pop. In a Ryanhood song, it's not uncommon to hear both sweet vocal melodies and dexterous stringwork. Looking at their favorite albums, it's easy to see influences as well. Whether it's harnessing the power of pop like U2 or the intimate acoustic sounds of Nickel Creek, Ryanhood wield the proficiencies of being a songwriting duo better than many. Catch Ryanhood at the Fox Theatre. 7 p.m. Saturday, Dec. 8. 17 W Congress St. Free!
Details here.
The Paladins.
Dear God, after 38 years and 12 albums, they're still kickin' up the devil's din with the same sort of sweaty, fresh-from-prison verve as ever. (Well, maybe they never did actual prison time but it sure sounds like they did, like how a proper rock 'n' roll and 'billy band should.) Those years have seen several band members come and go, and a bust-up or two, sure, but the core trio is intact, complete with band leader and six-string saint Dave Gonzalez (one of Guitar Magazine's "Unsung Guitar Heroes of All time," natch) and co-founding bassist Thomas Yearsley. Those mad, distorted seventh and ninth chords are intact too, and the tortured country and soul croons, the thumping hillybilly jack, and all those singsong choruses that made everyone from The Stray Cats to the Fabulous Thunderbirds green with envy. With The Blues Guitar Rumble (with Arizona Blues Hall of Famers) at the mighty and historic El Casino Ballroom 437 E. 26th St. azblues.org. Friday 7:30 p.m. to 10:30 p.m. All ages.
Details here.
Dirt Monkey.
aka Patrick Megeath, has made a career of merging trippy, crisp Intelligent Dance Music (IDM) with wonky, high-energy dubstep. The result is an infectious groove that is satisfying for mind and body, while anticipating those heavy beats to drop. Hailing from Boulder, Dirt Monkey paid dues in the Colorado scene, co-founding Kairos Audio with EDM legend Jantsen and playing a five-year residency at Denver's legendary Beta Nightclub. He's got a bent ear for remixes too, taking Rusko's "Woo Boast" to new levels on Subcarbon, endorsed by the legend himself. Dirt Monkey's music is cartoony fun, like being trapped in a video game designed by Atari programmers, but with modern day VR navigation. He's got a formidable handle on EDM, able to understand the joyful components of each ingredient and create a playful mix more than the sum of its parts. With Subdocta, Saturday, Dec. 8. Gentle Ben's, 865 E. University Blvd. 9 p.m. 18+. $10.
Details here.
Edward Scissorhands. It's that time of the week for another "Wait, that was a Christmas movie?" This time, it's Tim Burton's 1990 gothic/drama/satire/romance/whatever-you-want-to-call-it-as-long-as-it-has-Johnny-Depp fairy-tale hit, Edward Scissorhands. An imaginative retelling of the Frankenstein story, this film tells of an unfinished man, and his path to becoming whole. Plus, you get to relive the Johnny Depp and Winona Ryder drama all over again. 10 p.m. Friday and Saturday, Dec. 7-8. 3233 E. Speedway Blvd. $6. Details here.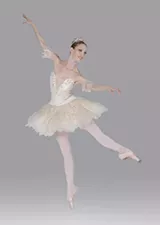 The Nutcracker. If you've got nuts to crack, and if you've got love in your heart for this holiday classic, you'd better head over to go see Ballet Tucson's production of this show. Among many, many other things, the show's original score was notable for its use of the celesta, which is that twinkly, magical, jingle bell-y sounding instrument in the sugar plum fairy's dance. Tchaikovsky discovered the instrument while he was in Paris and decided it was perfect for the show. Of course, it was. And now it's almost difficult to imagine Christmas without the sweet sound of the celesta. 7:30 p.m. on Friday, Dec. 7, and Saturday, Dec. 8. 2 p.m. on Saturday, Dec. 8. 1 p.m. on Sunday, Dec. 9. Tucson Music Hall, 260 S. Church Ave. $30 to $58, with discounts for seniors, students, military and groups. Details here.


La Fiesta de Guadalupe. You're probably overdue for a visit to the DeGrazia Gallery anyway, and there's not really a more fabulous time to go than during this festival honoring the patron saint of Mexico. Mariachi bands, folklorico dancers, the Yaqui Deer Dancers and Domingo DeGrazia's Spanish-guitar band will be providing entertainment, and a Los Posada procession featuring children from Carrillo Magnet School will honor the saint. Local food, local art and local souvenirs are all available as well, so you can fill your tummy and your shopping bags while the musicians and performers fill your soul. 10 a.m. to 4 p.m. Sunday, Dec. 9. DeGrazia Gallery in the Sun, 6300 N. Swan. Details here.


Holiday Cards for Prisoners Party. It's the time of year where holiday cards from loved ones are starting to pour in, decorating the fridge, the front door, the junk drawer or wherever you choose to display them. The American Friends Service Committee-Arizona is hosting this event to help bring a little bit of holiday cheer to some of the places that need it the most. Write messages of support to hundreds of incarcerated people in Arizona while also enjoying live music by Loveland, an ugly sweater contest and a coloring book station for kids. If you'd like, let group members help you write letters to state representatives and senators, advocating for reform of the sentencing laws that have left us with the fourth-highest incarceration rate in the country. 4 to 7 p.m. Sunday, Dec. 9. La Cocina, 201 N. Court Ave. Free. Details here.

Luminaria Nights in Tubac. Abundant food, warm drinks and artist receptions are staples of the cozy holiday season. But adding thousands of luminaria lights to the mix really levels up any holiday event. Holiday carolers, carriage and hay rides and a Christmas tree-lighting ceremony are like three perfect little cherries on top of this festive sundae. Luminarias were traditionally used to guide people to Christmas mass, and during the final night of Las Posadas. This week, let your GPS guide you to Tubac, and then enjoy the festivities once you get there. 5 to 9 p.m. Friday, Dec. 7 and Saturday, Dec. 8 Tubac. Free. Details here.


The Polar Express. The Southern Arizona Transportation Museum is the sort of charming little place that feels like it's right out of a children's Christmas book, so it's only fitting that they'd be hosting this reading of one of the best children's Christmas books around. This family-friendly event also features arts and crafts, rides on the Fun Farm Choo Choo and a chance to ring the bell on Locomotive 1673. And it's always fun to stroll through the museum itself, browsing the bilingual exhibits. Treat yourself to some holiday cheer and head on down! 11 a.m. to 12:30 p.m. Saturday, Dec. 8. AMTRAK Historic Depot, 400 N. Toole Ave. Free. Details here.
Rally for Vets. HERO Events & Management is putting on their first-ever veteran's event designed to raise support and awareness for local nonprofits supporting veterans. And there's plenty of ways for you to show your support. You could check out the yoga and meditation zone by Athleta, enjoy some live glass blowing demonstrations by the Sonoran Glass School, or if you are brave or young at heart, check out any of the 11 interactive inflatables. Enjoy music by local musicians Caiden Brewer, Andrew Daniel Cates, Clinton Wyatt Smith and Keila Womack. And check out the food and drinks from vendors like Jacki's Food Court, Sarges Cheesecakes, Cupcake Queens and Smoothie Factory. Noon to 8 p.m. Sunday, Dec. 9. Demeester Outdoor Performance Center, 900 S. Randolph Way, $5, or free for kids 10 and under.
Details here.
Second SundAZe Family Day @ TMA. The Tucson Museum of Art always delivers, and it's always especially awesome at Second Sunday events, but they've really stepped up their game for the holiday season. AZ Opera will be doing a special performance of The Magic Flute, and Santa himself will be visiting the museum's Corbet house. Jewelry artist Julie Rose is holding a trunk show in the museum store as well. If taking in all of this art has you feeling inspired, you can jump into some of the art-making activities at the museum, including ornaments with Santa pictures, gingerbread houses and paper snowflakes. Fill your heart with art for the holidays! 10 a.m. to 5 p.m. Sunday, Dec. 9. Tucson Museum of Art and Historic Block, 140 N. Main Ave. Free. Details here.
Sonoran Glass School Winter Open House. If you think looking at handcrafted glass art is exciting and impressive, wait until you see local glassblowers in the act, creating intricate sculptures, ornaments, houseware and jewelry right before your eyes. A narrated demonstration at 2 p.m. will walk you through what these masters are doing, and a series of holiday themed make-your-own experiences will show you how to become a master yourself. For $50, make your own glass ornament in a quick 15/20-minute introduction to the craft (this one gets busy, so try calling 884-7814 to reserve a time slot). Make a snow flurry drink stirrer on the torch at the flame shop for $10, or try out the new fused snowman experience ($15 or two for $25). Get your glass over here! 10 a.m. to 4 p.m. Saturday, Dec. 8. 633 W. 18th St. Free. Details here.
Tucson Girls Chorus: Sounds of Winter. If you caught the Reveille Men's Chorus concert last week, you probably got your fill of rich, low tones. This week, treat yourself to the lovely harmonies of the Tucson Girls Chorus, made up of young women all the way from Kindergarten to 12th grade. Over 200 young performers will be presenting a mix of folk, traditional, contemporary and seasonal music. With so much bad news in the world, their notes are sure to be a sound for sore ears, and the image of hundreds of the young women who represent a bright, beautiful, musical future is enough to make anyone feel hopeful. 3:30 p.m. Sunday, Dec. 9. Fox Theatre, 17 W. Congress St. $15 to $18. Details here.
Holiday Memories. Desert Voices, Tucson's premiere LGBTQA chorus, is celebrating 30 years of understanding, cooperation, peaceful coexistence and sweet, sweet music. And this is your chance to celebrate with them! Three nights of shows will feature holiday music sung by community members of all creeds, races, genders and gender identities, letting you sit back, enjoy and reflect on all there is to be grateful for. 7 p.m. on Friday, Dec. 7, and Saturday, Dec. 8. 3 p.m. on Sunday, Dec. 9. St. Mark's Presbyterian Church, 3809 E. Third St. $15 for Friday show, $20 for Saturday and Sunday. Details here.
Signature Selections.
Pima Community College dancers have been working throughout the semester on this concert directed by Nolan Kubota. Kubota earned his MFA in dance from the UA, and has worked as everything from a parade performer at Disneyland to a nationally touring burlesque dancer. He brings his range of experience to the show, which features everything from hip-hop, jazz, modern and ballet styles. Pieces are choreographed by both dance faculty and students, for a show that will keep you on your toes—but not as high on your toes as these impressive dancers. 7:30 p.m. Friday, Dec. 7. 2 and 7:30 p.m. on Saturday, Dec. 8. Proscenium Theatre. $5 to $10.
Details here.

Fourth Avenue Winter Street Fair. Go forth to Fourth for a 40-plus-year-old tradition that just gets more fun every year. The artists from all over the world, delicious food and local entertainment draw more than half a million people into Tucson every year, and we're lucky enough to already be here! The North Fourth Avenue Merchants Association Inc., a local nonprofit, produces the event, and funds from the day support infrastructure on Fourth Ave, local neighborhoods and nonprofits, and other events on the avenue throughout the year. Get your Christmas shopping, your street food fix and your community spirit on all at once. 9 a.m. to dusk Friday, Dec. 7, through Sunday, Dec. 9. Historic Fourth Avenue, 434 E. Ninth St. Free. Details here.


Monterey Court Artisans Holiday Fair. Maybe you're the type of person who needs a full bar nearby to get through the stress of holiday shopping. If so, this might be the holiday artisan fair for you. Whether you need a hard drink to get you through, a brunch to kick off the shopping festivities or a spot to break for lunch, Monterey Court has what you need. They'll have what you need as far as gifts go, too. With a selection of fabric, glass, jewelry, metal, pottery, wood and leather, you should be able to find the perfect gift. 10 a.m. to 4 p.m. Sunday, Dec. 9. Monterey Court Studio Galleries and Café, 505 W. Miracle Mile. Details here.
Weegee With a Side of Eegee. It was only a matter of time before this event happened in Tucson. It honors the photographer, photojournalist and Kubrick collaborator and his equal parts iconic and influential black-and-white photography. And it comes with a side of sandwiches and Tucson's signature frozen drinks! Notorious erotica photographer Eric Kroll will be talking about Weegee's time as the official photographer of a New Jersey nudist colony; Weegee's longtime companion, Wilma Wilcox; and his work with Cass Carr and Bettie Page. Kroll will be selling distortion prints he printed from Weegee's original negatives himself—signed by Wilcox and stamped by Kroll. Why would you miss this? 3 to 5 p.m. Saturday, Dec. 8. Etherton Gallery, 135 S. Sixth Ave. Free. Details here.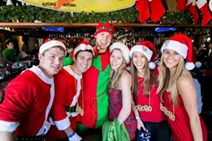 Santa Bar Crawl. For those wanting to be more festive during their night-outs, the Santa Bar crawl is the opportunity for that. Starting at Maloney's, show up in your favorite seasoned clothing with your friends and hit the streets, jumping from bar to bar. Or just go downtown to see drunken Santas on the loose. 4 p.m. to 9 p.m. Saturday, Dec. 8. 213 N. Fourth Ave. Details here.
Ignite at Night. The Ignite Sign Art Museum is inviting you to an evening to see all of their changes and new additions, with all historic signs supposed to be lighted. The event will include music, beer and wine tastings, holiday shopping, snacks and a game. 6 to 9 p.m. Saturday, Dec. 8. 331 S. Olsen Ave. Regular admission prices apply. Details here.


Holiday Tree Lighting. Receive complimentary chestnuts, hot cocoa or cider, and holiday sugar cookies while watching the annual lighting of the tree at Loews Ventana Canyon Resort. More holiday entertainment will feature while photos with Santa are also available, in this free and open to public event. 5:30 to 7:30 p.m. Sunday, Dec. 9. 7000 N. Resort Drive. Details here.
Santa at Little Anthony's Diner. Starting this Friday, Santa will be at Little Anthony's Diner for the weekends leading up to Christmas. Before dining, get a free photo by bringing in a non-perishable food item. Each donation will go to benefitting the Tucson Community Food Bank. 5:30 to 7:30 p.m. 7010 E. Broadway Blvd. Details here.
X-Mas Double Feature. Casa Film Bar is offering movie showings every Friday in December. First up? Elf and Jingle All the Way back to back. Grab Sonoran hot dogs from the You Sly Dog food truck, and watch Will Ferrell and Arnold Schwarzenegger take it away. 7 to 10 p.m. Friday, Dec. 7. 2905 E. Speedway Blvd. Details here.


Send Us Your Photos:
If you go to any of the events listed above, snap a quick pic and message it to us for a chance to be featured on our social media sites! Find us on Twitter, Facebook and Instagram @tucsonweekly.

Events compiled by Brianna Lewis, Emily Dieckman, B.S. Eliot and Jeff Gardner.