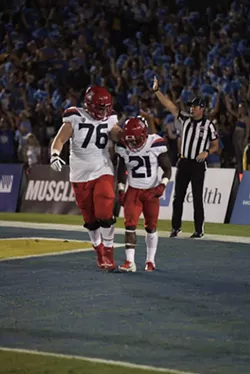 The football season just ended in Tucson, but the specifics of next year's schedule are already known, with the Pac-12 releasing the full schedules for each member on Tuesday.
The Wildcats, who went 5-7 this season, kick off the 2019 campaign in Honolulu against the Hawaii Rainbow Warriors on Saturday, Aug. 24.
Arizona will have three bye weeks, thanks to their Hawaiian expedition, with the first coming the week after their opener, and the others coming on Sept. 21 and Nov. 9, respectively.
The rest of the Wildcats' non-conference schedule includes home games against Football Championship Subdivision squad Northern Arizona University, before hosing Texas Tech University on Sept. 14.
The team's Pac-12 schedule features games against UCLA (home), Colorado (road), Washington (home), Southern California (road) and Stanford (road) in succession.
The Wildcats close out their nine-game conference schedule with home games against Oregon State and Utah on Nov. 2 and 23, bookended by road games against Utah and ASU on Nov. 16 and 29.
The start times for all 12 of Arizona's games have yet to be determined, with the conference's TV partners (ESPN, FOX and the Pac-12 Network) picking their games in the spring of 2019.
The team's only Friday game this year will be their annual rivalry game with the Sun Devils, which will be played in Tempe this season.
Season ticket deposits for the 2019 regular season are available online, at
arizonawildcats.com
, or by phone, at 520-621-CATS.
2019 Schedule:
Aug. 24 - At Hawai'i
Aug. 31 - Bye Week
Sept. 7 - NAU
Sept. 14 - Texas Tech
Sept. 21 - Bye Week
Sept. 28 - UCLA
Oct. 5 - At Colorado
Oct. 12 - Washington
Oct. 19 - At USC
Oct. 26 - At Stanford
Nov. 2 - Oregon State
Nov. 9 - Bye Week
Nov. 16 - At Oregon
Nov. 23 - Utah
Nov. 29 - At ASU