Moth Diversity on Mount Lemmon.
This might not be something you've ever thought about before, but moth diversity on Mount Lemmon is a fascinating subject—both in and of itself and as a microcosm for biodiversity in general. The Santa Catalinas are one of the world's most biologically diverse regions, and as seasons shift from extreme heat to monsoons to the cold of winter, this diversity can shift. Cristina Francois, a PhD candidate in insect science at the UA, will talk about how biodiversity can change over space and time by talking about moth communities in particular. Face it: The pull of Mount Lemmon for Tucsonans is just as strong as the pull of light for moths, so flit on up there and check out this workshop. 2:30 p.m. Thursday, Nov. 29. Summerhaven Community Center. 12949 N. Sabino Canyon Park, Mount Lemmon.
Details Here.
SNOOPY!!!
Talking about Snoopy is the sort of thing that gets most people so excited that putting three explanation points after his name is almost a little redundant—the excitement is inherent in the name. But when we're talking about the title to a musical sequel to the beloved Peanuts comic strip, full of all the wit and warmth of the source material, plus the music and magic of this new medium, those three exclamation points might just be called for. It's a show about children, so kids will love it, but the '70s music and the nostalgia factor will have adults groovin' just as much (if not more). Thursday, Nov. 29 through Saturday, Dec. 29. 7 p.m. previews on Thursday, Nov. 29 and Friday, Nov. 30. Shows 7 p.m. Thursdays through Saturdays and 3 p.m. on Sundays. Saturday matinee on Dec. 29 at 3 p.m., instead of evening show. Live Theatre Workshop, 5317 E. Speedway Blvd. $12 adults, $10 kids.
Wind River.
Join the UA's Women & Gender Resource Center for an analysis of this 2017 murder mystery. Debuting at the Sundance Film Festival, this movie examines the investigation of a missing person on a Native American Reservation. Part of the WGRC Critical Film Series. 5 to 7:30 p.m. Thursday, Nov. 29. Gallagher Theatre. 1303 E University Blvd. Free for all, including popcorn!
Details Here.

Teaching in Arizona.
This documentary follows three Tucson educators in order to show what it's like to be a teacher in Arizona today. The screening is at Los Niños Elementary, where one of the movie's subjects, Tia Begay, works. Hosted by the Tucson Values Teachers nonprofit. 5:30 to 7 p.m. Thursday, Nov. 29. 5445 S. Alvernon Way.
Details Here.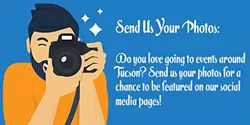 Send Us Your Photos:
If you go to any of the events listed above, snap a quick pic and message it to us for a chance to be featured on our social media sites! Find us on
Twitter
,
Facebook
and
Instagram
@tucsonweekly.
Events compiled by Brianna Lewis, Emily Dieckman, B.S. Eliot and Jeff Gardner.