A Magical Cirque Christmas.
Buckle up, because this show is going to be so full of delightful, talented performances, you may not be able to keep track. Magician Paul Dabek, one of the UK's top entertainers, is hosting the night by introducing each act. Tyce and Mary Nielsen of Duo Transcend (season finalists on America's Got Talent and formerly of Cirque de Soleil) will be defying gravity with acrobatics, aerial acrobatics and acrobatics on roller skates. Sebastian Nicolas will be showing off his world-renowned magic skills, Roberto Carlos will be juggling like no juggler you've seen before and Runfei Deng and Shilei Chen will be performing shoulder ballet acrobatics. It's incredible what sort of shows you can put together with a little bit of Christmas magic. 6:30 p.m. Monday, Nov. 26. The Fox Theatre, 17 W. Congress St. $29 to $99.
Details Here.
Pop-Cycle Holiday Clothing Drive.
If thinking about all of the big, mean, cold things going on in the world gets you down, sometimes it helps to turn to the little corner of the world which you inhabit and make what little bit of warmth you can. Pop-Cycle is making it easy this holiday season. On Christmas Eve, their crew will be heading out to give food and warm clothes to people in need. Donations of any warm items, especially jackets, scarves, gloves, socks and sleeping bags, are hugely appreciated. Backpacks, toiletries, sweets and fruits to go with lunches would also be great! Drop off donations anytime from now until Sunday, Dec. 23. Hours are 11 a.m. to 6 p.m. Monday through Thursday, 11 a.m. to 7 p.m. Friday and Saturday and 11 a.m. to 5 p.m. Sundays. Pop-Cycle Shop, 422 N. Fourth Ave.
Details Here.
Mondo Mondays at The Loft.
Head on over to Tucson's favorite indie movie theater for Mondo Monday. Tonight features the film
Thunder Run
to fit in with November's theme of Keep On Truckin' month. Not only is this movie a truckin' good time, it's also set in Arizona! So buckle your seatbelts and strap in for a wild ride tonight at The Loft. 3233 E Speedway Blvd. Movie time: 8 p.m.
Details here.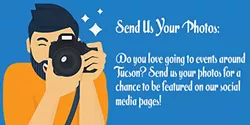 Send Us Your Photos:
If you go to any of the events listed above, snap a quick pic and message it to us for a chance to be featured on our social media sites! Find us on
Twitter
,
Facebook
and
Instagram
@tucsonweekly.
Events compiled by Brianna Lewis, Emily Dieckman, B.S. Eliot and Jeff Gardner.