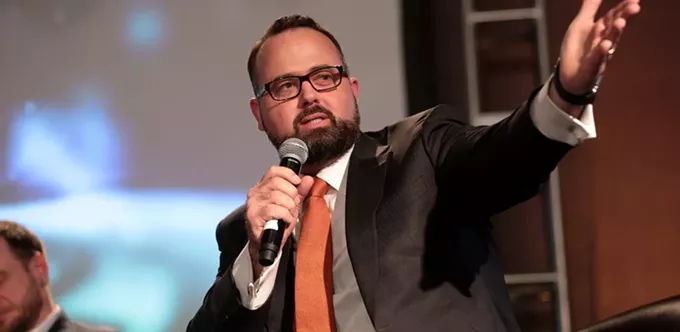 Kirk Adams, Governor Doug Ducey's chief of staff, announced this morning that after four years he would be stepping down.
"Some personal news: After 4 yrs as chief of staff for @dougducey, the time has come for me to depart from this role," he tweeted. "I couldn't be more grateful and more honored to have had this opportunity."
Prior to his role as chief of staff, Adams served in the Arizona House of Representatives from 2006-2011, becoming Speaker of the House in 2009. During his tenure, Adams championed one of the largest tax reform and economic development packages in state history.
According to the Arizona Republic, Adams submitted his letter of resignation on Nov. 12, just six days after the election, writing "four years ago next Wednesday you asked me to serve as your chief of staff…I have exhausted myself in a good cause and a work worth doing. I take great satisfaction in the record of accomplishment over the last four years and even greater satisfaction in the validating victory you enjoyed last Tuesday night."
"Kirk Adams has been a critical member of my team and key to our successes," Ducey said in a statement. "I am grateful to Kirk for his service and for his work to build an exceptionally talented team that will help continue Arizona's success as a national leader for opportunity, jobs and economic growth."
Ducey added that Adams helped lead the Governor's Office through a number of events including: tackling the billion-dollar budget deficit, negotiating Proposition 123 which increased K-12 education funding by $3.5 billion over ten years, working with the 2018 Legislature to pass the 20×2020 teacher pay increase, and the Arizona Opioid Epidemic Act. He also helped oversee the Capitol's memorial service for the late Senator John McCain in August.
According to the National Governors Association, his four-year tenure exceeds the average length of a gubernatorial chief of staff, which is less than three-years.
"I hope you will allow me to remain at your side as a source of counsel and assistance, both in the near term and long term, and for whatever you do next. I have plenty of gas left in the tank," Adams wrote. "Thank you again Governor, for your mentoring, your trust in me, and most of all your friendship. It means the world to me."
Adams will remain on staff until Dec. 14.