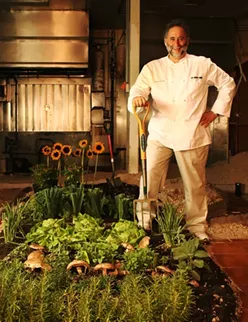 Janos Wilder, the James Beard Award-winning head chef at DOWNTOWN Kitchen + Cocktails, will host a special tasting event from 5 to 7 p.m. on Thursday, Dec. 6 at Carriage House, downtown.
The event will feature flavors from three sister cities of gastronomy including Florianopolis, Brazil, Macao, China and Phuket, Thailand. Devon Sanner from The Carriage House and Travis Peters from The Parish will also be in the kitchen at the event. Each of the three chefs will prepare meals inspired by one of the three cities.
Tucson earned a designation as a UNESCO City of Gastronomy in 2015, making it the first and only World City of Gastronomy in the United States. Tucson was chosen because of our 4000-year history of continually cultivated agriculture, the longest in North America.
Tickets for the event are $40 per person. The proceeds will go to support the Tucson City of Gastronomy Traveling Chef Exchange Program that will help fund chefs from other cities of gastronomy to travel to Tucson and learn our food history while sharing their own.
Last year Wilder, Peters and Sanner traveled abroad to different cities of gastronomy and they're now looking to return the hospitality.
Find out more about the
dinner here.