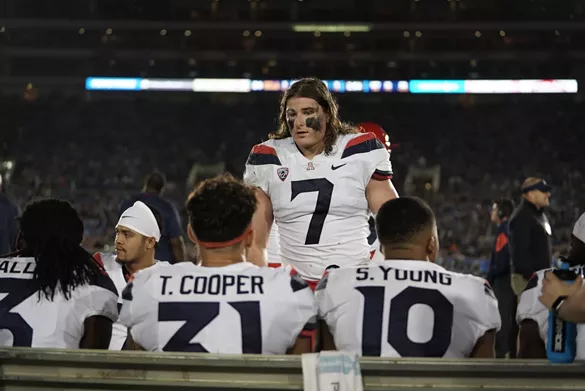 Welcome to the week that instills some good, old-fashioned hate to the malaise known as the Grand Canyon State.
I'm talking, of course, about the Territorial Cup series between the Wildcats of Arizona and their horn-encrusted rivals from Tempe.
The series, which dates back to 1899, has featured a plethora of highs, lows and mediocrities in-between that symbolize any good rivalry game.
The series, which Arizona leads 49-41-1, has resided up north in five of the last eight contests between the two rivals.
This year's contest pits a 6-5 ASU squad, coached by the lovably eccentric Herman Edwards, against a 5-6 Arizona squad that just got its ass kicked (69-28, for those of you that forgot) by Mike Leach and the Washington State Cougars.
Mustache aficionado Gardner Minshew was a major thorn in the 'Cats side last week, tossing seven touchdown passes, while pushing Arizona to the brink of bowl eligibility.
Kevin Sumlin's squad faces a virtual must-win this week, needing a victory to ensure a bowl berth for the second-straight season.
Sumlin believes his team will be well-prepared for this week's rivalry game, calling on his experience coaching at Houston and Texas A&M in this week's press conference.
"I think I've been in the Apple Cup, been in the Brass Boot, which is Wyoming and Colorado State; the Paul Bunyan Axe, Minnesota and Wisconsin; the Old Oaken Bucket, at Indiana-Purdue; the Red River Shootout," Sumlin said. "And then I was an assistant coach before A&M moved to the SEC, it was Texas and A&M on Thanksgiving night or Friday night. I've been involved in a bunch of them."
Sumlin's team is tasked with trying to thwart the Devils' two-headed offensive attack of running back Eno Benjamin, who's rushed for 1,444 yards and 12 touchdowns, and N'Keal Harry.
Harry, who has 1,033 receiving yards and 9 touchdown catches this year, has been marked as a potential first round pick in this year's NFL Draft, should he forgo his senior year.
Sumlin addressed the tall task of stopping the 6'4 wide receiver, calling him one of the toughest wideouts to guard in the nation.
"He's a fabulous player. Just a tremendous young man. A guy that we had a lot of conversations with … from the last place I as at," Sumlin said. "He's big, got great body control. He's a grown man now, and he plays like that. If that weren't enough, now he's returning punts. He's everything that is as advertised. He's going to be one of the first players taken at that position in the draft."
Senior receiver Tony Ellison, who's third on the Wildcats in receiving yards (475) and touchdown catches (4), broke down the multitude of implications that the yearly rivalry game has.
"It's hard to decide if this game is more important than a bowl game because it's a huge week for the City of Tucson," Ellison said. "It's the team up north and we've got to beat them. There's so much hype around this game and it's also my senior season. I think it's important to be able to put on that block A one more time and go to that bowl game. I approach every game the same, but obviously I'm going to have a lot more edge this week since we're playing a rivalry game and it's going to be very important for the fans."
How to Watch:
Arizona and ASU play on Saturday at 1:30 p.m., with Fox Sports 1 carrying the contest.
How to Bet:
ASU is currently a two-point favorite to win, according to Las Vegas. The over/under for the game is 64.5.
Who to Watch:
ASU has a two-headed attack on offense, led by junior wideout N'Keal Harry, who has 1,033 receiving yards and 9 touchdown catches this year. Sophomore running back Eno Benjamin leads the Devils in rushing, with 1,444 yards and 12 touchdowns this season.
Who Will Win:
This one is tough to pick, with each side playing like figurative garbage right now. I'm going with the visiting side from Tempe, thanks to Benjamin and Harry torching the Wildcats sorry defense.
I'll go with ASU winning this one, 42-38.