Friendsgiving.
American Eat Co. wants you to join them in celebrating friendship and good food on Thanksgiving Eve, with their own Thanksgiving event. Beer floats and flavored mimosas are just a couple of the food and drinks specials, while live music, a photo booth and a gratitude wall. 5 to 9 p.m. Wednesday, Nov. 21. 1439 S. Fourth Ave.
Details Here.
Hellzapoppin FREAK SHOW.
Did you think freak shows weren't a thing anymore? So did we. But the world's largest touring rock 'n' roll circus freak show, thrill show, side show and stunt show extravaganza is coming to town. You might have seen them on America's Got Talent, the Discovery Channel or NatGeo, or maybe you've heard of the Lizard Man from Ripley's Believe It Or Not—he's the guy with the split tongue, implanted horns on his head and arms and an entire body tattooed in green scales. You can also see the world's smallest "midget escape artist," Nik Sin, and Short E. Dangerously, a "half-man" (he has no legs) who's also featured in the new Ripley's Believe It Or Not. You'll see beds of nails, acrobats, sword swallowing and more. 7 to 11 p.m. Wednesday, Nov. 21. The Rock, 136 N. Park Ave. $10 to $12.
Details Here.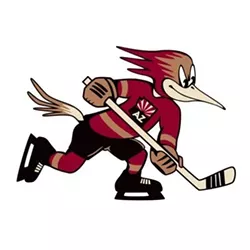 Tucson Roadrunners vs. Stockton Heat.
This week, the Roadrunners face off against the entity of heat itself. (Fun fact: The Stockton Heat's team name was the result of a team-naming contest when the Adirondack Flames first moved to Stockton, and the other four finalists were Blaze, Fire, Inferno and Scorch.) Unfortunately for the Heat, this is our home turf, and the Roadrunners (and all Tucsonans) are experts at beating the heat. Catch the Wednesday game for Kids Free Night (kids 12 and under free with a paid adult) and the 1-2-3 food promotion night: $1 sodas, $2 hot dogs, $3 beers. Now that's a hockey game. 7:05 p.m. Wednesday, Nov. 21. Tucson Arena, 260 S. Church Ave. $10 to $61+.
Details Here.


Send Us Your Photos:
If you go to any of the events listed above, snap a quick pic and message it to us for a chance to be featured on our social media sites! Find us on
Twitter
,
Facebook
and
Instagram
@tucsonweekly.
Events compiled by Brianna Lewis, Emily Dieckman, B.S. Eliot and Jeff Gardner.